The Works of Isaac Watts (14 vols.)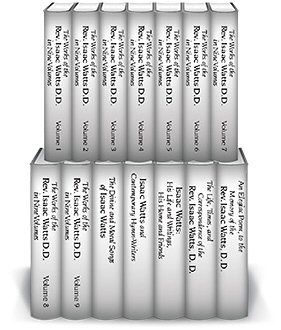 Overview
Known as the "Father of English Hymnody," Isaac Watts is one of England's most influential hymnists. Credited with over 500 hymns—including "When I Survey the Wondrous Cross" and "Joy to the World"—he left behind a massive legacy. He paved the way to the inclusion of "original songs of Christian experience" in worship. His introduction of extrabiblical poetry opened doors to new forms of worship in the Protestant Church.
Not only was Isaac Watts an accomplished hymn writer, he was also a great theologian and logician; he authored a number of books, treatises, educational works, essays, sermons, speeches, and more. As a Dissenter—one who separated from the Church of England—Isaac Watts held religious opinions that were not bound to any one denomination. The Works of Isaac Watts (14 vols.) clearly reflects this nondenominational thinking. This collection contains The Works of the Rev. Isaac Watts D.D. in Nine Volumes, written with the goal of explaining the common and most important things of the Christian religion. He took pride in writing not a lecture or philosophy but a true and just explication of Scripture. His hope was that his works would lead people to choose a life of practical godliness. Isaac Watts' limitless appreciation of the passion of God is self-evident not only in his writing but in the writing of his many biographers. This resource contains three biographies on Isaac Watts, a poem written in his memory, and a book containing an essay and data on Watts' Divine and Moral Songs.
The Logos edition of The Works of Isaac Watts (14 vols.) makes Watts' works easier to understand and more accessible than ever, allowing you to get straight to the theology and Scripture you're studying without fumbling through multiple volumes in their print form. What's more, with Logos, the thousands of Scripture references in Watts' works link directly to your preferred Bible in your digital library. Even the references in The Works of the Rev. Isaac Watts D.D. in Nine Volumes appear with the click of a mouse! The advanced search tools help you navigate material instantly, and hyperlinks in the table of contents take you exactly where you need to go. Thanks to the power and speed of your digital library, The Works of Isaac Watts (14 vols.) is accessible like never before for study, sermon preparation, reading, and research.
Key Features
Watts' essays, discourses, personal letters, sermons, hymns, poems, and more
Three biographies of Isaac Watts
Scripture references linked to your original language Bible texts and English translations
Product Details
Title: The Works of the Rev. Isaac Watts
Volumes: 14
Pages: 7,021
About Isaac Watts
Isaac Watts (1674–1748) was an English hymn-writer, theologian, and logician. He is recognized as the "Father of English Hymnody" and is credited with some 750 hymns. Many of his hymns remain in active use today.
As a young boy, Watts began to write poems and hymns to please his mother. He received an excellent education as a child and studied at the nonconformist academy at Stoke Newington. After he completed his education, Watts began to write hymns and also tutored the family of Sir John Hartopp. At age 26, Watts became a pastor, but his poor health kept him from his duties. In 1712, Isaac Watts went to live with the Abney family in Stoke Newington for a short time, and ended up staying there permanently. During his stay, he would occasionally preach, but mostly devoted his time to writing hymns, sermons for publications, essays, discourses, and poems. He died peacefully at the age of 74.