Cynthia Heald Collection (13 vols.)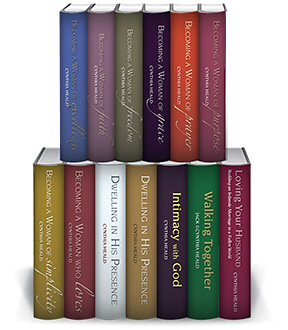 Overview
The Cynthia Heald Collection is a compilation of Bible studies and devotions written by popular author and speaker, Cynthia Heald. These volumes address what it means to be a godly woman and give women practical, biblical tools in their Christian journey. Whether you are single or married, this all-ages collection will allow you to discover your role, purpose, and influence as a female.
The Becoming a Woman of . . . titles provide sound doctrine and insight on what it is to live a life of excellence, faith, freedom, grace, prayer, purpose, simplicity, and love. This is achieved through Scripture reading, discussion questions, quotes from famous writers, and Cynthia's personal life experiences. The Becoming a Woman of . . . Bible studies can be done individually or in a group setting.
Cynthia Heald's two devotionals, Intimacy with God and Dwelling in His Presence address our need for intimacy with God. So often we are consumed with searching for that "one thing" that will give us peace. We try to fill our feeling of emptiness with material items or success and still find ourselves becoming constantly discontent. In Intimacy with God, Cynthia Heald uses the book of Psalms to illustrate that God alone can fill our emptiness. Dwelling in His Presence reveals our identity in Christ and illustrates his relentless, passionate pursuit of a relationship with us.
This collection also includes two resources for those who are married and are seeking a better understanding of their roles as a wife. Cynthia Heald shows you how you can be a godly wife in the context of an imperfect world. Deeply rooted in biblical truth, the Cynthia Heald Collection (13 vols.) is the perfect resource for those seeking insight on what it takes to be a godly woman.
Logos Bible Software dramatically improves the value of any resource by enabling you to find what you are looking for instantly and with unbelievable precision. As you are reading the Cynthia Heald Collection (13 vols.), you can easily search and access topics or Scripture references you come across, for example, "excellence" or "faith."
Key Features
Explore key Scripture passages and discover biblical truth
Reflect on your personal feelings and experiences
Consider the insights from godly contributors
Product Details
Title: Cynthia Heald Collection (13 vols.)
Author: Cynthia Heald
Volumes: 13
Pages: 1,592
Individual Titles
About Cynthia Heald
Cynthia Heald was born in Houston, Texas, and received Christ as her personal Savior when she was twelve years old. In 1960, Cynthia married Jack, who by profession is a veterinarian but has been on staff with The Navigators since 1978. Cynthia is the author of several books, including, Becoming a Woman of Excellence, Intimacy with God. Cynthia speaks frequently for women's retreats and seminars nationally and internationally.