The Expositor's Greek Testament, vol. 2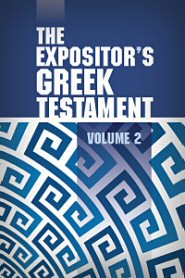 Overview
The Expositor's Greek Testament ranks among the most important commentaries on the Greek text of the New Testament from the 19th century, drawing from the scholarship of twenty contributors under the editorship of William Robertson Nicoll. In addition to the Greek text, this massive reference work contains textual, literary, and grammatical commentary on nearly every Greek word in the entire New Testament. The Expositor's Greek Testament also includes lengthy introductions to each of the books in the New Testament, surveying the literary and interpretive history, along with an introduction to the historical context of each book and an extensive bibliography.
With the Logos edition of The Expositor's Greek Testament, Scripture references are linked to your Greek texts and English translations. The entire New Testament is fully searchable, allowing you to perform word searches, word studies, and complex textual work all instantly and accurately. What's more, Greek words are linked to your dictionaries and lexical and textual aids, along with the rest of the language tools in your digital library. That means that you can benefit from The Expositor's Greek Testament—even if you possess only a limited understanding of Greek! The Expositor's Greek Testament will be of enormous benefit to pastors, scholars, serious students of the Bible, and anyone looking to take their understanding of the New Testament to the next level!
Key Features
Comprehensive introductions
Detailed analysis of Greek words
Comprehensive bibliography for further study and research
Contents
The Acts of the Apostles, by R. J. Knowling
St. Paul's Epistle to the Romans, by James Denney
St. Paul's First Epistle to the Corinthians, by G. G. Findlay
Praise for the Print Edition
. . . the five volumes of the old Expositor's Greek New Testament are still worth owning and reading, along with more recent works. . .
. . . the Expositor's Greek Testament will rank as one of the best commentaries in English. . .
—Review of Theology and Philosophy
Product Details
Title: The Expositor's Greek Testament, vol. 2
Publisher: George H. Doran Company
Editor: William Robertson Nicoll
Pages: 953
About William Robertson Nicoll
William Robertson Nicoll (October 10, 1851 – May 4, 1923) was a Scottish Free Church minister, journalist, editor, and man of letters. Nicoll was born in Lumsden, Aberdeenshire, the son of a Free Church minister. He was educated at Aberdeen Grammar School and graduated MA at the University of Aberdeen in 1870, and studied for the ministry at the Free Church Divinity Hall there until 1874, when he was ordained minister of the Free Church at Dufftown, Banffshire. Three years later he moved to Kelso, and in 1884 became editor of The Expositor for Hodder & Stoughton, a position he held until his death. In 1886 he moved south to London and with the support of Hodder and Stoughton he founded the British Weekly, a Nonconformist newspaper, which also gained great influence over opinion in the churches in Scotland.
Sample Pages from the Print Edition
More details about these resources