The Works of John Dick (4 vols.)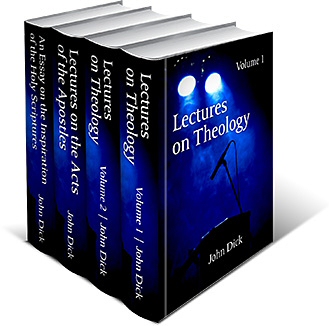 Overview
The four-volume Works of John Dick contains all of Dick's important works, including Lectures on the Acts of the Apostles and his two-volume masterwork Lectures on Theology. Professor Dick was known for his assiduous preparation for each lecture and sermon, writing numerous drafts before he was content with their shape and meaning. For years, his students and congregation left his classroom and his church brimming with new insights about the Bible and Christian life. These lectures were published posthumously by his son, and soon after this humble preacher's careful thoughts and passionate words were being read all over the world.
Works of John Dick (4 vols.) also includes the much lauded Essay on the Inspiration of the Holy Scriptures and a collection of John Dick's early sermons. With the Logos Bible Software edition, each volume in the Works of John Dick (4 vols.) is fully integrated with the other resources in Logos, including Bibles, maps, dictionaries, and numerous other Bible study tools. The Logos edition also allows you to perform powerful searches and word studies, and Scripture references are linked to the wealth of language resources in your digital library. This makes the Works of John Dick (4 vols.) more powerful and easier to access than ever before for reading, sermon preparation, research, and Bible study.
Key Features
Contains John Dick's 2-volume masterwork Lectures on Theology.
138 lectures
Includes a concise biography of John Dick written by his son
Product Details
Title: Works of John Dick
Author: John Dick
Volumes: 4
Pages: 1,806
About John Dick
John Dick was born in Aberdeen, Scotland in 1764. In 1785 he was licensed to preach, and the elegance of his sermons and the eloquence of his delivery were noticed right away. He was soon ordained and appointed to a congregation in the village of Slateford. For fifteen years he remained in Slateford before moving to Glasgow to head another church. In 1815 he received his Doctor of Divinity, and in 1820 he was appointed Theological Professor to the Associate Synod. In 1832, John Dick was appointed President of the Auxiliary Bible Society of Glasgow.
More details about these resources