Men's Ministry Catalyst Collection (5 vols.)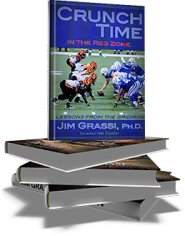 Overview
Sports enthusiasts looking for a relatable Bible study need look no further than the Men's Ministry Catalyst Collection (5 vols.). Written by an avid outdoorsman and former television personality, these five books go beyond biblical basics and dive deep in focusing on Christ and his calling in our lives. Jim Grassi uses real-life stories from his personal adventures and the experience of other figures in the sports world to show God's presence and work in an arena where Christ is rarely mentioned or given credit. These authentic and entertaining stories illustrate God's power, grace, and love in moments we wouldn't necessarily expect it.
This series is perfect for those looking to seek a deeper spiritual understanding in their daily lives. The collection illustrates practical ways to grow daily in our spiritual walk. With study questions and personal applications at the end of each chapter, Grassi's books both challenge and encourage the reader. This series is not only a great read, but a call to share Christ with others and seek him for direction in overcoming our obstacles, whether they are great or small.
Grassi's clever and personal illustrations make these books relatable, simple to understand, and practical to apply to your life today. Not only is this a series great for individual Bible Study, the Men's Ministry Catalyst Collection (5 vols.) is also a useful collection to use for Bible study groups. With the Logos Bible Software edition of the Men's Ministry Catalyst Collection, you can make your Bible study more effective. Scripture references are linked directly to your favored Bible translation, making your Bible study and teaching preparations more effective and rewarding.
Key Features
Numerous entertaining and applicable stories and examples
Practical ideas to encourage and renew your personal life
Scripture citations are linked directly to your preferred Bible
Praise for the Print Edition
A great storyteller who is a good fisherman is hard to find. My longtime friend Jim Grassi does both with skill. He helps us understand the truths that transform lives from the greatest story ever told—the Holy Bible.
—Al Lindner, President, In-Fisherman Communications Network
One day Jim Grassi made the connection between his avid love for fishing and his even more avid love for Jesus Christ. Sparks began to fly. Today, Jim has taken his two magnificent obsessions and molded them into one with astounding results.
—Tim Hansel, Ignite Inc.
Product Details
Title: Men's Ministry Catalyst Collection
Author: Jim Grassi
Volumes: 5
Pages: 1,320
About James E. Grassi
Dr. Jim Grassi is an award winning author, communicator, outdoorsman, pastor, and former television co-host. His practical approach to teaching biblical truth has captivated audiences around the world. Through the multi-faceted outreach of Outdoor Connection Ministries and many personal appearances, he encourages his audiences to a greater appreciation and understanding of God's plan for mankind.
More details about these resources