Together for the World: The Book of Acts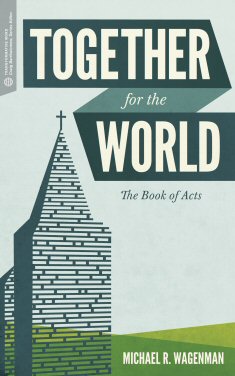 Empowered by the Holy Spirit
First-century Christians asked many of the same questions we ask today: Where does the church of Jesus Christ stand in the world? Where does the church fit in such a religiously diverse society? How should Christians respond to marginalization, ridicule, and insult? In Together for the World, Michael Wagenman reminds us that the book of Acts is about more than just the beginning of church history. It's a story that reveals the ongoing means by which God is still transforming people to be his witnesses in the world.
The Transformative Word Series
God's Word is transformative. It is this conviction which gives the Transformative Word series its name and its unique character. Series Editor Craig G. Bartholomew has worked alongside authors from around the world to identify a key theme in each book of the Bible, and each volume provides careful Biblical exegesis centered on that gripping theme. The result is an engaging, accessible thematic exploration of a biblical book, poised to offer you new and refreshing insights.
Learn more about the other titles in this series.
Praise for Together for the World
In this lively and lucid little book, Michael Wagenman teaches the book of Acts under the conviction that God is a missionary God who intends for his people to be a missionary people. Under the leadership of Christ and the empowerment of the Spirit, we, his people, are called to bring our neighbors and indeed entire societies into a missionary encounter with the gospel. Highly recommended.
—Bruce Ashford, author of Every Square Inch and One Nation Under God
Fresh and refreshing—a new look at Acts for everyone from amateur Bible students to biblical scholars.
—Leith Anderson, president, National Association of Evangelicals, Washington, D.C.
Wagenman successfully displays the unique role of Acts within the Bible, rescues us from a tired reading of Scripture, and helps us to hear its message with fresh ears. Though [Acts is] a well-worn narrative in many churches, Together for the World brings [the book] to life in its ancient and modern contexts, helping the reader to behold Luke's magisterial aims—literally and literarily.
—Dru Johnson, professor of biblical and theological studies, The King's College
Contents
Introduction
Background to Acts
Key Characters in Acts
Conflict in Acts
Main Themes in Acts
Reading and Applying Acts Today
Product Details
Title: Together for the World: The Book of Acts
Author: Michael R. Wagenman
Series: Transformative Word
Publisher: Lexham Press
Publication Date: 2016
Pages: 112
Format: Logos Digital, Paperback
Trim Size: 5x8
ISBN: 9781577997191
About Michael R. Wagenman
Michael R. Wagenman (PhD, University of Bristol) teaches New Testament at Redeemer University College (Ancaster, Canada) and is a chaplain at Western University (London, Canada) where he founded and directs the Kuyper Centre for Emerging Scholars, a Christian study center that seeks to disciple Christian leaders. He has pastored congregations in the U.S. and Canada, and speaks and writes regularly about Christian engagement within North American culture.
Sample Pages from Together for the World
More details about this resource