New Spirit-Filled Life Bible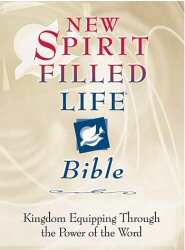 Overview
Dr. Jack Hayford, founding pastor of The Church on the Way, has led a team of anointed leaders to produce the New Spirit-Filled Life Bible, which offers a fresh look at the Scriptures and the work of the Holy Spirit. This new edition addresses important issues of Spirit-filled living in the context of solid biblical scholarship. More than a one-man, one-denomination, or one-emphasis study resource, this Bible unfolds the broad spectrum of Pentecostal and Charismatic teaching. Articles and commentaries are simple to read and understand, clarifying difficult passages and concepts.
Among its multiple study resources and approaches, the New Spirit-Filled Life Bible contains a developed coverage of forty-one themes referred to as "Kingdom Dynamics." Godly pastors, teachers, evangelists, and other key leaders have contributed to the provision of the wisdom, insight, and spiritual instruction contained in these Kingdom Dynamics articles. Their work has been organized into nine "clusters," in the spirit of Isaiah 65:8 which notes how "the new wine is found in the cluster" and that "a blessing is in it." These "clusters," each representing a general category of spiritual truth, and the component parts of each one, expand on key "new wine" principles of Bible-centered, Spirit filled life and ministry.
The New Spirit-Filled Life Bible also contains Word Wealth studies: detailed, easy-to-understand definitions for more than 550 important terms. Each Word Wealth listing is located within the Bible text, near the verse where the featured word appears. English spellings of original Greek and Hebrew words are given, along with helpful insight into the derivation, as well as the Strong's Concordance numerical listing for each word.
Also featured in the New Spirit-Filled Life Bible are the Truth-in-Action lessons: Truth-In-Action is an intensely practical feature showing you ways to apply the Bible's great truths. Appearing in chart form, this study help summarizes the foundations and teachings of each book, then invites you—and shows you how—to act upon the summons the Holy Spirit is issuing in the Word.
Full of fresh insight from many of today's most respected leaders, a new generation of believers seeking to become biblically equipped for kingdom building will eagerly read and embrace the New Spirit-Filled Life Bible. With the Logos Bible Software edition all Scripture passages in the New Spirit-Filled Life Bible are tagged to original language texts and English translations. This makes this Bible more powerful and easier to access than ever before for scholarly work or personal Bible study. With the advanced search features of Logos Bible Software, you can perform powerful searches by topic or Scripture reference—finding, for example, every mention of "regeneration," or "Luke."
Key Features
NKJV Bible text included
Over 40 contributors
41 New Kingdom Dynamics
Word Wealth studies with index
Truth-in-Action lessons
Revised annotations
Updated concordance
Detailed maps and charts
Product Details
Title: New Spirit-Filled Life Bible: Kingdom Equipping Through the Power of the Word
Executive Editor: Jack Hayford
Publisher: Thomas Nelson
Publication Date: 2002
Pages: 2,064
About Jack Hayford
Jack Hayford is the founding pastor of The Church on the Way, Van Nuys, California. He has written almost three dozen books, has composed more than 600 hymns, and is the Executive Editor of many Spirit-Filled Life publications produced by Thomas Nelson. He is heard around the world on radio and television. Dr. Hayford and his wife, Anna, have four children and eleven grandchildren.
Sample Pages from the Print Edition
More details about these resources