The Jon Courson Essential Bible Study Library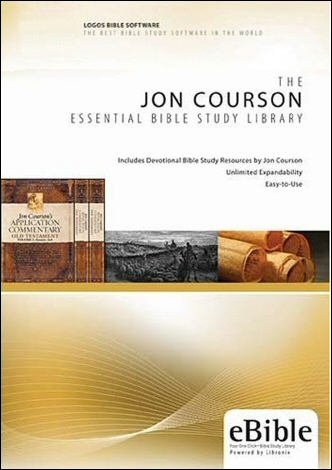 The Jon Courson Essential Bible Study Library
•
Runs on Windows, Mac and mobile.
Overview
Jon Courson is one of the most exhilarating ministers today. In his unique style, Pastor Jon has written a complete commentary that contains scholarly teachings, but is easy to read—making practical applications for us in our daily walk with Jesus and study of the Bible. Included are all three volumes of the commentary (two Old Testament and one New Testament), plus a daily devotional from Jon Courson, and other Nelson Reference works to make this a complete Bible study library.
Utilizing the power of Logos Bible Software, this resource is a great addition to your electronic library. The Jon Courson Essential Bible Study Library combines tremendous value with great functionality, and is an essential tool for every church and home library.
Key Features
Commentaries
Courson's Application Commentary on the Old Testament, Volume 1 (Genesis to Job)
Courson's Application Commentary on the Old Testament, Volume 2 (Psalms to Malachi)
Courson's Application Commentary on the New Testament
Bible Versions
King James Version
New King James Version
Devotional
Praise for the Print Edition
I believe that [Jon Courson] preaches the real Jesus and the true Gospel, for which I rejoice.
—Online Reviewer
Product Details
Title: The Jon Courson Essential Bible Study Library
Author: Jon Courson
Publisher: Thomas Nelson
About Jon Courson
In 1977, Pastor Jon Courson founded the Applegate Christian Fellowship church in Southern Oregon with a congregation of twenty. The church grew over the years to include approximately 7,000 people. Jon is now pursuing his passion to raise up young men as pastors for the next generation and has established a Pastor Training School. In addition, Jon speaks nationally and internationally at numerous churches, conferences and retreats. Jon's Searchlight ministry includes a radio program where his Bible teachings are aired on more than 400 radio stations daily. He is the author of A Future and A Hope, A Day's Journey, A Place For You and A Pillar By Day.
More details about these resources