Commentary on the Prophets of the Old Testament (5 vols.)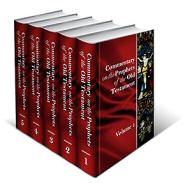 Commentary on the Prophets of the Old Testament (5 vols.)
•
Runs on Windows, Mac and mobile.
Overview
Well-known Biblical scholar Georg Heinrich Ewald takes an in-depth look at the prophets of the Old Testament in this collection, Commentary on the Prophets of the Old Testament (5 Vols.). The Old Testament prophets are a large and much discussed part of the Old Testament writings, and Ewald presents a critical commentary series unique in historical context and writing style. This exceptional set introduces each prophet in historically chronological order, rather than presenting a more traditional Biblically ordered listing.
A professor of both theology and philosophy, Ewald was associated with both the Protestant association and the Hanoverian Church of Germany. His writings on the Old Testament come from his extensive studies in the Hebrew language and research on the topic of the chronology of the Old Testament.
Along with a thorough exegesis, these resources published between the years of 1875 and 1881 also contain indexes and appendixes. A must-have for all interested in Old Testament studies, these volumes are now also easily searchable in your Logos collection.
Key Features
Chronological organization of Old Testament prophets
Table of arrangements for the book of Isaiah
Index of prophetic writings contained in this work
Product Details
Title: Commentary on the Prophets of the Old Testament (5 Vols.)
Author: George H. Ewald
Publisher: Williams and Norgate
Volumes: 5
Pages: 1,788
Collection Details
About Georg H. Ewald
Georg Heinrich Ewald, well-known orientalist, theologian and teacher, was born in 1803 in Gottingen, Germany. Throughout his life, he taught numerous students who went on to become well-known themselves, including Christian Friedrich, Ferdinand Hitzig, August Dillman, and August Schleicher. In addition to writing over twenty theological books, Ewald was also quite politically active until his death in 1875.