The Decades of Henry Bullinger (4 vols.)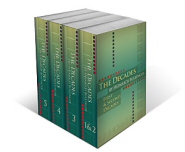 Overview
The Decades of Henry Bullinger include 50 godly and learned sermons, divided into five decades containing the chief and principal points of Christian Religion. Each sermon in the 4-volume collection is a culmination of multiple sermons given on the topic and encompasses his lifelong ministry—over 1,800 pages of sermons and related material. The Decades are meant to encourage, uplift and inspire ministers to uphold their high calling of preaching God's word. Bullinger implores, "But let the ministers of our time well weigh the condition and manner of the time; and then, no doubt, they shall see that it is high time to bestir them to the doing of their duties." He provides careful admonishment for shepherds to guard their flocks against the enemy and stand vigilant to promote truth and godliness.
The collection opens with a riveting explanation of Bullinger's works in the preface of First and Second Decades, boldly exclaiming his focus and passion for preaching and teaching. Bullinger then covers the Four General Synods, or Councils, and provides historical significance and relevance of the various creeds that came from these councils. The sermons that follow resonate with sympathy, love, grace, and tenderness not indicative of his time. With a passion for truth and God's word, Bullinger delivers messages that spurred and shaped the Reformation, yet still impact today's church.
The Logos Bible Software edition of the Bullinger's sermons contains links directly to Scripture and other books and articles in your digital library. All Scripture references display the verse on mouse over, and each reference is linked to the original language texts of the Bible and the English translations in your digital library.
Key Features
50 sermons from a critical time in Reformation period, each fully annotated with Scripture references.
Addenda for each volume
Ancillary information on history
Commentaries on the Four General Councils
Dedications to King Edward the Sixth
Biographical information on the author
Praise for the Print Edition
These sermons of master Bullinger's are such as, whether they be used privately or read publicly, whether of ministers of the Word or other God's children, certainly there will be found in them such light and instruction for the ignorant, such sweetness and spiritual comfort for consciences . . . the more diligently you peruse them, the more delightfully they will please; and the deeper you dig with daily study in their mines, the more golden matter they will deliver forth . . .
—From the Preface, The First and Second Decades
Product Details
Title: The Decades of Henry Bullinger
Author: Henry Bullinger
Publisher: Cambridge University Press
Volumes: 4
Pages: 1,868
About Henry Bullinger
Heinrich (Henry) Bullinger (1504–1575) was a Swiss Reformer who succeeded Zwingli as head of the Swiss church and was one of the most influential theologians of the Protestant Reformation. He was a minister, theologian and writer of thousands of letters in correspondence with prominent leaders of the Protestant world. He was integral in drafting the Second Helvetic Confession of 1566, and his Decades remain his most popular and significant writings. Bullinger was a loving family man, dedicated to his wife, Anna Adlischweiler, a former nun, and his eleven children—all of his sons followed their father's footsteps and became Protestant ministers.
More details about these resources