Edwin Hatch Collection (3 vols.)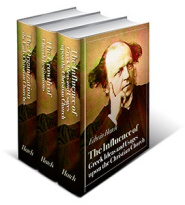 Overview
This collection by Edwin Hatch—minister, professor, theologian, and scholar—brings forth his consequential and impactful research on early Christian history in three accessible volumes. This anthology begins with Hatch's controversial lectures on Greek influences upon early Christian doctrine, followed by his thoughts on the growth and change of modern Christianity from its original foundations, and culminates with his historical accounting of the formation of the Church as an organization.
For more than a century, Hatch's work on Christian history, Greek linguistics, Septuagint research, and textual criticism has been lauded for its authority and influence. A lecturer at Trinity College and Oxford University, Hatch's substantial contribution to Christian thought and biblical exegesis has been astounding.
With Hatch's customary rich prose and expansive research, these books are perceptive and exceptional in their scholarship. Perfect for students, theologians, scholars, and historians, this 3-volume set is integral to early Church history studies.
Key Features
Thorough introductions by the author
Detailed table of contents
Complete indices
Praise for the Print Editions
The treasure chest of Greco-Roman analogues and parallels that Edwin Hatch opened for New Testament students remains open. It is a wonderful resource that we should continue to mine.
—Journal of Biblical Literature, 1999
Individual Titles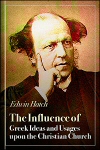 Starting with an analysis of the substantial differences of the "form and content between the Sermon on the Mount and the Nicene Creed," Edwin Hatch's controversial work sought to establish the process by which Greek ideas and customs were permanently imbued into central Christian thinking. Based on twelve lectures he gave in 1888 as part of the ongoing Hibbert Lectures, Hatch's examination of the influence of Greek culture in Christianity during the 1st–4th century is illuminating.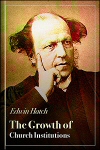 The differences between early Christianity and modern Christianity are explored in this absorbing, powerful work. Edwin Hatch takes the position that Christianity is "at once universal and permanent," evolving and changing as human society does. Citing these outward changes as necessary and natural, Hatch argues that these advances in modern Christianity are inevitable as it grows to accept new members into its fold.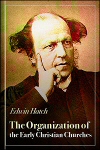 Delivered as eight lectures before the University of Oxford, Edwin Hatch's The Organization of the Early Christian Churches is an engrossing historical account of the formation of ecclesiastical polity. Addressing such controversies as the secular influence within the creation of the early church as well as adopting systems already engaged by civil organizations of the time, Hatch's lectures have been an integral and contentious resource for early Church historians and theologians.
Product Details
Title: Edwin Hatch Collection (3 vols.)
Author: Edwin Hatch
Volumes: 3
Pages: 941
About the Editors
Edwin Hatch (1835–1889) studied at Cambridge and then graduated from Pembroke College at Oxford University. Ordained in 1859, Hatch proceeded to teach at a number of schools and universities, including Trinity College in Toronto and Oxford University, where he returned as vice-principal of St. Mary Hall. A noted theologian and scholar, his books regularly provoked controversy and criticism.
More details about these resources