Francis J. Hall Theology Collection (16 vols.)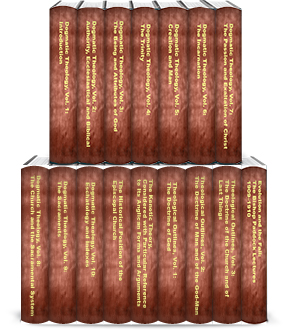 Francis J. Hall Theology Collection (16 vols.)
•
Runs on Windows, Mac and mobile.
Overview
Francis J. Hall recognized the value of modern advances in knowledge and was convinced that Christianity could not be compromised by truth from any quarter—science, philosophy, and modernist biblical criticism. In fact, he believed that the best theology fully engages scholarship in all its forms. The Francis J. Hall Theology collection contains Hall's 10-volume Dogmatic Theology, his 3-volume Theological Outlines, and his writings on the history of the Episcopal Church, kenotic theory, and the relationship between original sin and the theory of evolution.
As an Episcopalian, Hall writes firmly within the tradition of Anglo-Catholicism, and his theology conforms to the historical Christian faith. Yet he also aims to revisit the central doctrines of the church in order to address the practical conditions and the intellectual challenges facing each successive generation of Christians. The volumes found in this collection address the theological, philosophical, and scientific advances of the nineteenth century, and, as a whole, present a unifying summary of the Christian faith. In fact, Hall's 10-volume Dogmatic Theology, included in this collection, has been widely compared to the Summa Theologica of Thomas Aquinas in its theological depth and scope.
With the Logos edition of the Francis J. Hall Theology Collection, references to Church Fathers, medieval theologians, and Reformation scholars are linked, giving you instant access to other theological works relevant to your reading and research. Your digital library also allows you to perform powerful searches and word studies, and Scripture passages are linked to your Hebrew and Greek texts, along with your English translations! The Francis J. Hall Theology Collection is ideal for anyone interested in the relationship between theology and other academic disciplines in the late-nineteenth century, for anyone interested in Anglican studies, and for pastors, teachers, and students looking for a comprehensive and accessible summary of Christian thought.
Key Features
Hall's 10-volume Dogmatic Theology, widely compared to the Summa Theologica of Thomas Aquinas
Comprehensive subject indexes found in Volume Ten of Dogmatic Theology and in each volume of the Theological Outlines
Francis J. Hall's works on the history of the Episcopal Church, kenotic theory, and evolution.
Praise for the Print Edition
The author's learning and wide reading are as conspicuous throughout the book as is his fidelity to the point of view…
—Journal of Theological Studies
Dr. Hall is eminently qualified for the task he has undertaken…his style may be commended as a model of theological writing in English. It is clear, concise, direct, dignified, and elegant.
—Irish Theological Quarterly
…marked by caution, balance, and restraint, and deserves to be carefully read.
—Guardian
Dr. Hall uses his space well…he writes with candor and ability.
—London Quarterly Review
Product Details
Title: Francis J. Hall Theology Collection
Author: Francis Joseph Hall
Volumes: 16
Pages: 4,190
About Francis Joseph Hall
Francis Joseph Hall was a prominent Episcopal theologian in America during the late nineteenth and early twentieth centuries. He was born in 1857 in Ashtabula, Ohio, and graduated from Racine College in 1882. He was ordained in 1886 and became professor of dogmatic theology at Western Seminary in Chicago, where he remained until 1913. Hall died in 1933.