Georg Curtius Greek Studies Collection (4 vols.)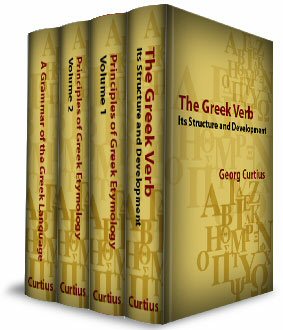 Georg Curtius Greek Studies Collection (4 vols.)
•
Runs on Windows, Mac and mobile.
Overview
The most important works of Georg Curtius, premier German philologist of the nineteenth century, are gathered into this new four-volume collection. His linguistic theories continue to influence the field today, particularly in Greek New Testament studies. Curtius's considerable knowledge of the Greek language allowed him to compose several academic works and reference books that have aided scholars for decades. This collection provides the reader with a basic introduction to Greek linguistics in A Grammar of the Greek Language as well as more in-depth studies with Principles of Greek Etymology and a detailed study of verbs in The Greek Verb: Its Structure and Development.
Key Features
Includes a complete introduction to Greek linguistics
Gives history and principles of the field
Contains several study aids such as bibliographies and appendixes
Praise for the Print Edition
The work of Georg Curtius has marked a great step in forwarding the understanding of the use of the tenses in Greek in particular.
—Jacob Wackernagel, Lectures on Syntax
Most credit for making grammarians aware of the issue of verbal kind of action goes to Curtius . . . The importance of Curtius's groundbreaking work cannot be overestimated.
—Stanley E. Porter, Verbal Aspect
Product Details
Title: Georg Curtius Greek Studies Collection
Author: Georg Curtius
Volumes: 4
Pages: 1,964
About the Author
Georg Curtius was born in 1820 in Germany. He is considered one of the premier German philologists and professors of the nineteenth century and his work a standard authority on Greek linguistics in New Testament studies. He published several scholarly works during his lifetime, which have been translated and reprinted numerous times into other languages. Curtius died in 1885.
More details about these resources