The Complete Works of Thomas Smyth (10 vols.)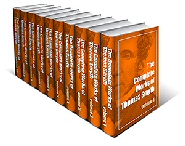 The Complete Works of Thomas Smyth (10 vols.)
•
Runs on Windows, Mac and mobile.
$20.00
Reg.: $149.95
Print: $399.95
* Projected price. Future bids may change this price.
Place Your Bid!
Click on the highest price you'd pay. If the final price is lower, that's what you'll pay.
Overview
Thomas Smyth was a nineteenth century pastor and lecturer, prolific in writing and preaching. In this extensive ten-volume set, Smyth's many sermons, lectures, treatises, church guidelines, reviews, discourses, and articles are collected.
Smyth was involved in politics and social issues, as well as being a key character in nineteenth century formation of doctrine and practice in the Presbyterian Church. He was well-known for his views and involvement in the American Civil War, arguing for the common humanity of all people. He was strongly opposed to the splitting of the Presbyterian denomination at the time, believing that unity was more important than individual opinions. Smyth was especially famous for promoting the necessity of elders and deacons in church leadership, pointing to Scripture for his arguments. Smyth focuses on both theoretical and practical aspects of this important issue, providing in-depth context and analysis. This collection is essential for Presbyterian pastors, seminary students, and anyone interested in the history of Presbyterianism in America.
Key Features
Comprehensive collection of Smyth's writings
Each volume contains explanatory table of contents
Includes appendix and indexes
Product Details
Title: The Thomas Smyth Collection (10 Vols.)
Author: Thomas Smyth
Publisher: Crocker and Brewster
Volumes: 10
Pages: 7,088
About Thomas Smyth
Thomas Smyth was born in 1808 in Ireland. He immigrated to the United States with his parents as a young man. In 1843, Princeton Seminary awarded Smyth an honorary Doctor of Divinity. He was the father of seven children and pastored in Charleston, South Carolina for most of his career. He died in 1878.