A Bible Commentary for English Readers (8 vols.)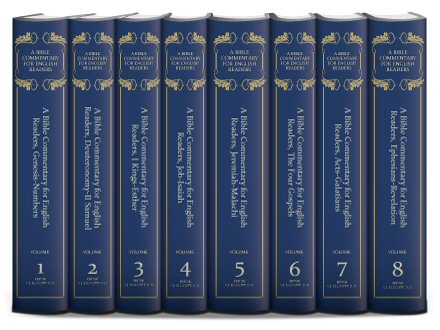 A Bible Commentary for English Readers (8 vols.)
•
Runs on Windows, Mac and mobile.
$35.00
Reg.: $199.95
Print: $299.95
* Projected price. Future bids may change this price.
Place Your Bid!
Click on the highest price you'd pay. If the final price is lower, that's what you'll pay.
Overview
A compilation of the work of over 25 authors such as Rev. Payne Smith, Rev. Charles J. Ellicott and Rev. Charles H. Waller, this collection is a must have for anyone wanting to gain a greater understanding of the Old Testament and New Testament of the Bible. A Bible Commentary for English Readers is written in such a format that makes the text easy to understand since the scripture and commentary are on the same page. This makes for easier reading and correlation between the scripture and commentary because the content is derived from English instead of Greek as in Ellicott's other works.
The books contained in this collection focus on the text from an English perspective whereas Ellicott's other works are discussed from a Greek viewpoint. By recognizing that the content of A Bible Commentary for English Readers focuses on English rather than Greek, and pays attention to the expository side less than the technical since it does not contain Greek words or terminology. If you are looking for a good, solid commentary that is relevant and easy to understand, then A Bible Commentary for English Readers is one you do not want to pass up!
Key Features
Contains commentary on the Old Testament and the New Testament
Each volume includes a map of the location mentioned in it
Contains an introduction to each book
Individual Titles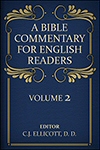 Authors
Deuteronomy by The Rev. C. H. Waller, MA
Joshua by The Rev. C. H. Waller, MA
Judges by The Very Rev. F. W. Farrar, DD, FRS
Ruth by The Rev. Sinker, MA
I Samuel by The Very Rev. H. D. Spence, MA
II Samuel by The Rev. F. Gardiner, DD
Contents of Volume 2
Deuteronomy

Introduction to Deuteronomy
Text of Deuteronomy
Excursus to Deuteronomy
Joshua

Introduction to Joshua
Text of Joshua
Excursus to Joshua
Judges

Introduction to Judges
Text of Judges
Excursus to Judge
Ruth

Introduction to Ruth
Text of Ruth
1 Samuel

Introduction to 1 Samuel
Text of 1 Samuel
Excursus to I Samuel
II Samuel

Introduction to II Samuel
Text of II Samuel
Supplementary Note on the Text of II Samuel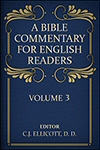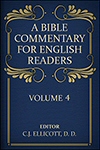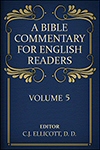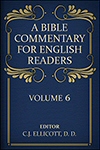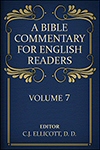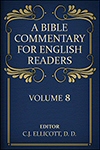 Authors
The Epistle to the Ephesians, Philippians and Colossians by The Right Rev. Alfred Barry, DD
The Epistle to the Thessalonians by The Rev. A. J. Mason, MA, DD
The Epistles to Timothy and Titus by The Very Rev. H. D. M. Spence, DD
The Epistles to the Hebrews by The Rev. W. F. Moulton, DD
The Epistle of St. James by The Rev. E. G. Punchard, DD
The First Epistle of St. Peter by The Rev. A. J. Mason, MA, DD
The Second Epistle of St. Peter by The Rev. Alfred Plummer, MA, DD
The Epistles of St. John by The Ven. W. M. Sinclair, MA, DD
The Epistle of St. Jude by The Rev. Alfred Plummer, MA, DD
The Revelation of St. John by The Right Rev. W. Boyd Carpenter, DD
Contents of Volume 8
The Epistle to the Ephesians, Philippians and Colossians

Ephesians

Introduction to the Epistle to the Ephesians
Text of the Epistle to the Ephesians

Philippians

Introduction to the Epistle to the Philippians
Text of the Epistle to the Philippian

Colossians

Introduction to the Epistle to the Colossians
Text of the Epistle to the Colossians
Excursus to the Epistle
The First Epistle to the Thessalonians

Introduction to the Epistle to the Thessalonians
Text of the First Epistle to the Thessalonians
The Second Epistle to the Thessalonians

Introduction to the Second Epistle to the Thessalonians
Text of the Second Epistle to the Thessalonians
Excursus to the Epistle
The Pastoral Epistles

The First Epistle to Timothy
Introduction to the First Epistle to Timothy
Text of the First Epistle to Timothy
Excursus to the Epistle
Introduction to the Second Epistle to Timothy

The Second Epistle to Timothy
Excursus to the Epistle
The Epistle to Titus

Introduction to the Epistle to Titus
Text of the Epistle to Titus
The Epistle to Philemon

Introduction to the Epistle to Philemon
Text of The Epistle to Philemon
The Epistle to the Hebrews

Introduction to the Epistle to the Hebrews
Text of the Epistle to the Hebrews
The General Epistle of St. James

Introduction to the General Epistle of St. James
The General Epistle of St. James
The First Epistle General of St. Peter

Introduction to the First Epistle General of St. Peter
The Text of the First Epistle General of St. Peter
The Second Epistle General of St. Peter

Introduction to the Second Epistle General of St. Peter
The Text of the Second Epistle General of St. Peter
The First Epistle General of St. John

Introduction to the First Epistle General of St. John
The text of the First Epistle General of St. John
The Second and Third Epistles to St. John

Introduction to the Second and Third Epistles to St. John
Text of the Second and Third Epistles to St. John
The General Epistle of St. Jude

Introduction to the General Epistle of St. Jude
Text of the General Epistle of St. Jude
Excursus to the Epistle
Revelation

Introduction to the Revelation
The Text of the Revelation
Excursus to the Revelation
Product Details
Title: A Bible Commentary for English Readers (8 Vols.)
Editor: Charles J. Ellicott
Publisher: Cassell and Company
Volumes: 8
Pages: 4,473