Minor Prophets Combo (3 vols.)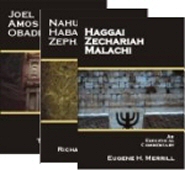 Overview
We are pleased to announce the availability of a new exegetical commentary set written by three distinguished scholars and released by one of our publishing partners, Galaxie Software.
Individual Titles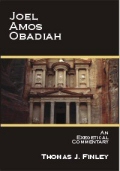 An Exegetical Commentary: Joel, Amos, Obadiah
Author: Thomas Finley
Publisher: Biblical Studies Press
Publication Date: 2003
Pages: 341
The prophet Joel speaks of a day of unparalleled blessing and judgment. Two events occupy center stage in the book of Joel: a great plague of locusts and the Day of the Lord. Joel calls the people of Judah to repent in light of the disastrous devastation brought by locusts. The Lord's promise to restore and bless anew His people when they repent serves as the backdrop for a sweeping message about the future Day of the Lord.
The prophet Amos speaks to people who were religious but who were not righteous. He focuses on the unjust practices of the rich and powerful against the poor and helpless in Israelite society. He strives especially to show how day-to-day living cannot be separated from true worship of the Lord. Words of judgment and condemnation dominate the prophet's message, but Amos concludes with a vision of Israel rejoined with the people of Judah in justice and unprecedented prosperity.
Obadiah tells a story of double betrayal. The nation of Edom, which should have been an ally, betrayed Judah when the Babylonians destroyed Jerusalem in 586 B.C. As punishment the Lord promises that Edom will likewise fall prey to a trap by its allies. Obadiah then takes this theme of "judgment through betrayal because of betrayal" and expands it to encompass all nations when the Day of the Lord comes and "the kingdom will be the Lord's."
Thomas J. Finley B.A., Biola University; M.Div., Talbot School of Theology; M.A., University of California at Los Angeles; Ph.D., University of California at Los Angeles) chairs the Department of Old Testament and Semitics at Talbot School of Theology in La Mirada, California. He has written both technical and popular articles for various publications.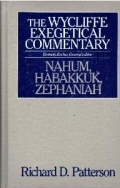 An Exegetical Commentary: Nahum, Habakkuk, Zephaniah
Author: Richard Patterson
Publisher: Biblical Studies Press
Publication Date: 2003
Pages: 352
When God revealed to Nahum the coming doom of Assyria and Nineveh, Nahum relayed that message to his countrymen with a poetic skill that is unequaled among the Minor Prophets. His powers of description are so superb that readers of all ages have marveled at the forcefulness and accuracy of his words. Nahum's good news of Nineveh's fall has not only reverberated across the pages of time but stands both as a reminder that God is in control of the flow of history and as a harbinger of the good news of God's ultimate purpose to sum up all history in His Son.
Habakkuk wrestled with the perennial problem of the operation of God's holiness and justice in a world of spiritual and moral decay. Unable to resolve his problem apart from divine instruction, he came to God with hard questions. Habakkuk learned what every believer must come to realize: that Israel's Redeemer is in control of earth's history and does have a plan for its people; that God's high ethical standards are normative for all persons; and that mature believers will live their lives in total faith and trust in God, who alone is sufficient guide and resource for life's changing fortunes.
Zephaniah is best remembered for his teachings concerning the Day of the Lord. But Zephaniah should also be remembered as a prophet of hope who looked beyond the impending judgment of mankind to an age when a purified and faithful people will serve God in truth and rejoice in the everlasting blessings of His love. Zephaniah's teachings remind all believers not only of God's standards and purposes but of the positive difference one believer can make in an unbelieving and materialistic society. His timeless warnings and message of hope need to be boldly proclaimed once again in today's self-serving world.
Richard D. Patterson (A.B., Wheaton College; M.Div., Northwest Baptist Theological Seminary; Th.M. Talbot Theological Seminary; M.A., Ph.D., University of CaliforniaLos Angeles) is chairman of the Department of Biblical Studies and professor of Semitic Languages and literatures at Liberty University, Lynchburg, Virginia. He contributed to The Expositor's Bible Commentary and has written articles for Grace Theological Journal, the Journal of the Evangelical Theological Society, and other scholarly journals.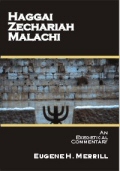 An Exegetical Commentary: Haggai, Zechariah, Malachi
Author: Eugene H. Merrill
Publisher: Biblical Studies Press
Publication Date: 2003
Pages: 403
In a day of profound discouragement and misplaced priorities following the return of the Jews from Babylonian exile, the prophet Haggai sounded a clarion call of rebuke, exhortation, and encouragement to his contemporaries. They had begun to rebuild their own homes and businesses and to establish their statehood as a Jewish community but had been derelict in tending to the construction of the temple and making the Lord the central focus of all their hopes and dreams. The message of Haggai, so effective in shaking the Jews of 520 B.C. from their lethargy, has an abiding relevance for all who fail to seek first the Kingdom of God and His righteousness.
Whereas Haggai's vision encompassed, for the most part, his immediate, temporal situation, the range of his contemporary and colleague was much more expansive; for Zechariah not only shared Haggai's burden about the inertia of the postexilic community, but by vision and dream saw the unfolding of Divine purpose for all of God's people and for all the ages to come. Rich in apocalyptic imagery and packed with messianic prediction and allusion, Zechariah's writings became a favorite of the New Testament evangelists and apostles. The glorious hope expounded by the prophet was viewed by them as being fulfilled in the saving work and witness of Jesus Christ. No Minor Prophet excels Zechariah in the clarity and triumph by which he looks to the culmination of God's program of redemption.
The burden of this, the last of the Old Testament prophets, was the glaring inconcinnity between the identity of the Jewish community as the people of God and the living out of all that this required of them. Theirs was not the problem of rebuilding the Temple and holy city, for that had long been done by Malachi's day; rather, it was the issue of holy living and holy service in the aftermath of all the external accomplishments. Malachi, though dead, yet speaks to the modern world about the need to bring performance into line with profession. His message, therefore, is current, especially in light of the coming of the One of whom the prophet so eloquently spoke.
Eugene H. Merrill is Distinguished Professor of Old Testament Studies at Dallas Theological Seminary where he has served on the faculty since 1975. The author of scores of books and articles, mainly of a historical and exegetical nature, Dr. Merrill holds the PhD in Old Testament studies from Bob Jones University, the MA in Jewish Studies from New York University, and the MPhil and PhD in Middle Eastern Studies from Columbia University. He is an active churchman and preaches and teaches abroad on a regular basis.
Product Details
Title: Minor Prophets Combo
Publisher: Biblical Studies Press
Volumes: 3
Pages: 1,096
More details about these resources