Zondervan Biblical Theology Collection (4 vols.)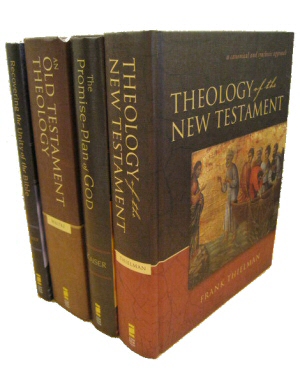 Zondervan Biblical Theology Collection (4 vols.)
•
Runs on Windows, Mac and mobile.
Overview
In order to best understand the Scriptures, it is vital that we obtain a firm grasp of the doctrines found within them. The four volumes in the Zondervan Biblical Theology Collection (4 vols.) provide a helpful framework for doing so, with writings from four renowned scholars of both the Old and New Testaments. If you are hoping for illumination, a holistic look at each Testament, a better understanding of the themes that run throughout the Bible, or even a challenging addition to your own personal Bible study, you will love the content found within this fantastic Zondervan series.
These volumes are comprised of over 2,500 pages rich with insight and critical erudition. Accessible to the layperson yet academic in nature, this set of resources is an indispensible addition to the library of all in ministry of any capacity. And, with the digital edition, studying this collection is easier than ever. With the lightning-fast search capabilities of Logos Bible Software, combined with the instant availability of Scripture references with a mouse-over, topical studies and Bible study is convenient, fast, and comprehensive.
Key Features
Critical scholarship from noted Old and New Testament scholars
Broad overview of the theology found within the Scriptures
Discussion of the unity and overarching themes of the Bible
Product Details
Title: Zondervan Biblical Theology Collection
Publisher: Zondervan
Volumes: 4
Pages: 2,512