God Behind the Scenes: The Book of Esther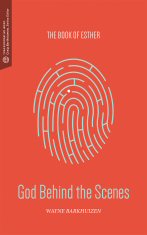 The Fingerprints of God
Even when it feels like he is absent, God is always at work behind the scenes. Although the book of Esther contains no direct references to God, his fingerprints are found all over it. The book traces the unseen hand of God, working through the lives of his people to deliver them from destruction. In God Behind the Scenes, Wayne K. Barkhuizen examines the strange yet gripping story of Esther, pointing out how it's still relevant today. He shows how divine Providence was active in preserving the people through whom the Messiah, Jesus Christ, would one day come.
The Transformative Word Series
God's Word is transformative. It is this conviction which gives the Transformative Word series its name and its unique character. Series Editor Craig G. Bartholomew has worked alongside authors from around the world to identify a key theme in each book of the Bible, and each volume provides careful Biblical exegesis centered on that gripping theme. The result is an engaging, accessible thematic exploration of a biblical book, poised to offer you new and refreshing insights.
Learn more about the other titles in this series.
Praise for God Behind the Scenes
Wayne Barkhuizen has done the Church of Christ worldwide a great favor with his book God Behind the Scenes. Here is an excellent presentation of the message of the book of Esther. Written simply and very engagingly, Wayne puts Esther in historical perspective and also succeeds in putting flesh and blood on all the characters in the story. This book is a great reminder of the providence and sovereignty of God over all of life and his special care for his own people. This is an altogether helpful book that will not only be a great help to individual Christians but also helpful for those who meet in group studies. I highly recommend it.
—Rt. Rev. Frank Retief, former presiding bishop of REACH-SA
Wayne Barkhuizen has written a highly readable and insightful guide for individuals or groups studying the book of Esther. The reflection questions are sure to inspire some lively thought—and debate! I can recommend it highly to Bible readers who want to begin digging deeper into this fascinating narrative.
—Anthony Tomasino, author of Zondervan Illustrated Bible Backgrounds Commentary: Esther and Evangelical Exegetical Commentary: Esther
Contents
Introductoin
A Portrait of Esther
The Fascination of Story
A Pretty Jew in the Palace of a Foreign King
A Jewish Holocaust Looms
A Jewish Queen to the Rescue
A Jew Honored by His Archenemy
A Dead End for the Jews' Enemy
A Royal Edict Saves the Jews
Product Details
Title: God Behind the Scenes: The Book of Esther
Author: Wayne Barkhuizen
Series: Transformative Word
Publisher: Lexham Press
Publication Date: 2016
Pages: 128
Format: Logos Digital, Paperback
Trim Size: 5x8
ISBN: 9781577996590
About Wayne Barkhuizen
Wayne K. Barkhuizen serves as rector of Christ Church Pietermaritzburg, KwaZulu Natal, South Africa. He was ordained in 1987 and served as a military chaplain in South Africa. He has served in seven local churches in Johannesburg, Durban, and Cape Town.
Sample Pages from God Behind the Scenes
More details about this resource