Mobile Ed: NT347 Book Study: Paul's Letter to the Colossians (4 hour course)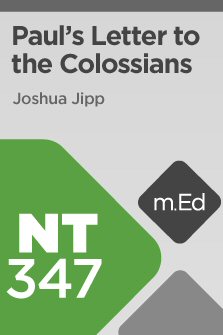 Mobile Ed: NT347 Book Study: Paul's Letter to the Colossians (4 hour course)
•
Runs on Windows, Mac and mobile.
Overview
In this course, Dr. Joshua Jipp takes you through each passage of Colossians, identifying important themes such as Christ's work in creation and redemption, our union with Christ, and sanctification. You'll learn from Paul how to pray God-centered prayers of thanksgiving and intercession. You'll better understand the role that Christology plays in Paul's argumentation and how that Christology can shape our identity each and every day.
Dr. Jipp also provides background information on the church in Colossae and describes the challenges the Colossians may have been facing. He examines the genre as well—you'll learn what an epistle is, why someone like Paul would write one, and what you should be looking for as you read.
Learning Objectives
Upon successful completion you should be able to:
Explain prominent themes found in Paul's letter to the church in Colossae
Relate Paul's instruction to the church to their historical setting
Interpret Paul's epistles according to their genre
Course Outline
Introduction
Introducing the Speaker and the Course
Unit 1: Introduction and Background
Basic Hermeneutical Principles
The Author of Colossians
Finding Evidence for Pauline Authorship
The Recipients of Colossians
The Purpose and Form of an Epistle
Comparing the Introduction Sections of New Testament Epistles
The Contemporary Message of Colossians
Unit 2: Prayer of Thanksgiving and Intercession (Col 1:1–14)
Introduction to the Letter
Paul's Thanksgiving
Finding All New Testament Prayers of Thanksgiving
Paul's Intercession
The Role of Prayer in Paul's Letters
Unit 3: The Christ Hymn (Col 1:15–23)
Christology
Hymns in the New Testament and Early Christianity
Christ's Cosmic Work in Creation
Christ's Cosmic Work in Redemption
Exploring the Metaphor of "Head" in the Bible
The Rhetorical Function of the Christ Hymn
Unit 4: Paul's Ethos Argument (Col 1:24–2:5)
Paul's Authority
The Role of Exemplars in Religious Antiquity
Paul's Vicarious Sufferings
Researching Persecution in the Early Church
Paul Proclaims God's Mystery
Paul's Cosmic Proclamation
Review and Introduction
Unit 5: The Heart of Paul's Letter (Col 2:6–15)
Walk in Him
The Thesis Statement of Colossians
Understanding and Searching for Occurrences of Causal Clauses
Sharing in the Fullness of God
Finding Prepositional Phrases Related to Union with Christ
Sharing in Christ's Death, Burial, and Resurrection
The Defeat of Death, Sin, and Evil
Unit 6: Futility and Fullness (Col 2:16–23)
The Situation in Colossae
Christology Is All You Need
Asceticism and Spiritual Arrogance
Unit 7: Antidote to Error (Col 3:1–16)
Hidden with Christ
A Practical Wisdom
Rooted in the Messiah
The Application of Christology
The Believing Community
The New Humanity
The Characteristics of the New Community
Researching Paul's Use of Positive and Negative Imperatives
Unit 8: Sanctification of the Ordinary Life (Col 3:17–4:6)
Life under the Lordship of Christ
The Household Codes: Part 1
The Household Codes: Part 2
The Household Codes: Part 3
The Church's Responsibilities
Unit 9: Paul and His Churches (Col 4:7–18)
A Significant Ending
Letters and Envoys
A Family Identity
The Success of the Gospel
Unit 10: The Legacy of Colossians
Christology as Antidote
The Root of Christian Behavior
A Guide for Prayer
Conclusion
Product Details
Title: NT347 Book Study: Paul's Letter to the Colossians
Instructor: Joshua Jipp
Publisher: Lexham Press
Publication Date: 2015
Product Type: Logos Mobile Education
Resource Type: Courseware, including transcripts, audio, and video resources
Courses: 1
Video Hours: 4
About the Instructor
Dr. Joshua Jipp is assistant professor of New Testament at Trinity Evangelical Divinity School. His most recent scholarly work includes "Paul's Areopagus Speech of Acts 17:16–34 as Both Critique and Propaganda" in the Journal of Biblical Literature, and Divine Visitations and Hospitality to Strangers in Luke–Acts: An Interpretation of the Malta Episode in Acts 28:1–10 (Brill). He's currently working on a book on Pauline Christology for Fortress Press and the Two Horizons Commentary on the Acts of the Apostles for Eerdmans.
Getting the most out of Mobile Ed
Logos Mobile Education is a highly effective cross-platform learning environment that integrates world class teaching with the powerful study tools and theological libraries available in Logos Bible Software. Every course provides links to additional resources and suggested readings that supplement the lecture material at the end of every transcript segment.
This course was produced with screencast videos. These videos provide tutorials showing you how to use Logos Bible Software in ways that are tied directly into the content of the course. We are now producing Activities resources as a replacement for screencast videos. We plan on updating this course to include this additional Activities resource in the future for no extra charge.
More details about these resources