Sacra Doctrina: Christian Theology for a Postmodern Age Series (6 vols.)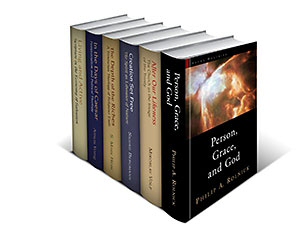 Sacra Doctrina: Christian Theology for a Postmodern Age Series (6 vols.)
•
Runs on Windows, Mac and mobile.
Overview
The Christian church is faced with new responsibilities and challenges in our postmodern day. This ecumenical series, sponsored by the Christian Theological Research Fellowship, reaps the wisdom of Christian tradition and Scripture to propose fresh insights for today's church. Grounded in sound scholarship, it will appeal to thoughtful pastors, educated laypeople, theological students, and scholars in a quest for faithful understanding of the Christian message.
Sacra Doctrina: Christian Theology for a Postmodern Age Series (6 Vols.) is the culmination of writings from six noted scholars, and contains over 2,000 pages of sound doctrine. Looking at theology through the lens of a postmodern culture, these volumes are essential and highly significant works. What's more—in digital format, scripture references in these volumes can be accessed by a quick mouse-over, and searches bring up hundreds of results instantaneously.
Key Features
Six volumes on Christian theology for a postmodern age
Writings from respected theologians and biblical scholars
An excellent resource for pastors, teachers, students, and laity
Product Details
Title: Sacra Doctrina: Christian Theology for a Postmodern Age Series (6 Vols.)
Publisher: Eerdmans
Volumes: 6
Pages: 2,095
Collection Details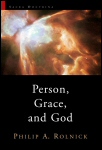 Person, Grace, and God
Author: Philip A. Rolnick
Publisher: Eerdmans
Publication Date: 2007
Pages: 280
This volume offers a robust theological investigation of the concept of the person. Philip Rolnick calls us to think about personhood not just psychologically—understanding it as a set of traits or behaviors or as a level of social adroitness—but theologically. He believes that person represents our highest understanding of our lives with regard to each other, the world, and God. Some understanding of person underlies virtually every significant Christian doctrine and points to what is most at stake in it.
A philosophically astute, historically informed, scientifically minded theologian, Rolnick here highlights the centrality of person for Christian thought by tracing its development from pre-Christian anticipations through the early church councils to Augustine, Boethius, Richard of St. Victor, and Aquinas. Examining contemporary challenges to the concept of the person from evolutionary biology and postmodern thought, Rolnick demonstrates the impressive accomplishment of neo-Darwinian research and then shows ways to interpret the biological data that are consonant with Jesus' love commands. Rolnick's Person, Grace, and God is a wide-ranging, deeply informed study of a topic of no small importance in a world in which science, postmodern thought, and Christian theology continuously engage each other.
In Person, Grace, and God Philip Rolnick offers a wide-ranging, compellingly argued, and gracefully written theological account of the person. Deeply steeped in the theological tradition, Rolnick astutely engages the modern as well as postmodern philosophies du jour, enters into a serious dialogue with the natural sciences, and presses relentlessly for a full theological recovery of the abiding significance of personhood in the midst of a troubled world. This is an excellent Protestant echo and elaboration of the late Pope John Paul's theology of the person and hence a work of urgent relevance for Protestants and Catholics alike. It is a remarkable achievement—arguably one of the very best Protestant works of recent years on theological anthropology.
—Reinhard Hütter, Duke Divinity School
The straightforward and skillfully presented account of human personhood Rolnick articulates in Person, Grace, and God is highly recommended to all interested in exploiting the resources of theology to overcome the contemporary collapse of metaphysics.
—Expository Times
Philip A. Rolnick is professor of theology at the University of St. Thomas, St. Paul, Minnesota. He is also the author of Analogical Possibilities: How Words Refer to God.

After Our Likeness: The Church as the Image of the Trinity
Author: Miroslav Volf
Publisher: Eerdmans
Publication Date: 1997
Pages: 326
In After Our Likeness, the inaugural volume in the Sacra Doctrina series, Miroslav Volf explores the relationship between persons and community in Christian theology. The focus is the community of grace, the Christian church. The point of departure is the thought of the first Baptist, John Smyth, and the notion of church as "gathered community" that he shared with Radical Reformers. Volf seeks to counter the tendencies toward individualism in Protestant ecclesiology and to suggest a viable understanding of the church in which both person and community are given their proper due. In the process he engages in a sustained and critical ecumenical dialogue with the Catholic and Orthodox ecclesiologies of Joseph Cardinal Ratzinger and the metropolitan John Zizioulas. The result is a brilliant ecumenical study that spells out a vision of the church as an image of the triune God.
One of the most important contributions made to the study of ecclesiology, not only within Protestant theology where good ecclesiology is often scarce, but also in the field of the ecumenical study of the Church.
—Anglican Theological Review
Volf offers a significant contribution to the debate from a free-church point of view, grounded in biblical and patristic research, but taking account of the ecumenical studies and contemporary systematic contributions of Moltmann and Pannenberg, especially their eschatological orientations. The author's own background, in both the Croatian context where Catholic and Orthodox churches dominate and working within the evangelical scholarly community, gives his research and ecumenical breadth and uniqueness of point of view that makes its contribution to the discussion particularly important.
—Journal of Ecumenical Studies
Miroslav Volf is Director of the Yale Center for Faith and Culture and Henry B. Wright Professor of Systematic Theology at Yale Divinity School, New Haven, Connecticut. He is also the author of Exclusion and Embrace: A Theological Exploration of Identity, Otherness, and Reconciliation.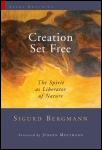 Creation Set Free: The Spirit as Liberator of Nature
Author: Sigurd Bergmann
Publisher: Eerdmans
Publication Date: 2005
Pages: 406
In view of the destruction of the sources of life, ecology is no longer a marginal issue. In Creation Set Free, Sigurd Bergmann creatively rethinks the discipline of theology in light of the global environmental crisis. He opens up an extraordinary dialogue between previous ecological theologies and church father Gregory of Nazianzus. Through the neglected topics of sociality, motion, suffering, and the Spirit, Bergmann brings to light Gregory's thought on the liberation of creation. Finally, Bergmann connects ecological issues and patristic theology with contemporary liberation theology, concerned throughout to reaffirm the cosmos as something involved in redemption rather than merely a stage for the human salvific drama. An astonishingly wide-ranging study, Creation Set Free should interest all those concerned with the history of theology and the future of the earth.
Our earth is 'groaning' more than ever. This brilliant volume settles itself within contemporary ecological issues and establishes an integral connection to the theology of Gregory of Nazianzen (d. 390). Bergmann shows how we can take up the problems through this grand old resource with stunning results because his methods are sound. Liberation in Christ is for more than humans.
—Frederick W. Norris, Emmanuel School of Religion
Bergmann's book demonstrates that interdisciplinary dialogue does not require blurring the distinctiveness of a theological approach. Rather, a clear emphasis on a theological understanding of nature, letting the understanding of nature be informed by its relationship to God, opens up promising avenues for dialogue with disciplines outside theology.
—Christoph Schwöbel, University of Tübingen
Sigurd Bergmann is professor of religious studies at the Norwegian University of Science and Technology, Trondheim, Norway. The author and editor of numerous books, he is also a member of the Royal Norwegian Society of Letters and Sciences and an ordained minister in the Church of Sweden.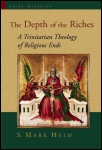 The Depth Of The Riches
Author: S. Mark Heim
Publisher: Eerdmans
Publication Date: 2000
Pages: 323
Religious pluralism is today the most challenging issue facing traditional Christianity. This constructive work by a leading voice on the subjects of religious pluralism and interfaith relations probes the Christian understanding of God and salvation and offers a new perspective on religious pluralism that affirms unique salvation in Christ while also recognizing the religious ends of other faiths. The questions explored here are both difficult and enlightening. What is the distinctive nature of salvation? Is there a place in Christian theology for recognizing other religious ends in addition to salvation? In pursuit of meaningful answers, S. Mark Heim uses the classical doctrine of the Trinity to develop a theology that allows Christians to respect the possibility that alternative relations with God exist in other religions.
Heim makes an original and challenging contribution to the discussion of Christian relations with other religions in his attempt to take religious difference absolutely seriously[. . . ] Heim's thesis deserves careful critical attention.
—Modern Theology
This is a most exciting, readable and learned exploration of the Christian Doctrine of the Holy Trinity, of a kind which enables the acceptance of a radical religious pluralism without compromising the unique salvific role of Jesus Christ. The implications of this major theological approach to other world faiths are of great significance[. . . ] The style is clear and attractive. Although the material is at times complex, it should be within the capabilities of the serious student of theology.
—Theological book Review
Clearly written and cogently argued, this book advances the discussion of religious pluralism in many fruitful directions. The most substantive alternative to John Hick's view to date.
—Religious Studies Review
S. Mark Heim is Samuel Abbot Professor of Christian Theology at Andover Newton Theological School, Newton Centre, Massachusetts. He is also the author of Salvations: Truth and Difference in Religion.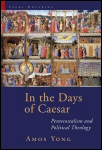 In the Days of Caesar: Pentecostalism and Political Theology
Author: Amos Yong
Publisher: Eerdmans
Publication Date: 2010
Pages: 397
In the Days of Caesar is a constructive political theology formulated in sustained dialogue with Pentecostalism—one of the most vibrant religious movements at the beginning of the twenty-first century. Amos Yong here argues that the many tongues, practices, and gifts of Pentecostal Christianity can offer new resources to the larger Christian community as it seeks to engage and transform social, political, and economic structures around the world. Yong seeks to correct stereotypes of Pentecostalism, both political and theological, and to encourage Pentecostals to craft a distinct political theology from their own Pentecostalism rather than merely to adopt an external framework for theological or political self-understanding.
Moreover, Yong shows how a distinctively Pentecostal form of theological reflection has the potential to illuminate and enhance broader Christian belief and practice. This book's engagement with political theology from a pentecostal perspective is the first of its kind. Yong hopes here to serve as an interpreter of the many tongues of Pentecostalism and the many other tongues of political theology, to help foster a mutually beneficial discourse and open up uncharted trajectories in both fields.
Amos Yong is J. Rodman Williams Professor of Theology at Regent University School of Divinity, Virginia Beach, Virginia. His books include The Spirit Poured Out on All Flesh and Hospitality and the Other.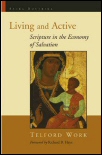 Living and Active: Scripture in the Economy of Salvation
Author: Telford Work
Publisher: Eerdmans
Publication Date: 2002
Pages: 363
For all of the Bible's popularity, confusion reigns about what the Bible is, its relationship to God and to its human authors and readers, and its proper use. Living and Active answers these fundamental questions by looking anew at Scripture from the perspective of Christian doctrine.
Rather than treating the Bible as a sourcebook for theology, Telford Work uses systematic theology to build a compelling new doctrine of Scripture that allows us to see the Bible at work accomplishing God's purposes in the world. Throughout the book, Work incorporates insights from the Eastern Orthodox, Roman Catholic, Lutheran, Calvinist, Anabaptist, and evangelical traditions. He also interacts with patristic theology, historical-critical methods of interpretation, and postmodern thought. As a result, Living and Active is the most relevant and ecumenical statement of Scripture now available.
Telford Work (Westmont College), in this version of his dissertation done under Geoffrey Wainwright at Duke University, has offered a provocative and insightful account of the place of Scripture in the life of God and the Christian church. The introduction to the book will resonate with anyone who has taught introductory Bible courses and been dissatisfied with the overwhelming skepticism the experience seems to engender in students.
—Christopher McMahon, The Review of Biblical Literature
Telford Work is associate professor of theology at Westmont College, Santa Barbara, California.