Hermeneutics and Interpretation Bundle (3 vols.)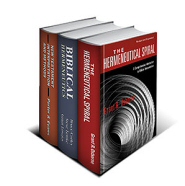 Hermeneutics and Interpretation Bundle (3 vols.)
•
Runs on Windows, Mac and mobile.
Overview
These three essential volumes on hermeneutics and biblical interpretation are the core textbooks on the subject. Providing a sweeping and comprehensive overview of biblical hermeneutics—with enough precise detail to walk readers through verse-by-verse interpretation through multiple methodologies—these volumes have set the standard for hermeneutic textbook instruction. Students, professors, and pastors will not want to be without these books in their library.
Logos helps you get the most out of your studies in hermeneutics and interpretation. Find and instantly navigate to the page you need by searching by topic or scrolling through the Contents Pane, and within seconds find the chapter or article you need. Scripture references and cross-references to other hermeneutical studies will appear on mouseover, giving you the option to go deeper and take your learning further than ever.
Product Details
Title: Hermeneutics and Interpretation Bundle
Volumes: 3
Pages: 1,487
The Hermeneutical Spiral was the 1993 Christianity Today Critics' Choice Award winner in the theology and biblical studies category.
In this newly revised and expanded edition, Grant Osborne provides seminary students and working pastors with the full set of tools they need to move from sound exegesis to the development of biblical and systematic theologies and to the preparation of sound, biblical sermons. Osborne contends that hermeneutics is a spiral from text to context—a movement between the horizon of the text and the horizon of the reader that spirals nearer and nearer toward the intended meaning of the text and its contemporary significance. He develops his thesis in each of three sections: the first covering general hermeneutics (grammar, semantics, syntax, backgrounds), the second covering hermeneutics and genre, and the third covering applied hermeneutics. Along the way, he offers assessments of recent developments from redaction criticism to reader response criticism. In two appendixes, he also addresses the contemporary philosophical challenges to fixed meanings in texts and discusses the implications of this debate for biblical authority.
Well-established as the standard evangelical work in the field since its first publication in 1991, this updated edition of The Hermeneutical Spiral meets the needs of a new generation of students and pastors. General revisions have been made throughout, new chapters have been added on Old Testament law and the use of the Old Testament in the New, and the bibliography has been thoroughly updated.
Biblical Hermeneutics is designed for students and ministers who want to grow in their ability to interpret, teach, and preach God's Word. It requires no understanding of biblical languages or of the technical details of hermeneutics, but it does provide the reader with a working knowledge of the multi-faceted nature of biblical interpretation and with support for the practice of exegesis. The book is divided into five sections and among the important subjects are: the history of biblical interpretation, philosophical presuppositions, biblical genre, the uniqueness of Scripture, the practice of exegesis, and the use of exegetical insights in preaching and teaching. This revised edition contains seven new chapters that deal with interpreting the major literary genre of Scripture: law, narrative, poetry, wisdom, prophecy, the Gospels and Acts, the epistles, and apocalyptic literature. It also includes two extensive appendices: a glossary for biblical studies, and an updated and expanded guide to reference books and Biblical commentaries.
You will learn:
A step-by-step approach to interpreting a passage
Hermeneutical principles that apply to both Testaments
How the history of interpretation and recent developments in the philosophy of language contribute to being able to interpret the biblical text today
How to move from theoretical understanding to practical application
How to contextualize biblical teaching in a variety of cultural contexts
How to prepare a sermon that draws on a whole range of interpretive tools and is sensitive to biblical genre
About the Editors
Bruce Corley is president of B. H. Carroll Theological Institute where he is a professor of New Testament and Greek. His professional experience includes memberships in the Society of Biblical Literature, the Institute for Biblical Research, and the National Association of Baptist Professors of Religion where he has held elected offices and worked on the editorial boards of two journals. He received an MDiv and ThD from Southwestern Baptist Theological Seminary.
Steve W. Lemke is provost and professor of Philosophy and Ethics at New Orleans Baptist Theological Seminary. He earned an MDiv and PhD from Southwestern Baptist Theological Seminary.
Grant I. Lovejoy is professor of preaching at Southwestern Baptist Theological Seminary.
In this essential volume on interpretation and methods, the reader will find ground-breaking studies that introduce new critical questions and move into fresh areas of enquiry, surveys of the state of play in these particular fields of New Testament study, and articles that engage with each other in specific debates. This volume will make an excellent textbook for students.
Collecting outstanding articles from the first 50 issues of the Journal for the Study of the New Testament, this volume examines New Testament interpretation and methods from a variety of viewpoints. In two sections, "Principles" and "Practice," distinguished scholars contribute essays on a number of important topics. Contributors include Christopher M. Tuckett ("The Griesbach Hypothesis in the Nineteenth Century"), F. Gerald Downing ("Redaction Criticism: Josephus's Antiquities and the Synoptic Gospels"), Frances M. Young ("The Pastoral Epistles and the Ethics of Reading"), and many others.
About the Authors
Craig A. Evans received his PhD from Claremont. He is Payzant Distinguished Professor of New Testament, Acadia Divinity College Wolfville, Nova Scotia. He has written and contributed to dozens of commentaries and reference works, including the Word Biblical Commentary, Understanding the Bible Commentary, and coauthored Dictionary of the New Testament Background with Stanley E. Porter.
Stanley E. Porter is principal, dean and professor of New Testament, McMaster Divinity College, Canada. He is a respected Greek and New Testament scholar, and has written dozens of books on the subject, including Idioms of the Greek New Testament, A Handbook to Exegesis of the New Testament, and Handbook of Classical Rhetoric in the Hellenistic Period.
More details about these resources