Studies in the Theory and Method of New Testament Textual Criticism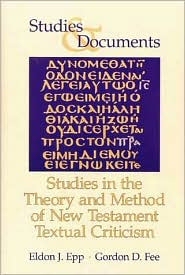 Studies in the Theory and Method of New Testament Textual Criticism
•
Runs on Windows, Mac and mobile.
Overview
This volume represents a coherent and complementary collections of essays whose abiding worth and considerable influence have been demonstrated through extensive citation by textual critics and exegetes. This compilation of studies will serve as a welcome resource for biblical scholars and students taking seminary or graduate courses in New Testament. From the more introductory studies to the constructive critiques of current theory to the more specialized analyses concerning New Testament textual criticism, this volume will provide information and challenges to beginners and experts alike.
Key Features
The seventeen studies in this volume provide a comprehensive presentation and assessment of past and current methods applied to the New Testament text. Both acknowledged specialists in historical and methodological studies of textual criticism, coauthors Epp and Fee offer an introductory survey of the whole field of New Testament textual criticism, followed by sections of essays on the following topics:
Definitions of key terms
Critiques of current theory and method
Methods of establishing textual relationships
Studies of the papyri with respect to text-critical method
Guidelines for the use of patristic evidence
Praise for the Print Edition
An outstanding collection of the most significant essays on New Testament textual criticism by the two leading North American scholars in the field. This volume is an essential aid in exploring questions of method. Every library should have it; every New Testament textual critic should read it.
—William L. Petersen, Pennsylvania State University
Eldon Jay Epp and Gordon D. Fee represent the best of North American textual scholarship, and this collection of seventeen of their essays is a significant event in the discipline. The essays are broad-ranging in scope, yet precise in detail; together they comprise some of the most important advances made during the past twenty-five years in our understanding of text-critical method and the history of the New Testament text.
—Bart D. Ehrman, University of North Carolina at Chapel Hill
Product Details
Title: Studies in the Theory and Method of New Testament Textual Criticism
Editors: Eldon J. Epp and Gordon D. Fee
Publisher: William B. Eerdmans Publishing Company
Publication Date: 1993
Pages: 414
About Eldon Jay Epp and Gordon D. Fee
Eldon Jay Epp is Harkness Professor of Biblical Literature at Case Western Reserve University, Cleveland, Ohio. He is editor of the Critical Review of Books in Religion. His essay, "Textual Criticism in the Exegesis of the New Testament, with an Excursus on Canon" appears in A Handbook to the Exegesis of the New Testament, also available from Logos.
Gordon D. Fee is Professor of New Testament at Regent College, Vancouver, British Columbia. He serves as editor of The New Testament International Commentary on the New Testament, and he is the author of The First Epistle to the Corinthians, a highly acclaimed volume in that series. He has also authored To What End Exegesis, available from Logos.
Sample Pages from the Print Edition