The Reading and Preaching of the Scriptures in the Worship of the Christian Church (7 vols.)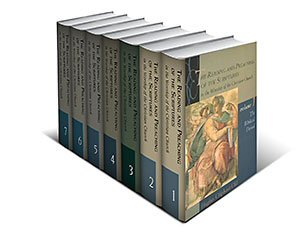 The Reading and Preaching of the Scriptures in the Worship of the Christian Church (7 vols.)
•
Runs on Windows, Mac and mobile.
Overview
The Reading and Preaching of the Scriptures in the Worship of the Christian Church (7 Vols.) is a multi–volume study by Hughes Oliphant Old that explores the history of preaching from the words of Moses at Mount Sinai through modern times. He examines the connections between Scripture, reading, preaching, and ministry in the work of preachers over the centuries. In over 4,400 pages, Old provides a compelling account of preaching and worship in the Church. Focusing on individual preachers and homilectical movements throughout history, this collection is essential for understanding the partnership between preaching and worship in a holistic way.
Ideal for pastors, seminary students, and laity wishing to learn more about the legacy of historic preaching, The Reading and Preaching of the Scriptures in the Worship of the Christian Church (7 Vols.) is comprehensive in scope, thorough in research, and readable in tone. With the Logos Bible Software edition, studying the history of preaching is easier than ever before! You can search by topic, preacher, or Scripture passage with the click of a mouse, saving yourself from turning pages, cross-referencing citations, and unnecessarily complex research projects.
Key Features
Over 4,000 pages of preaching history
Compilation of great preachers over the centuries
Documents preaching movements
Praise for the Print Edition
Studying these volumes is like walking around a great cathedral [. . . ] every section, however distinctive, unites in a grand design whose aim is to restore preaching to its rightful place. This multivolume work is easily the best history of preaching ever written, one that will serve generations of those whose faith comes by hearing.
—William Edgar, Westminster Theological Seminary
Old has bequeathed to the church of the twenty–first century the definitive history of preaching, a spiritual feast for scholars and preachers alike for years and years to come.
—James F. Kay, Princeton Theological Seminary
I consider this series by Old to be most timely. The current unfortunate trend to dumb down worship with less Scripture and with popular topical sermons needs the corrective offered in this comprehensive and readable work.
—Robert Webber, Northern Baptist Theological Seminary
Product Details
Title: The Reading and Preaching of the Scriptures in the Worship of the Christian Church Collection
Author: Hughes Oliphant Old
Publisher: Eerdmans
Volumes: 7
Pages: 4,435
About Hughes Oliphant Old
Hughes Oliphant Old is John H. Leith Professor of Reformed Theology and Dean of the Institute for Reformed Worship, Erskine Theological Seminary, Columbia, South Carolina.