The Works of Augustus M. Toplady (6 vols.)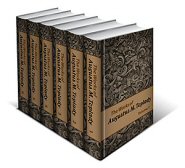 Overview
In these volumes, the works of eighteenth-century clergyman Augustus M. Toplady are collected. These writings encompass his passionate Reformed stance, and contain many of his sermons, letters, essays, and political writings. Included is Toplady's historical account of Calvinism and its political and theological impact, biographies of theologians of the day, as well as intense debates over Calvinism with John Wesley. A fervent Calvinist and controversial figure throughout his lifetime, and contemporary of George Whitefield, John Gill, and William Romaine, Toplady also composed several famous hymns, including "Rock of Ages."
These 6 volumes contain not only a definitive defense of Reformed thinking, but also significant eighteenth-century theological writings. With nearly 3,000 pages of material, the reader will gain a greater understanding of the historical influence of Calvinism, as well as other components of Toplady's considerable theological knowledge. The Works of Augustus M. Toplady (6 vols.) is essential for any student, professor, or anyone interested in learning more about the doctrine or history of Calvinism. The Logos edition makes it easy to study Toplady right alongside your other Reformed resources, with the Scripture references linking to all the other references in your library.
Key Features
Clear defense of Calvinism
Contains nearly 3,000 pages of theological and historical information
Includes indexes and detailed table of contents
Product Details
Title: The Works of Augustus M. Toplady (6 vols.)
Author: Augustus M. Toplady
Publisher: William Baynes and Son
Volumes: 6
Pages: 2,928
About Augustus M. Toplady
Augustus M. Toplady was born in 1740 in England. He was an Anglican minister and is best known for his hymn, "Rock of Ages" and his fervent defense of Calvinism. Once great friends with John Wesley, they had several fierce debates and encounters over Calvinism. Never married, he died in 1778.
More details about these resources