Doing Theology Series (5 vols.)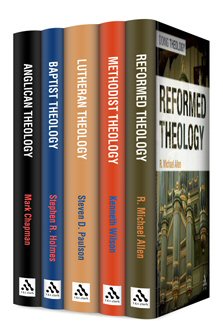 Overview
The Doing Theology series introduces the major Christian traditions and their way of theological reflection. The volumes focus on the origins of a particular theological tradition, its foundations, key concepts, eminent thinkers and historical development. The series is aimed at readers who want to learn more about their own theological heritage and identity: theology undergraduates, students in ministerial training and church study groups.
In the Logos editions, these volumes are enhanced by amazing functionality. Important terms link to dictionaries, encyclopedias, and a wealth of other resources in your digital library. Perform powerful searches to find exactly what you're looking for. Take the discussion with you using tablet and mobile apps. With Logos Bible Software, the most efficient and comprehensive research tools are in one place, so you get the most out of your study.
Key Features
Provides concise overviews of five important theological traditions
Surveys the history of each tradition up through the present day
Includes extensive bibliographies for further reference
Individual Titles
This book seeks to explain the ways in which Anglicans have sought to practice theology in their various contexts. It is a clear, insightful, and reliable guide which avoids technical jargon and roots its discussions in concrete examples. The book is primarily a work of historical theology, which engages deeply with key texts and writers from across the tradition (e.g. Cranmer, Jewel, Hooker, Taylor, Butler, Simeon, Pusey, Huntington, Temple, Ramsey, and many others). As well as being suitable for seminary courses, it will be of particular interest to study groups in parishes and churches, as well as to individuals who seek to gain a deeper insight into the traditions of Anglicanism. While it adopts a broad and unpartisan approach, it will also be provocative and lively.
Chapman declares that 'conflict is the normal state of Anglican theology throughout history.' He illustrates this from the time of the Henrican reformation to the present day. He provides a history of Anglican theology and employs the complementary skills of the historian and the theologian exceptionally well. It is a fascinating story, very well told. Chapman describes Anglicanism's complexity as both infuriating and exciting. So it is.
—Graham James, Diocese of Norwich, The Expository Times
This book offers an unusual perspective on Anglican identity from the Reformation to the nineteenth century, with some reflections on the state of the Anglican communion today. . . Illuminates some key moments in the making of Anglican theology. . . A very useful study text.
—Paul Avis, University of Exeter, Journal of Ecclesiastical History
The wider strength of the work is that it challenges readers (Anglicans, Ordinands, and none of the above) to a kind of 'resourcement' within Anglican thought.
—Richard P. Whaite, University of Oxford, UK, Theological Book Review
Mark Chapman is vice-principal of Ripon College Cuddesdon, Oxford, and a reader in modern theology at the University of Oxford. He has written widely on modern church history, ethics, and theology. His books include Ernst Troeltsch and Liberal Theology, The Coming Crisis, Blair's Britain, and Anglicanism: A Very Short Introduction.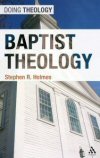 Baptist Theology
Author: Stephen R. Holmes
Edition: 2nd or Revised and expanded
Series: Doing Theology
Publisher: T&T Clark
Publication Date: 2012
Pages: 192
This book considers the distinctive ideas and expressions of Christian faith found in the historic Baptist churches. An outline of the history of the Baptist movement is offered, from its British beginnings in Amsterdam in 1609, through its varied developments in Britain, Europe, and North America, to its worldwide presence and diversity today, and its relationship to many other churches with apparently-similar practices (e.g. Pentecostal and "new" churches). Holmes draws the various threads together, noting the real diversities in the history of Baptist theology, but suggesting that in a vision of the present and urgent Lordship of Christ experienced in the local congregation, there is a thread that links most of these distinctives.
In exploring the Baptist tradition, Stephen Holmes offers an astonishing range of material packed into a relatively small space. He clarifies the difficult balance between individuality and life in community that Baptists have tried to maintain, and with an exceptional ease he integrates history with theology, offering many insightful theological judgments as he tells the story. In a masterful way, he sets the development of a particular group within the wider movements of church, society, and Christian thought, in a tour de force that should be read by all students of the Christian Church.
—Paul S. Fiddes, professor of systematic theology, Regent's Park College, Oxford
Do Baptists have a theology? The answer, as this book clearly shows, is 'Yes.' But what sort of theology is it? Is it a version of Protestant evangelicalism, democratic individualism, or radical sectarianism? Holmes offers an account of Baptist theology as an activity that attends closely to the convictions and practices of congregations. This explains why expressions of Baptist theology often vary significantly. Yet in the particular attention to local gatherings, Holmes displays that Baptists still share the theological consensus of the wider church on such basic doctrines as the Trinity, the person and work of Christ, and creation. But as Holmes also makes plain, this emphasis on the gathered community finds distinctive manifestation in congregational church government, respect for the liberty of conscience, and participation in God's mission to the world. It is a clear and concise summary of Baptist theology that deserves to be widely used.
—Curtis W. Freeman, research professor of theology, Duke University Divinity School
Stephen R. Holmes is lecturer in theology at the University of St. Andrews. He has published several volumes in the field of Christian theology and has previously collaborated with Colin Gunton in The Practice of Theology.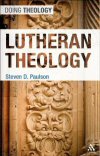 Lutheran Theology
Author: Steven Paulson
Series: Doing Theology
Publisher: T&T Clark
Publication Date: 2011
Pages: 304
This title offers an introduction for students and lay readers to doing theology in the Lutheran tradition. Lutheran theology found its source, and so its name, in Martin Luther in the sixteenth century. The theology that emerged identified two essential matters for the relationship between humans and God, the law and the gospel. It made a simple but extremely unusual and controversial claim—that it was not the law that made a person right before God's final judgment, but the gospel of Christ's death on the cross for sinners. This book will lay out the implications of having all theology confessed and delivered in two parts: the sinner and God (the justifier).
Unwilling to neutralize the core Lutheran teaching that God is in the business of killing off sinners just so that new beings might rise in faith, Paulson holds the wider Lutheran tradition accountable to Luther's own unique distinction of the law as accusation and the gospel as promise. Here we learn much of the Lutheran tradition—Paulson himself writes in the grand style of theological loci, approaching doctrine as outlined from Paul's argument in Romans. Paulson's approach to faith has an inerasable edge—if theology is to avoid being pointless, it must be for proclamation. Here is a theology beholden to God's word that does what it says and says what it does—finally remaking humanity out of the nothingness of sin and death.
—Mark Mattes, professor of religion and philosophy, Grand View University
Martin Luther did not so much set out to reform the church as he did to reform preaching. Steven Paulson gets to the heart of Lutheranism—not as a denomination nor as a movement—but as the preaching of Christ crucified for the justification of sinners. Tracing the trajectory of Luther's preaching in subsequent centuries, noting how it bumps up against attempts to domesticate its assertiveness or ground its doctrine according to one worldview or another, Paulson is persistent in following Luther's own evangelical logic in making the necessary distinction between law and gospel, God hidden and God revealed to provide contemporary readers with a vigorous introduction to the loci of Lutheran theology. With the epistle to the Romans as his framework, Paulson deftly gives an account of Luther's confession of Jesus Christ and with precision and literary craftsmanship identifies the use (and misuse) of this theology in the church which bears his name.
—John T. Pless, assistant professor of pastoral ministry and mission, Concordia Theological Seminary
Steven Paulson is professor of systematic theology at Luther Seminary in St. Paul, Minnesota. He is an ordained pastor of the Evangelical Lutheran Church in America.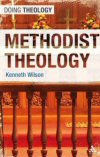 Methodist Theology
Author: Kenneth Wilson
Series: Doing Theology
Publisher: T&T Clark
Publication Date: 2011
Pages: 208
This book is written to capture the imagination and engage the reader in conversation by expressing the essence of the Methodist tradition. Methodism is presented not as a doctrinaire society, yet one that is clear about what it believes. Methodists confidently develop their theology through conversation with the world of secular knowledge, with other Christian traditions and other religious faiths, drawing on contemporary biblical scholarship, and with careful attention to the Christian tradition. In terms of mission, Methodism is serious about worship—public and personal—since it wants to celebrate the reality of God's presence with his people—all his people. This is because Methodist theology is grounded in the grace of God that it proclaims to be free for all and is essentially Christological and Trinitarian. Thus, Methodism is keen to draw others into its fellowship and does not have missionary societies but rather sees itself as a society organized for mission.
This is a book in which the author defies the gravity of age, and combines a rare mix of well earned wisdom with inspiring youthful enthusiasm. Dr. Wilson moves effortlessly through the roots, branches, and flowering of Methodist Theology, with a passionate belief in reasonable Christianity, and in the part that Methodism can play in that today. An up-to-date book with an old fashioned commitment to the disciplines of study and thoughtfulness.
—Mark Wakelin, secretary for internal relationships, The Connexional Team, UK
Methodist Theology by Kenneth Wilson is a book that will enlighten, inform, and inspire all who pick it up. It comes from one of the most gifted, creative, and ecumenically-minded Methodist scholars of his generation . . . This work sets Methodism and its distinctive theological and ecclesiological traditions in their wider historical, intellectual, and social context and makes the story of how Methodism came into being come alive in a highly accessible manner. Wilson paints rich parallels across the centuries and explains the more complex theological emphases dear to the heart of the Methodist movement with a clarity rarely found in foundational textbooks . . . A tour de force of historical and systematic theology alike, this work should be required reading for anyone interested in contemporary doctrinal and ecclesiological currents of thought.
—Gerard Mannion, professor of theology and religious studies, University of San Diego
. . . members of other churches will be fascinated by an account of Methodist theology that looks at both doctrines and the teaching of major Methodist figures.
—Church of England Newspaper
Kenneth Wilson has done an excellent job articulating the theological thinking of those 'reflective practitioners' who call themselves Methodist.
—Church Times
Kenneth Wilson was educated at Cambridge and Bristol Universities and is a Methodist Minister. After chaplaincies to London University and Kingswood School, he held the Rowbotham Chair in Philosophical Theology and Ethics at Wesley College in Bristol and taught at Bristol University from 1973 to 1980. From 1980 to 1996 he served as principal of Westminster College, Oxford and from 1996 to 2001 was the director of research at the Queens Foundation in Birmingham. He currently serves as visiting research fellow at Canterbury Christ Church University and Chichester University.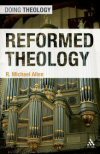 Learn the basics of the Reformed faith and its rich history from an expert and seasoned teacher. This book introduces Reformed theology by surveying the doctrinal concerns that have shaped its historical development. The book sketches the diversity of the Reformed tradition through the past five centuries even as it highlights the continuity with regard to certain theological emphases. In so doing, it accentuates that Reformed theology is marked by both formal ('the always reforming church') and material ('the Reformed church') interests. Furthermore, it attends to both revisionary and conservative trends within the Reformed tradition.
Reformed Theology covers eight traditional theological themes: Word of God, covenant, God and Christ, sin and grace, faith, worship, confessions and authority, and culture and eschatology. It engages a variety of Reformed confessional writings, as well as a number of individual theologians, Ulrich Zwingli, John Calvin, Heinrich Bullinger, Martin Bucer, Theodore Beza, John Owen, Francis Turretin, Jonathan Edwards, Friedrich Schleiermacher, Charles Hodge, William T. Shedd, Heinrich Heppe, Herman Bavinck, Karl Barth, and Rienhold Niebuhr.
Clear, calm and illuminating, this book offers a loving and generous commendation of the classical Reformed tradition of doctrine and spiritual practice.
—John Webster, chair of systematic theology, University of Aberdeen, UK
Michael Allen's account of Reformed theology admirably joins clarity with precision, accessibility with gravity, and conviction with charity. Especially strong is the book's thorough attention to major Reformed figures like John Calvin and Karl Barth and major statements of Reformed faith like the Heidelberg Catechism and the Westminster Confession. While Allen does not shy away from full treatment of differences among Reformed theologians, his accent rests upon the distinctive ways in which Reformed theology incorporates and interprets the historic Christian message. The book is a splendid introduction for those who are in Reformed churches and an inviting invitation to dialogue with those who are not.
—Mark A. Noll, professor of history, University of Notre Dame
This is a splendid volume. Drawing deeply from the past while engaging a wide variety of contemporary voices, Reformed Theology nevertheless summarizes the richness of Reformed teaching with clarity and insight. Allen focuses on the main issues and beneath the superb brevity lies a deep reservoir of research.
—Michael Horton, professor of theology, Westminster Seminary California
R. Michael Allen is associate professor of systematic and historical theology and the dean of students at Reformed Theological Seminary in Orlando. He is eager to guide students to grow in their ability to retrieve theological riches from the past for the sake of renewing contemporary reflection, worship, and witness. In this vein, he is committed to Reformed catholicity as a confession and a posture for doing theology and approaching ministry today.
Prior to joining the faculty of Reformed Theological Seminary in 2015, Allen taught at Wheaton College and then at Knox Theological Seminary, where he held the D. James Kennedy Chair of Systematic Theology and served as dean of the faculty. He is the author of many books, including Karl Barth's Church Dogmatics: An Introduction and Reader, Theological Commentary: Evangelical Perspectives, and Justification and the Gospel: Understanding the Contexts and Controversies. He also serves as book review editor for the renowned International Journal of Systematic Theology and is a teaching elder in the Evangelical Presbyterian Church.
More details about these resources