History of Israel (8 vols.)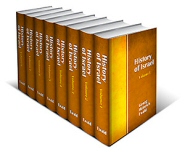 Overview
According to Georg Heinrich Ewald, History of Israel (8 vols.) is the account of God's people and the one true religion. The result of thirty years of work, this collection is ground-breaking and highly scholastic. Ewald's unprecedented exegesis on the subject of Israel shows his high level of Biblical scholarship. With these original writings, he paved the way for a new approach to Biblical criticism.
The collection is divided into three periods defined by the names God's chosen people are called throughout the Bible: Hebrews, then Israelites, then Jews. Originally published in German between 1843 and 1859, this collection was republished in the 1870s and several volumes have seen a third or forth edition since.
A valuable tool for Old Testament studies, this set of books will be highly advantageous to any scholar. Ewald's decades of thorough research and extensive knowledge of the Hebrew language will benefit all who use these resources.
Key Features
Chronological ordering of historical Old Testament figures
Scholarly historical writings that are easily accessible to all
Detailed life and times of Jesus Christ
Product Details
Title: History of Israel (8 vols.)
Author: Georg Heinrich Ewald
Publisher: Longmans, Green, and Company
Volumes: 8
Pages: 3,934
About Georg Heinrich Ewald
Georg Heinrich Ewald was born in Germany, where he spent his life as a Biblical scholar and later as a professor of the University of Gottingen. He devoted his life to Hebrew studies and wrote the much-loved Hebrew Grammar from which all subsequent Hebrew Grammars have been based. Other well-known books of his include Commentary on the Prophets of the Old Testament (5 vols.). Ewald died in 1875.