The Writings of John Bradford (2 vols.)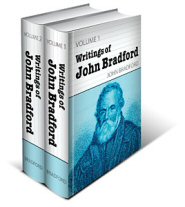 Overview
John Bradford, an academic, priest, and martyr of the Reformation, was one of the most influential Reformers of the sixteenth century, and his works are collected in this 2-volume set. He is most remembered for his statement, "There, but for the grace of God, goes John Bradford," after watching a criminal being led to execution. This collection includes his letters, biography, exhortations, meditations, sermons, essays, translations, writings from prison, and eulogies. Known for his spiritual devotion, Bradford was imprisoned under the reign of Mary I in 1553 until his execution in 1555. In true Reformer fashion, Bradford encourages his readers to live devout lives and pursue holiness.
The Writings of John Bradford (2 Vols.) is essential for any study of Reformed theology and history, and will encourage readers to greater faith. It is perfect for students, pastors, and anyone interested in the life and teachings of this Reformation martyr. With the Logos edition, all Scripture references are linked to the other Reformed resources you own.
Key Features
Contains over 1000 pages of sermons, letters, and exhortations
Writings of one of the most influential Reformation martyrs
Contains prefaces, table of contents, and complete indexes
Individual Titles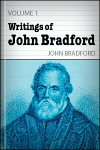 This first volume includes both the doctrinal and devotional works of Bradford, with sermons, prayers, and writings from prison. With over 600 pages of encouraging and meaningful exhortations, these writings provide a valuable contribution to Reformation thinking and influence.
Table of Contents
Two Prefaces by Bradford
Preface to Melanchthon on Prayer, 1553
Sermons on Repentance and the Lord's Supper
Godly Meditations on the Lord's Prayer, Belief, and Ten Commandments, with Other Exercises
Private Prayers and Meditations
Meditations From the Autograph of Bradford in a Copy of the New Testament of Tyndale
Meditations and Prayers
Five Treatises
Ten Declarations and Addresses
Exhortation and Farewells
Examinations and Prison-Conferences
Appendix
Notes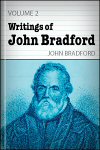 The second volume contains an in-depth biography and all the letters of Bradford. It also has exhortations, essays, and meditations, as well as eulogies of clergymen. There is an index for both volumes.
Table of Contents
Biography
Letters
Three Pieces from Cambridge
Confutation of Four Romish Doctrines
Hurt of Hearing Mass
Meditation of the Kingdom of Christ
Complaint of Verity
Index
Product Details
Title: The Writings of John Bradford
Author: John Bradford
Publisher: The University Press
Volumes: 2
Pages: 1,106
About John Bradford
John Bradford was born in 1510 in England. He had a varied career, as an accountant, a law student, and a priest. Bradford sided with the Church of England and after Mary I took the throne in 1553, was imprisoned under false charges. After watching prisoners being led to their execution, he said, "There, but for the grace of God, goes John Bradford," his most well-known statement. He was martyred in 1555.
More details about these resources