Kirsopp Lake New Testament Backgrounds Collection (5 vols.)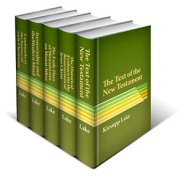 Kirsopp Lake New Testament Backgrounds Collection (5 vols.)
•
Runs on Windows, Mac and mobile.
Overview
One of the most influential Bible scholars of the twentieth century, Kirsopp Lake's works provide an invaluable contribution to textual criticism of the New Testament. Lake is best known for his work on the Apostolic Fathers, used by generations of students of the New Testament and the history of Christianity. In this 5-volume set, the reader is introduced to the theory of textual criticism and then given ample exposition on New Testament books. Lake's works are distinguished by careful attention to detail and a thorough knowledge of Biblical studies and theories. Known for his work in patristic studies and early Christian history, Lake examines the texts closely to discover the original meaning and intentions of the author.
The Kirsopp Lake New Testament Backgrounds Collection (5 Vols.) is essential for students and anyone interested in Biblical textual criticism and learning more about the origins of the New Testament. This collection also includes a history of early monasticism and an essay on perceptions of the nature of the human soul. With the Logos edition of these volumes, you will be able to study and search the New Testament with ease, side by side with your other resources.
Key Features
Introduction to textual criticism
Includes criticism, history, and essays
Each volume has detailed table of contents and appendices
Product Details
Title: Kirsopp Lake New Testament Backgrounds Collection
Author: Kirsopp Lake
Volumes: 5
Pages: 766
About Kirsopp Lake
Kirsopp Lake was born in 1872 in England. He was a Biblical scholar, curate, and archeologist. He taught early Christian literature at the University of Leiden and Harvard University. He died in 1946 in California.
More details about these resources