Adolf Deissmann New Testament Studies Collection (2 vols.)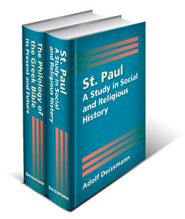 Adolf Deissmann New Testament Studies Collection (2 vols.)
•
Runs on Windows, Mac and mobile.
Overview
The work of Adolf Deissmann, an early 20th century Bible scholar, continues to impact current New Testament studies. His breakthrough demonstrations of how the New Testament was written in the common Hellenistic language changed the face of New Testament scholarship. Deissmann's work on Egyptian papri also revolutionized the study of the Greek New Testament.
Deissman's writing is characterized by extensive linguistic knowledge, Biblical scholarship, and a belief that religion changes lives for the good of the individual and society. In this 2-volume collection, Deissmann's most important contributions to New Testament scholarship are brought together. He focuses on the life of Paul, studying the social and historical context in St. Paul: A Study in Social and Religious History. In The Philology of the Greek Bible, Deissmann's careful Biblical studies are clearly shown, as he considers the New Testament from a linguistic standpoint.
Adolf Deissmann New Testament Studies Collection (2 vols.) is the perfect addition to your New Testament studies. These works contain helpful cross-references, indexes, and detailed table of contents. With the Logos edition, all Scripture references are linked to the other resources in your library, making New Testament studies easy.
Key Features
Contains premier New Testament scholarship
Academic yet highly readable
Includes detailed table of contents, indexes, and bibliographies
Individual Titles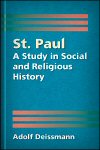 In this significant account of the life and teaching of St. Paul, Deissmann set the standard for Pauline studies in the early 20th century. Separating assumptions from facts on Paul, he focuses on historical context and New Testament studies to reveal an accurate and in-depth study. Deissmann examines several different aspects of Paul's character, such as his lineage, conversion, apostleship, and historical context. Included are extensive indexes, preface, a detailed table of contents, and a map of the ancient world. Deissman's conversational yet highly academic style makes St. Paul: A Study in Social and Religious History the perfect resource for students and pastors.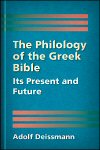 This volume demonstrates Deissman's keen Biblical scholarship and knowledge of the Greek language as he examines the New Testament from a critical and linguistic standpoint. He considers the significance of the Septuagint writings on the entirety of the New Testament, as well as the impact of Greek and Hebrew culture, linguistics, and traditions on the writing of the New Testament. Holding that the texts must be read from a critical and contextual viewpoint, Deissman shows great insight and acumen throughout this work, which is based on a series of four lectures delivered at Cambridge University in 1907.
Product Details
Title: Adolf Deissmann New Testament Studies Collection (2 vols.)
Author: Adolf Deissmann
Publisher: Hodder and Stoughton
Volumes: 2
Pages: 518
About Adolf Deissmann
Adolf Deissmann was born in 1866 in Germany. A prominent German Biblical scholar, he is well-known for his knowledge of original Greek language, proving that the New Testament was based on the common language of the Hellenistic world. He died in 1937.
More details about these resources