Opening Up Commentary Collection Upgrade (2 vols.)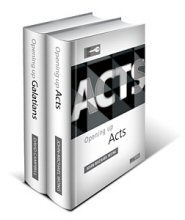 Overview
The Opening Up Commentary Collection offers accessible and easy-to-read introductions to the books of the Bible. The commentaries tackle the key issues in each book by introducing the history and context and by giving an overview of important themes and events. Logos is pleased to offer an upgrade collection, featuring the two latest releases in this commentary set! The upgrade includes Opening Up Acts by John-Michael Wong and Opening Up Galatians by David Campbell. Each book in the Opening Up Commentary Collection (30 Vols.) is well-organized, clearly and concisely written, and includes discussion questions for further reflection and study, and these latest books in the series are no exception.
Key Features
Discussion and reflection questions
Contains study guides, maps, and timelines
Resource for students, pastors, and general readers
Individual Titles
John-Michael Wong provides valuable insight on the book of Acts, pointing out the contributions of individuals and community in the growth of the Church. This easy-to-read volume is solidly grounded in Scripture and offers explanation of the text, as well as application. Wong writes in an uplifting and inviting style that will help the general reader, as well as pastors.
Opening Up Acts is a very useful and user friendly tool for studying the book of Acts. It is appropriate for both individual study and for small groups. I highly recommend this study.
—Dr. Gregory Harris, professor, The Master's Seminary
John-Michael Wong teaches apologetics and evangelism at Evangel Bible Church of Berkeley.
In this commentary, author David Campbell identifies the key themes of the book of Galatians. He offers solid exposition and application, making this a useful aid for pastors and teachers, as well as those seeking to understand Galatians and how to incorporate its message to daily life. Written in an encouraging and accessible style, this volume provides necessary questions on themes of false doctrine and salvation for Christians today.
David Campbell opens up this letter in a most attractive and helpful way. His exposition is clear and the applications both challenging and encouraging.
—Edward Donnelly, minister, Trinity Reformed Presbyterian Church
David Campbell was educated at the Free Church of Scotland College. He is a minister at Grace Baptist Church in Pennsylvania.
Product Details
Title: Opening Up Commentary Upgrade (2 vols.)
Publisher: Day One Publications
Volumes: 2
Pages: 352
More details about these resources