Studies on Daniel Collection (2 vols.)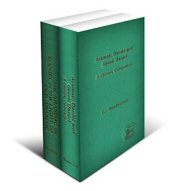 Overview
This two-volume set gives background on the use of Aramaic in the book of Daniel. By consulting the information in Studies on Daniel, you are able to gain a new understanding of the Aramaic as well as the symbolismthat is used in the text of Daniel. The story of Daniel reveals the importance of narrative in exegesis and interpretation.
Daniel is unique in that large part of it were originally written in Aramaic, unlike the rest of the Old Testament, which was originally written in Hebrew. Aramaic had a greater significance because it served as a cultural medium for the original hearers and readers of Daniel. Aramaic was spoken across large parts of the ancient Near East, and its large number of dialects make modern study difficult.
Also covered is the trial that Daniel went through and the relationship between Daniel 3 and 4–6 and how they relate to each other. Another topic discussed is the wisdom of Daniel in regards to his dreams.
Key Features
Contains a list of references and authors cited
Includes a list of abbreviations used
Individual Titles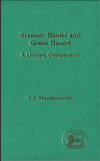 In Aramaic Daniel and Greek Daniel, T. J. Meadowcroft inspects many of the Old Aramaic inscriptions and weighs them against the Aramaic of Daniel in regards to the detailed literary, grammatical and lexicographical comparisons to make a case for questioning the Old Aramaic texts. Meadowcroft also discusses if using the Old Aramaic texts can be used to understand the Aramaic in Daniel.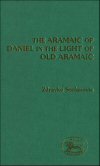 The second through seventh chapters of Daniel are ones to note, because instead of being written in Hebrew, they are written in Aramaic. Recognizing that these chapters are written in Aramaic is important because it gives us a better understanding of symbolism and how it is handled in biblical narrative. By utilizing The Aramaic of Daniel in the Light of Old Aramaic, you are able to gain additional insight into what life was like in the Persian culture and how it is a part of the tradition that is still accessible to us.
Zdravko Stefanovic is professor of biblical studies in the School of Theology at Walla Walla College.
Product Details
Title: Studies on Daniel
Publisher: Sheffield Academic Press
Volumes: 2
Pages: 666
More details about these resources