Studies on Amos Collection (2 vols.)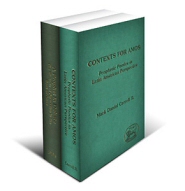 Overview
Studies on Amos (2 Vols.) is valuable for anyone who wants to study Amos from the standpoint of theological reflection, as well as for anyone seeking to learn how to relate the text to the world we live in today. In contrast to the other Old Testament prophetic books, Amos is notable in the distinctive introduction it has that includes forewarnings to foreign nations.
Mark Daniel Carroll R. in Contexts for Amos discusses the social imagination covered in Amos. In A Prophet in Debate, a theoretical approach to reading Amos is covered as well as the rhetoric of persuasion and the rhetorical structure, situation and strategy used in Amos.
Key Features
Contains a list of references and authors cited
Includes a list of abbreviations used
Individual Titles

Mark Daniel Carroll R.'s book views chapters 3–6 of Amos in the eyes of biblical study and theological reflection with particular emphasis on cultural context. Carroll searches to describe the role of the prophetic biblical voice and makes the point that we should question those who speak for God in society and not automatically believe what they say.
Mark Daniel Carroll R. is Professor of Old Testament at Denver Seminary and Adjunct Professor of Old Testament at El Seminario Teologico Centroamericano in Guatemala City.

A Prophet in Debate presents the dispute that took place between Amos and his eighth-century audience. When Amos is read with the fall of Israel in mind, you see his struggle of trying to convince his equals of the pending divine punishment serves as an important caution to Judaean readers.
Karl Möller received his Ph.D. from Cheltenham & Gloucester College, UK, where he now works as a researcher in the School of Theology and Religious Studies.
Product Details
Title: Studies on Amos (2 Vols.)
Publisher: Sheffield Academic
Volumes: 2
Pages: 728
More details about these resources