Old Testament Cultural Practices Collection (14 vols.)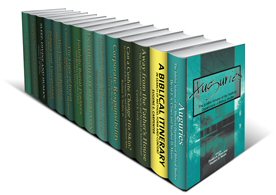 Old Testament Cultural Practices Collection (14 vols.)
•
Runs on Windows, Mac and mobile.
Overview
The 14-volume Old Testament Cultural Practices Collection contains fascinating studies of the society of ancient Israel. Understand the burial practices and the conceptions of death in ancient Israel. Discover the nature of corporate identity and individual responsibility in the Old Testament narrative. Learn about the social structures in ancient Israel, the social conception of sleep, as well as conceptions of race, ethnicity, and identity—all with a view towards more thoughtfully exegeting and interpreting the text. In addition to individually authored monographs, this collection also contains edited volumes, which contain more than forty scholarly articles on a wide variety of issues—including social welfare systems in ancient Israel, ancient iconography, the cultural role of heavenly visions, and much more. This collection contains detailed and fascinating studies on the culture of ancient Israel to augment your research, teaching, and preaching.
With the Logos Bible Software edition, all Scripture references are linked to the original language texts and the Bibles in your library. By employing the advanced search features in Logos, you can find the exact topics or passages you're looking for. Whether you are encountering the cultural context of the Bible for the first time, or you're working on advanced archaeological, historical, or textual research, the Logos Bible Software edition is right for you.
Key Features
Important cultural studies of ancient Israel
In addition to book-length studies, also includes forty shorter scholarly articles
All Scripture references linked to the original language texts and English Bibles in your library
Product Details
Title: Old Testament Cultural Practices Collection
Volumes: 14
Pages: 3,726

For this volume, sequel to The Bible in Three Dimensions, the seven full-time members of the research and teaching faculty in Biblical Studies at Sheffield—Loveday Alexander, David Clines, Meg Davies, Philip Davies, Cheryl Exum, Barry Matlock and Stephen Moore—set themselves a common task: to reflect on what they hope or imagine, as century gives way to century, will be the key areas of research in biblical studies, and to paint themselves, however modestly, into the picture. The volume contains, as well as those seven principal essays, a 75-page intellectual biography of the Department and a revealing sketch of the material conditions of its research and teaching, together with a list of its graduates and the titles of their theses.
Contributions to this volume include:
"The Sheffield Department of Biblical Studies: An Intellectual Biography," David J.A. Clines
"Marathon or Jericho? Reading Acts in Dialogue with Biblical and Greek Historiography," Loveday C.A. Alexander
"The Future of 'Biblical History,'" Philip R. Davies
"A Future for Paul?" R. Barry Matlock
"Is There a Future for New Testament Ethics?" Meg Davies
"Developing Strategies of Feminist Criticism/Developing Strategies for Commentating the Song of Songs," J. Cheryl Exum
"Que(e)rying Paul: Preliminary Questions," Stephen D. Moore
"The Postmodern Adventure in Biblical Studies," David J.A. Clines
"Researching, Teaching and Learning in Sheffield: The Material Conditions of Their Production," David J.A. Clines
David Clines is Professor of Biblical Studies and Head of Department in the University of Sheffield.
Stephen Moore is Professor of New Testament, Drew University, New Jersey.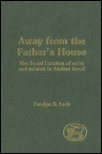 Building on the biblical narrative and on social world analysis, Leeb argues that the terms NA'AR and NA'ARAH refer to persons displaced from the father's house (BET 'AB), usually as a result of debt slavery. Hence, rather than working his father's land, and becoming in turn the head of his own household, the NA'AR, as a domestic or military servant, helps build the household of another. Less frequently, the weakness or absence of the father leads to the same, or a similar, predicament. Any woman venturing from her own household is also likely to acquire the status of a NA'ARAH. This is a novel and challenging study in ancient Israelite social structure.
Carolyn S. Leeb is Visiting Assistant Professor in the Department of Theology at Valparaiso University, Valparaiso, Indiana.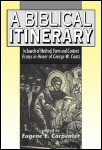 A Biblical Itinerary is dedicated to George Coats, former Professor of Old Testament at Lexington Theological Seminary, Kentucky and author of Rebellion in the Wilderness, From Canaan to Egypt, Moses: Heroic Man, Man of God, and other books. The essays collected here, reflecting many of George Coats's interests, include:
"Some Reflections on the Canonical Moses: Moses and Abraham," Rolf Rendtorff
"Biblical and Early Islamic Moses," Malcolm Clark
"Narrative Form Criticism: Dead or Alive?" Trent Butler
"Beyond Reality: Poetic Discourse and Psalm 107," John W. Roffey
"Redaction Criticism: Whence, Whither, and Why? Or, Going Beyond Source and Form Criticism without Leaving them Behind," Lawson G. Stone
"Exodus 18: Its Structure, Style, Motifs, and Function in the Book of Exodus," Eugene Carpenter
"Structure and Meaning in the Sinai–Horeb Narrative," Joseph Blenkinsopp
"From Faithful Prophet to Villain: Observations on the Tradition History of the Balaam Story," John Van Seters
"The Missing Voice," James L. Crenshaw
"The Futile Quest for the Historical Prophet," Gene M. Tucker
"On the Task of Old Testament Theology," Rolf P. Knierim
"Scripture and the Formation of Christian Identity," Roy F. Melugin
Eugene Carpenter is Professor of Old Testament and Hebrew and Chairperson of the Division of Religion and Philosophy at Bethel College, Mishawaka, Indiana.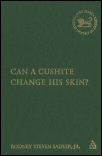 How did the authors of the Hebrew Bible perceive the Cushites? Sadler demonstrates that the answer to this question provides insights into the way differences that modern scholars would classify as "racial" were understood in ancient Israel/Judah. By examining explicit biblical references to Cush and Cushites, a nation and people most modern scholars would deem racially "black," this book explores the manner by which the authors of the Hebrew Bible represented the Cushite, and determines whether differences in human phenotypes facilitated legitimating ideologies that justified the subjugation of this foreign Other.
In order to ground this analysis, this study investigates how contemporary scholars have understood "race" and "ethnicity" and proposes working definitions for these contested terms. In this vein, it offers a list of constituent elements of racial thought, which were sought in biblical references to Cush-related terms to determine if they govern the way biblical authors thought about the Cushites. Sadler uses historical critical methodologies in the exegesis of biblical passages containing references to Cush-related terms, often producing new interpretations of these texts. Sadler's study reveals that though there were on occasion constituent elements of racialist thought employed in biblical representations of the Cushites, there does not appear to have been a coherent system of racial thought in the Hebrew Bible.
Often esteemed by biblical authors, Cushites were viewed as an ethnic group like most of the nations mentioned in the Hebrew Bible. In fact, this study also reveals that there was considerable contact between Cushites and the people of Judah throughout the biblical period. It concludes by suggesting that biblical scholars need to critically reassess their understanding of Cushites and the role this people played in the history of the Levant.
Sadler's goal is clearly to correct misconceptions about the profile of Cush in biblical literature, and he succeeds in this endeavor.
—Interpretation
Those expert enough to follow the author's examination and argument will be greatly rewarded.
—Dianne Bergant, The Bible Today
Rodney Sadler is Associate Professor of Bible at Union Theological Seminary and Presbyterian School of Christian Education at Charlotte, North Carolina. He was the managing editor of the African American Devotional Bible and is author of several articles on biblical interpretation, and the intersection of biblical, race, and social justice studies.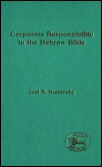 Corporate responsibility, says Joel Kaminsky, is one of the most misunderstood aspects of Israelite religion. In this volume, he shows that in the Old Testament narrative, the community as a whole is dependent on the actions committed by its individual members. The author explains that "not only is one responsible for one's own behavior, but one must also actively prevent others from sinning." This volume examines the history of scholarship on corporate identity in ancient Israel, demonstrates the persistence of corporate identity in ancient Israelite theology, explores the significance of corporate thinking in the Deuteronomistic history, and re-evaluates texts which are frequently cited by those who advocate biblical individualism. Corporate Responsibility in the Hebrew Bible concludes with theological reflections on the implications of corporate identity in Scripture.
Joel S. Kaminsky is Director of the Program in Jewish Studies at Smith College. He has served as Visiting Professor at Yale University, and Assistant Professor in the Religion departments of St. Olaf College, Muhlenberg College, Loyola University, and Whitman College. In addition to Corporate Responsibility in the Hebrew Bible, he is also the author of Yet I Loved Jacob: Reclaiming the Biblical Concept of Election and the co-editor of Jews, Christians, and the Theology of the Hebrew Scriptures.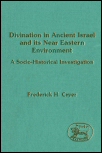 In this revealing study, the author suggests that ancient Israel was a "magic society" like those around it, and similar in many respects to a number of magic-using "savage" societies studied by modern social anthropology. Although the Old Testament attempts to distinguish between priestly and prophetic divination, this distinction was not sharply drawn in ancient times. References to divination in fact are found in all genres of Israelite literature, implying that many of these practices were performed throughout Israelite society.
Cryer's investigation of divination in ancient Israel is a masterful synthesis of social and historical analyses of an important yet neglected topic.
—Ronald E. Simkins, Catholic Biblical Quarterly
Frederick H. Cryer was formerly Project Director of the Dead Sea Scrolls Initiative, Institute for Biblical Exegesis, University of Copenhagen.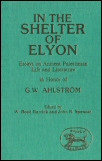 This collection of essays, articles, and studies was published in honor of G.W. Ahlström, an eminent Old Testament scholar. Divided into four sections, this volume surveys the influence of Ahlström, literature and cultural tradition, faith and cult, and history and historiography. Ahlström was a challenging scholar, and these articles testify to his influence and importance for a generation of Old Testament scholars.
Contributions to this volume include:
"The 'Uppsuala School' of Biblical Studies," Arthur L. Merrill and John R. Spencer
"G.W. Ahlström in Profile," W. Boyd Barrick
"G.W. Ahlström: A Bibliography," B. Glazier-McDonald
"Parentheses in a Snowstorm: G.W. Ahlström and the Study of Ancient Palestine," W. Boyd Barrick and John R. Spencer
"Psalm 81.6a: Observations on Translation and Meaning of One Hebrew Line," P.A.H. de Boer
"The Role of Elihu in the Design of the Book of Job," Norman C. Habel
"The Redactional History of Isaiah 5.1–10.4," Conrad E. L'Heureux
"The Semantic Parallelism of Psalm 89," Dennis Pardee
"Joshua 24 and the Problem of Tradition in the Old Testament," J. Van Seters
"The Shining of Moses' Face: A Case Study in Biblical and Ancient Near Eastern Iconography," Menahem Haran
"The Prophets and the Covenant," Arvid S. Kapelrud
"The Prophet Elijah's Visit to Zarephath," Magnus Ottosson
"Heavenly Visions in Early Judaism: Origin and Function," Benedikt Otzen
"Eve and the Chameleon," Ake W. Sjoberg
"Yahweh's Gathering of the Dispersed," Geo Widengren
"The Biblical Interpretation of the Reigns of Ahaz and Hezekiah," Peter R. Ackroyd
"King David's State," Siegfried Herrmann
"A Reconstruction of the Social Welfare Systems of Ancient Israel," Stephen A. Kaufman
"Thoughts on the Use of 'Charisma' in Old Testament Studies," Thomas W. Overholt
"The Biographic Mode in Hebrew Historiography," Jack M. Sasson
W. Boyd Barrick is the former dean and part-time instructor of religion at Montana State University-Billings.
John R. Spencer is Professor of Religious Studies at John Carroll University. He received his Ph.D. in Hebrew Bible and Ancient Near Eastern studies from the University of Chicago.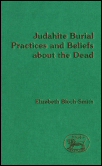 Most prior scholarship on both death and burial practices in the Old Testament has focused on either the biblical text or the archaeological evidence. Bloch-Smith's study is among the first to synthesize the two—thereby providing a complete account of beliefs about the dead in ancient Israel. Her study begins with burial types—various kinds of tombs and graves. From there, chapters survey burial contents—remains, pottery, jewelry, and other artifacts—biblical evidence, biblical names for death, formulas for burial, markers and inscriptions, and the powers of the dead. The final chapter summarizes the archaeological evidence. This volume concludes with a catalog of Iron Age burials, detailed illustrations and maps, a complete bibliography of relevant literature, and indexes of references, site names, and authors consulted in her study.
Elizabeth Block Smith is a member of the faculty of the Theology/Religious Studies department at Villanova University.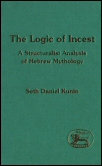 The myths of Genesis are the foundation for hundreds of texts written at later diachronically distinct and datable periods. Seven texts—Genesis itself, Genesis Rabbah, Pirke deRabbi Eliezer and mediaeval compilations—are examined here, with five interrelated questions in focus: Can structuralist theory be applied usefully to societies conscious of history and change? What is the relationship between continuity and transformation as a mythological tradition develops diachronically? What role does diachronic development within a myth play in relation to its underlying structure? What is the synchronic structure of Israelite (or rather, biblical) myth? Are there identifiable patterns of transformation and continuity between biblical myth and the three diachronically distinct levels of rabbinic myth?
Seth D. Kunin is the Director of Research in the College of Arts and Social Sciences of the University of Aberdeen. He received his Ph.D. in Anthropology from the University of Cambridge.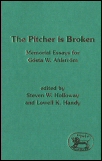 This is a volume of tributes and essays in memory of Gösta W. Ahlström, Professor of Old Testament in the Divinity School and Near Eastern Languages and Civilizations Department of the University of Chicago. Nineteen essays written by former students and colleagues deal with the history and archaeology of Iron Age Palestine and the ancient Near East, the Deuteronomistic History, and the history of Old Testament studies. Six tributes read at his memorial service, his final bibliography and a list of the dissertations he chaired combine to yield a montage of the scholar as teacher, character, and friend.
Steven Holloway is Senior Indexer, American Theological Library Association.
Lowell Handy is Senior Lecturer in Theology, Loyola University, Chicago.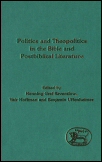 This volume contains papers from the third symposium held by the University of Tel Aviv, Israel, and the Ruhr University, Bochum, Germany, with the aim of furthering dialogue between Jewish and Christian biblical scholars. The papers examine the ways in which political issues and events are reflected in the Bible and in the postbiblical literature, the term "theopolitics" expressing the conviction of both communities that the politics of human life have always been and continue to be subject to the rule and providence of God. The hope of the symposium is that through examination of the ways in which Jews and Christians have reflected upon political and ethical theories there may arise new possibilities for better mutual understanding.
Yair Hoffman is an Emeritus Professor of Bible at Tel-Aviv University. He has published books on various biblical topics such the Exodus, prophecies against foreign nations, Job, and a 2-volume commentary on Jeremiah.
Benjamin Uffenheimer was a professor at Tel Aviv University.
Henning Graf Reventlow is an Emeritus Professor of Old Testament at University of the Ruhr, Bochum. His most important recent publication is the 4-volume Epochen der Bibelauslegung.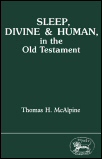 Sleep in the Bible has received relatively little scholarly attention. Yet, upon a close reading, an intriguing set of issues related to sleep in the Old Testament begins to emerge. This book provides an introduction to sleep in the Old Testament, sketches out the context in which sleeping is noteworthy or remarkable, and surveys the scholarship in the field. After a detailed introduction, McAlpine examines lexical questions, cultural patterns, Israelite understandings of sleep, and the connection between sleep and the divine.
Thomas H. McAlpine earned degrees in Philosophy from the University of California at Berkeley, Semitic Languages and Literature from Fuller Theological Seminary, and Old Testament from Yale University. He worked for World Vision International for eighteen years. He has taught all over the world. In 2004 he was ordained into the priesthood. He is currently rector at St. Peter's in Ripon, California, and he serves as Secretary to the Convention and to the Executive Council. In addition to Sleep, Divine and Human, in the Old Testament, he is also the author of Facing the Powers and By Word, Work, and Wonder.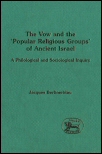 In this volume, Berlinerblau argues that in order to procure reliable historical information about "popular religious groups" (such as women, non-privileged economic strata, heterodox elements) we must search for what he calls "implicit evidence": mundane details regarding the vow which the biblical writers tacitly assumed and hence unknowingly bequeathed to posterity. By piecing together these strands of implicit evidence the author attempts to reconstruct the basic norms of the Israelite votive system. In so doing, he explains why certain "popular religious groups" were attracted to this particular practice.
Jacques Berlinerblau is Assistant Professor of Judaic Studies at Hofstra University, Hempstead, New York.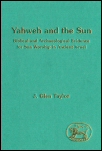 Yahweh and the Sun: Biblical and Archaeological Evidence for Sun Worship in Ancient Israel
Author: J. Glen Taylor
Publisher: Sheffield Academic
Publication Date: 1993
Pages: 308
This challenging and provocative book argues that there was in ancient Israel a considerable degree of overlap between the worship of the sun and of Yahweh—even that Yahweh was worshipped as the sun in some contexts. As an object created not by humankind but by God himself, the sun as an object of veneration lay outside the bounds of the second commandment and was considered by many to be an appropriate "icon" of Yahweh of Hosts. Through its investigation of "solar Yahwism," this book offers fresh insight into several passages (such as Genesis 1:32,23–33; Joshua 10:12–14; 1 Kings 8:12; Ezekiel 8:16–18; Psalms 19:104; and others) and archaeological data regarding the orientations of Yawistic temples, the "lmlk" jar handles, horse figurines, and the Taanach cult stand. The book argues that the struggle between Yahweh and other deities in ancient Israel took place within the context of the development of Yahwism itself.
J. Glen Taylor is Assistant Professor of Old Testament and Dean of Students at Wycliffe College, University of Toronto.