Christian Focus Preaching Collection (2 vols.)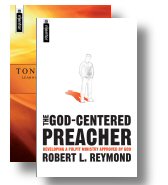 Christian Focus Preaching Collection (2 vols.)
•
Runs on Windows, Mac and mobile.
Overview
Preaching is both a craft and an art. A good preacher, like any artisan, continues to grow and challenge themselves in both knowledge and practice. The two-volume Christian Focus Preaching Collection is a great way to ensure that you are sharpening your homiletic saw. In this collection you will reconnect with your mandate to provide biblically relevant messages that connect with your audience. You will also be reminded to not fall into the trap of vapid, comforting soliloquies or jargon-filled theologically heavy lectures and look at the preaching of those closest to Jesus.
With your Logos Bible Software, the entire Christian Focus Preaching Collection is fully searchable and easily accessible. Hovering over Scripture references displays the texts instantly, and all Scripture references are linked to the Bibles in your library. Scripture references are linked to your favorite Bible translations, and important theological concepts are linked to dictionaries, encyclopedias, and the wealth of resources in your digital library.
Key Features
A thorough look at the preaching in the book of Acts
In-depth references to other applicable and helpful works
An appendix that looks at 1st century preaching in a 21st century context
Strong encouragement to pastors and preachers to trust in the words of Scripture to communicate the words of God
Individual Titles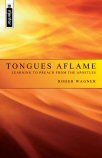 Tongues Aflame: Learning to Preach from the Apostles
Author: Roger Wagner
Publisher: Christian Focus
Publication Date: 2003
Pages: 384
Remember when you left seminary or took up your present pastorate, and you were going to set the church aflame with your sound biblical exposition, your sweeping theological insights and your homiletical eloquence? Roger Wagner suggests that maybe it is time to re-examine the preaching of Paul, Peter and Stephen and reconsider what it was in their preaching that not only set the Church aflame but set the world on fire as well.
Wagner sets out to give you the insights you need to preach like those closest to Jesus. He first looks at the characteristics of New Testament preaching and then looks in more detail at ten sermons preached in Acts by Peter, Paul, and Stephen. An appendix deals with how to preach to the modern, pluralist, materialist, pagan society we live in. Dissatisfied with your sermons? You too can preach like an Apostle!
As a Bible believing minister you are already accustomed to using the Scriptures for the content of your messages. Now I am calling you to examine the way the sermons in Acts can also give you insights into how to shape the form of your messages, and let the apostolic preachers become your examples of how to deliver sermons that will be powerful and effective.
—Roger Wagner, from the introduction
Preachers dissatisfied with archaic, ingrown traditionalism on the one hand and with relativistic contextualization on the other will find in Tongues Aflame a biblical alternative that is faithful to Scripture, personally challenging, and stimulating in its passionate confidence that preaching as Peter, Stephen, and Paul did will advance Christ's reign of grace in the 21st century, as it did in the first.
—Dennis E. Johnson, Professor of Practical Theology, Westminster Seminary in California, Escondido, California
Roger Wagner is Pastor of Bayview Orthodox Presbyterian Church, Chula Vista California. He has been there for over 20 years.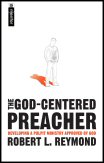 The God-Centered Preacher: Developing a Pulpit Ministry Approved by God
Author: Robert Reymond
Publisher: Christian Focus
Publication Date: 2003
Pages: 352
Walk into most Christian churches in the western world today, and the chances of you hearing a biblically based and penetrating relevant message is, to be polite, slim. Even churches claiming to be evangelical or reformed all too often tend towards market led, comforting talks on the one hand and impenetrable, jargon-filled theological lectures on the other. How can preachers maintain a sensible balance?
Robert Reymond has trained hundreds of pastors, and has an intimate understanding of the areas where preachers are inclined to fail. He points to eight qualities that all pastors should aspire to in their ministries, qualities that are all too often lacking. These include the need for a scripturally grounded pulpit, the need for a theologically articulate pulpit and the need for an evangelistic pulpit.
I would highly recommend this book to preachers. The theological points are well argued and very relevant to our own day. It is the sort of book that one may refer to time and again, benefiting from studying individual chapters. Above all, the emphasis that preaching and worship should be God-centered and God-glorifying is refreshing.
—The Evangelical Times
Robert L. Reymond taught for more than 25 years on the faculties of Covenant Theological Seminary, St. Louis, Missouri and Knox Theological Seminary, Ft. Lauderdale, Florida. He holds B.A., M.A., and Ph.D. degrees from Bob Jones University and did post-doctoral studies at Fuller Seminary, New York University, Union Seminary, New York, Tyndale House, Cambridge, and Rutherford House, Edinburgh. Currently he is the Emeritus Professor of Systematic Theology at Knox Theological Seminary, Ft. Lauderdale, Florida.
Product Details
Title: Christian Focus Preaching Collection
Author: Roger Wagner and Robert Reymond
Publisher: Christian Focus
Volumes: 2
Pages: 736
More details about these resources