Mobile Ed: OT317 Book Study: Judges (18 hour course)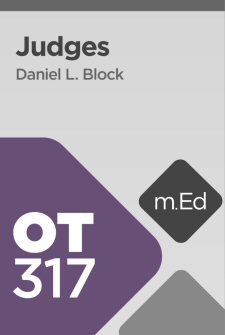 Mobile Ed: OT317 Book Study: Judges (18 hour course)
•
Runs on Windows, Mac and mobile.
Overview
View background information and a clear exposition of Judges demonstrating its relevance to a modern setting. Pastors and teachers will benefit from lessons on the consequence of apostasy, deliverance, and the character of each Judge. Professors and students will appreciate a scholarly focus on the literary context in which Israel's spiritual and moral disintegration took place. God rescuing Israel through the Judges is presented in an intellectually enriching and a highly accessible format that will transform your study and deepen understanding.
Learning Objectives
Upon successful completion you should be able to:
Articulate a clear understanding of the historical and social context of the book of Judges
Compare various episodes in the book to biblical and extrabiblical parallels
Discuss the portrayal of various women in Judges, including Deborah, Jael, and Jephthah's daughter
Explain the process of Israel's "Canaanization" and how the church today must heed warning signs of moral and spiritual apostasy
Describe the exploits and flaws of major leaders in Judges, including Gideon, Samson, and Barak
Outline the general structure of Judges and explain how to understand the book's later chapters
Course Outline
Introduction
Introducing the Speaker and the Course
Unit 1: Introduction to the Book
Considering the Title "Judges"
The Date of Judges
The Purpose of the Book
The History of Interpretation
How to Read Judges
Extrabiblical Sources
Historical and Religious Issues
Read as Great Literature
Unit 1 Quiz
Unit 2: The Canaanization of Israel: Background (Judg 1:1–36)
Background and Purpose of Judges 1
Overview: The Report of Israel's Performance (Judg 1:12–36)
Introduction to the Book (Judg 1:1–2)
The Successes of Judah (Judg 1:3–20)
Adoni-Bezek
Jerusalem and the Upland Campaign (Judg 1:4–8)
Conquest of Hebron (Judg 1:10)
Conquest of Debir (Judg 1:11–15)
Caleb and Acsah (Judg 1:11–15)
Settling in Arad (Judg 1:16)
Sacking of Hormah (Judg 1:17)
The Southwest Coastal Lowlands (Judg 1:18)
Summary of Judah's Campaigns (Judg 1:19–20)
The Remaining Tribes (Judg 1:21–29)
The Northern Tribes (Judg 1:30–36)
Unit 2 Quiz
Unit 3: What's Wrong in Israel (Judg 2:1–3:6)
Overview of Judges 2
The Structure of Judges 2
The Envoy of YHWH and the People's Response (Judg 2:1–5)
Interpretations of Israel's Behavior (Judg 2:1–20a)
The Roots of Israel's Apostasy (Judg 2:6–10)
The Expression of Apostasy (Judg 2:11–13)
God's Reaction to Israel's Apostasy (Judg 2:14–20a)
God's Interpretation of Israel's Behavior (Judg 2:20b–22)
Consequences of Apostasy
More about Domestic Consequences of Apostasy (Judg 3:1–6)
Unit 3 Quiz
Unit 4: Introduction to the Book of Deliverers (Judg 3:7–31)
Structure of Deliverer Accounts
Preliminary Observations (Judg 3–16)
Othniel and Aram-Naharaim: A Paradigmatic Account (Judg 3:7–11)
Ehud and Moab (Judg 3:12–30)
Ehud's Left-Handedness
Ehud's Preparation
Ehud's Deliverance of Israel
Ehud: Theological and Practical Implications
Shamgar the Judge (Judg 3:31)
Unit 4 Quiz
Unit 5: Barak and the Canaanites (Judg 4–5)
Literary Observations on the Barak Cycle
Structure of Judges 4–5
Jabin and Sisera
The Oppression of Sisera (Judg 4:1–3)
God Raises a Deliverer (Judg 4:4–10)
Who Was Deborah?
Deborah's Role in Israel (Judg 4:4–5)
Deborah and Barak (Judg 4:6–9)
Summary of Events in Judges 4
Barak's Victory (Judg 4:11–22)
The Battle's End (Judg 4:15–22)
Jael the Assassin (Judg 4:17–22)
Evaluating Barak and Jael
Unit 5 Quiz
Unit 6: Celebrating the Victory (Judg 5:1–31)
Song of Celebration
Ancient Near Eastern Victory Hymns
Authorship of the Song
The Historical Representation of Israel in Judges 5
The Purpose of Judges 5
Reading the Hymn, Part 1 (Judg 5:1–27)
Reading the Hymn, Part 2 (Judg 5:28–31)
Chariots and Sun Gods
Theological and Practical Implications of Judges 5
Unit 6 Quiz
Unit 7: The Gideon Cycle: Overview and Early Events (Judg 6–9)
Overview of the Gideon Cycle
Oppression in the Gideon Cycle (Judg 6:1–5)
The Prophet's Message (Judg 6:7–10)
Gideon's Call (Judg 6:11–24)
Gideon Cleans House (Judg 6:25–32)
Gideon's Piety
Gideon's Problems
Unit 7 Quiz
Unit 8: Gideon's Big Test (Judg 6:33–8:3)
Preparing for Battle and Second-Guessing
Reducing the Troops (Judg 7:1–8)
Gideon's Third Thoughts (Judg 7:9–15)
An Unlikely Battle Plan (Judg 7:16–23)
After the Battle (Judg 7:24–25)
Postscript of the Battle (Judg 8:1–3)
Unit 8 Quiz
Unit 9: Aftermath of Battle (Judg 8:4–28)
Structure and Themes of the Section
Gideon and the Succothites (Judg 8:4–9)
Capture and Cruelty (Judg 8:10–17)
Gideon's Personal Vendetta (Judg 8:18–21)
Gideon Becomes a Problem (Judg 8:22–27)
Gideon's Legacy
Unit 9 Quiz
Unit 10: Gideon's Legacy (Judg 8:28–35)
Personal and Spiritual Legacy
Marks of Israel's Spiritual Decline
Theological Significance of the Gideon Narrative
Unit 10 Quiz
Unit 11: Gideon's Dynastic Legacy: Abimelech (Judg 9:1–57)
Overview of the Abimelech Account
Abimelech Seizes the Throne (Judg 9:1–6)
Jotham's Preamble (Judg 9:7)
Jotham's Fable (Judg 9:8–15)
The Evil Spirit (Judg 9:22–25)
Conspiracy of Gaal (Judg 9:26–29)
Defeat of Shechem (Judg 9:42–49)
Death of Abimelech (Judg 9:50–55)
The Epilogue (Judg 9:56—57)
Unit 11 Quiz
Unit 12: The Minor Governors (Judg 10:1–5)
The Significance of the Minor Governors
Five Minor Judges (Judg 10:1–5)
Unit 12 Quiz
Unit 13: Jephthah (Judg 10:6–12:7)
Overview of the Jephthah Account
Connections with Earlier Judges
Israel's Canaanization and God's Anger (Judg 10:6–9)
Israel's Cry and God's Response (Judg 10:10–14)
The People's Response (Judg 10:15–16)
Israel's Agent of Deliverance (Judg 10:17–18)
A Candidate Emerges (Judg 11:1–3)
Jephthah's Response (Judg 11:4–11)
Unit 13 Quiz
Unit 14: Jephthah's Victory and Vow (Judg 11:12–12:7)
Negotiations (Judg 11:12–28)
Jephthah's Masterful Speech (Judg 11:14–28)
Tarnished Victory (Judg 11:29–33)
Jephthah's Vow (Judg 11:30–31)
Ancient Child Sacrifice
Joy and Tragedy (Judg 11:34–35)
A Daughter's Honor (Judg 11:36–40)
A Closer Look at Jephthah's Vow
Negotiations with Ephraim (Judg 12:1–3)
Civil War (Judg 12:4–7)
Considering Jephthah and Israel
Concluding Thoughts about the Jephthah Cycle
Unit 14 Quiz
Unit 15: Samson and the Philistines (Judg 13:1–16:31)
The Paradigm Breaks Down
The Structure of the Samson Cycle
The Philistines (Judg 13:1)
Birth and Call Narrative (Judg 13:2–24)
Manoah's Wife and the Nazirite Vow (Judg 13:2–5)
The Wife's Report (Judg 13:6–7)
Manoah's Three Exchanges (Judg 13:8–16)
Third and Fourth Exchanges (Judg 13:17–19)
Two Responses to Wonder (Judg 13:20–23)
The Promise Fulfilled (Judg 13:24)
Summary of Judges 13
Unit 15 Quiz
Unit 16: Samson's Marriage (Judg 13:25–14:20)
Overview of the Story of Samson's Marriage
A Lion and a Wife (Judg 13:25–14:10a)
Wedding Preparations (Judg 14:10b–11)
Samson's Riddle (Judg 14:12–14)
The Riddle Solved (Judg 14:15–18)
The Theological Climax (Judg 14:19–20)
Unit 16 Quiz
Unit 17: Samson Fights the Philistines (Judg 15)
Overview and Introduction to Judges 15
Fiery Jackals (Judg 15:4–5)
Samson's Philistine Ethic (Judg 15:6–13)
A Deadly Jawbone (Judg 15:14–15)
Celebration and Thirst (Judg 15:16–19a)
Samson's Selfishness (Judg 15:19b–20)
Unit 17 Quiz
Unit 18: Samson in Gaza (Judg 16)
Overview of Judges 16
Key Questions (Judg 16:1–3)
Purpose of the Narrative Fragment (Judg 16:1–3)
Key Themes (Judg 16:1–31)
The Sorek Valley (Judg 16:4–5)
Delilah (Judg 16:4–5)
Delilah's First Attempt (Judg 16:6–9)
Delilah's Further Attempts (Judg 16:10–16)
The Betrayal (Judg 16:17–20)
The Tragic Climax (Judg 16:20–22)
A Hair of Hope (Judg 16:22)
In Praise of Dagon (Judg 16:23–24)
The Philistines' Song of Praise (Judg 16:24)
Samson's Final Prayer (Judg 16:25–28)
The Last Act (Judg 16:29–31)
Theological and Practical Implications of the Samson Cycle
Unit 18 Quiz
Unit 19: The Climax of the Book (Judg 17–21)
Overview of the Book's Climax
Absence of a King (Judg 17:6)
Corruption of a Household (Judg 17:1–6)
Corruption of the Priesthood (Judg 17:7–8)
A Conversation between Micah and the Levite (Judg 17:8–13)
Unit 19 Quiz
Unit 20: The Danite Mission (Judg 18)
Overview of Judges 18
A Parody of Sorts (Judg 18:1)
Good Questions, Bad Answers (Judg 18:2–3)
Requesting an Oracle (Judg 18:4–6)
Peaceful Laish (Judg 18:7–10)
On the March (Judg 18:11–20)
Micah's Empty Protest (Judg 18:21–26)
The New Cult (Judg 18:27–31)
Unit 20 Quiz
Unit 21: A Levite's Misstep (Judg 19:1–28)
Overview of Judges 19–21
Anonymity and Absence in Judges 19–21
Principal Characters (Judg 19:1–9)
Setting the Stage (Judg 19:10–15)
Social Outrage (Judg 19:16–21)
Moral Outrage (Judg 19:22–23)
The Gang Rape (Judg 19:24–26)
The Journey Home (Judg 19:27–28)
Theological and Practical Implications of Judges 19
Unit 21 Quiz
Unit 22: Civil War in Israel (Judg 19:29–20:48)
Overview of Judges 20
The Nation at War (Judg 20:1–7)
Preparing for War (Judg 20:8–17)
The Rhythm of Battle (Judg 20:18–28)
The Final Battle (Judg 20:29–48)
Theological and Practical Implications of Judges 20
Unit 22 Quiz
Unit 23: Saving Benjamin (Judg 21)
Overview of Judges 21
The Silence of God (Judg 21:3–4)
A Legal Loophole (Judg 21:5–7)
Second Holy War (Judg 21:8–11)
An Insufficient Solution (Judg 21:12–18)
The Second Solution (Judg 21:19–22)
Implementing the Plan (Judg 21:23–25)
Social and Historical Implications of Judges 21
Theological Implications of Judges 21
Unit 23 Quiz
Final Exam
Conclusion
Product Details
Title: Mobile Ed: OT317 Judges
Instructor: Daniel I. Block
Publisher: Lexham Press
Publication Date: 2016
Product Type: Logos Mobile Education
Resource Type: Courseware, including transcripts, audio, and video resources
Courses: 1
Video Hours: 18
About Daniel Block
Dr. Daniel Block, professor of Old Testament at Wheaton College, has been teaching God's Word for more than 30 years.
It has been a special joy for Dr. Block to watch students, who often take introductory courses in Old Testament only because they are required to do so by the curriculum, suddenly awaken to the fact that the Old Testament is understandable and its message is both life-giving and relevant for modern, everyday life.
Dr. Block has published a number of books and essays in scholarly journals. The paradigm for his research and ministry is set by Ezra, as described in Ezra 7:10: he committed himself to the study the Torah of Yahweh, to put it into practice, and to teach his revealed will in Israel. This means constantly asking serious questions of the Scriptures: What does the text say? Why does the text say it like that? What did the text mean to the original audience? What does the text have to say to me today? In order to answer these questions, one needs to understand both the worlds out of which the biblical texts arose and the worlds in which modern people live.
Getting the most out of Mobile Ed
Logos Mobile Education is a highly effective cross-platform learning environment that integrates world class teaching with the powerful study tools and theological libraries available in Logos Bible Software. Every course provides links to additional resources and suggested readings that supplement the lecture material at the end of every transcript segment.
This course comes with an Activities resource that functions as a type of "workbook" for the course. This resource includes learning activities such as: places for you to respond to reflection questions, exercises that will challenge and show you how deepen your understanding of this course by using specific Logos tools and resources, tutorial videos on different features of Logos Bible Software, and links to relevant Logos guides and tools. A link to open the Activities resource is conveniently placed at the end of every segment.
More details about these resources