Select Works of Norman L. Geisler II (3 vols.)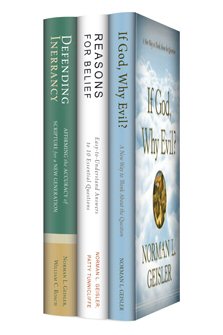 Select Works of Norman L. Geisler II (3 vols.)
•
Runs on Windows, Mac and mobile.
Overview
Leading apologist Norman L. Geisler has defended the Christian faith for over 50 years and has taught many Christians how to do the same. In these three volumes, Geisler defends the doctrine of inerrancy, answers basic questions about the Christian faith, and explores the mystery of why a good and great God permits evil. Geisler explores the evidence for God's existence in a clear, accessible way that invites readers to examine not just what they believe, but why they believe it.
In the Logos editions, these volumes are enhanced by amazing functionality. Important terms link to dictionaries, encyclopedias, and a wealth of other resources in your digital library. Perform powerful searches to find exactly what you're looking for. Take the discussion with you using tablet and mobile apps. With Logos Bible Software, the most efficient and comprehensive research tools are in one place, so you get the most out of your study.
Key Features
Offers teaching from one of today's most popular apologists
Defends the doctrine of inerrancy
Explores why God permits evil to exist
Individual Titles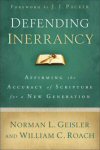 The traditional view of inerrancy, which means the Bible is totally without error, prevents the erosion of the authority and accuracy of Scripture. Leading apologist and bestselling authors William C. Roach and Norman L. Geisler, one of the original drafters of the Chicago Statement on Biblical Inerrancy, present a defense of traditional understanding. Written for a new generation of Christians who are being assaulted with challenges to the nature of God, truth, and language, this volume is a valuable resource.
Norm Geisler and I both served on the ICBI for the ten years of its existence. What Dr. Geisler has now written in his new book is certainly a masterpiece and worthy of careful attention by all who are interested in dealing with the inerrancy of the Word of God.
—Earl D. Radmacher, president emeritus, Western Seminary
This is one of the most important books of the decade. Geisler and Roach not only answer contemporary challenges to inerrancy but also provide a theological, apologetical, and philosophical analysis and defense of inerrancy that is rather stunning in its breadth and detail. Theology students both young and old will benefit immensely from this well-researched, well-written volume.
—Ron Rhodes, president, Reasoning from the Scriptures Ministries
William C. Roach has served as a research assistant to Dr. Norman Geisler and is an ordained minister, active speaker, and writer.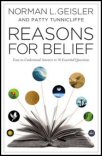 How can you know God exists? Why should you trust the Bible? Trusted theologian and bestselling author Norman L. Geisler teams with teacher and speaker Patty Tunnicliffe to provide concrete, step-by-step reasons for why Christians believe what they do. Organized around the most basic questions of faith, Reasons for Belief offers clear evidence for the existence of God, the reliability of the Bible, Jesus' resurrection, and more. Whether you're a curious skeptic or a believer wanting to learn how to defend your faith, Reasons for Belief provides answers to common questions.
Geisler and Tunnicliffe have hit a grand slam with this little book. For compressing so many vital Christian truths into so few pages, I'm not sure this book has a rival.
—William A. Dembski, senior fellow, Discovery Institute
One of the most clear, informative and engaging [apologetic books] I've read. Thirteen scintillating chapters cover today's 'hot issues' in readable, persuasive, accessible ways . . . a gripping 'gem.'
—Christianity
Patty Tunnicliffe is a former public school teacher, Bible teacher, and conference speaker.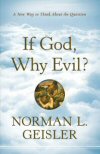 In this clear, concise, and thorough book, Norman L. Geisler carefully answers tough questions about the existence of evil. Using step-by-step explanations and compelling examples, he walks the reader through time-tested answers but also provides a new approach that revolves around whether or not this world is the "best of all possible worlds." This all adds up to comforting news for believers: we can rest assured that God is both loving and all-powerful.
If God, Why Evil? was selected by the Outreach Magazine as the 2012 Resource of the Year in the Apologetics category.
Solid, insightful answers to difficult and intriguing questions that only Geisler could do. A must-read.
—Josh D. McDowell, author, Evidence for Christianity
This small book by Norman Geisler concisely answers the big questions on the problem of evil. It is a 'crash course' that dispels confusion and brings clarity to this much-debated topic. Highly recommended!
—Ron Rhodes, president, Reasoning from the Scriptures Ministries
This is classic Geisler–brilliant, incisive, succinct, convincing. He is one of the great defenders of Christianity.
—Lee Strobel, author, The Case for Christ
About Norman L. Geisler
Norman L. Geisler has taught at the university and graduate level for over 50 years. He holds degrees from Wheaton College, William Tyndale College, and Loyola University, and is known for his scholarly contributions to the subjects of Christian apologetics, theology, and philosophy.
In 1992, Geisler co-founded Southern Evangelical Seminary in Charlotte, North Carolina. In 2007, he co-founded Veritas Evangelical Seminary in Murrieta, California, where he serves as chancellor and distinguished professor of Apologetics. Geisler is the author or co-author of over 80 books, including The Battle for Resurrection, I Don't Have Enough Faith to Be an Atheist, and Biblical Errancy: An Analysis of its Philosophical Roots.
More details about these resources