World Meeting of Families Bundle (33 vols.)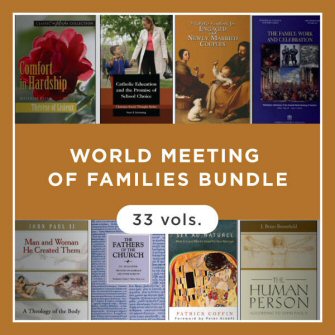 Overview
In celebration of the 2015 World Meeting of Families in Philadelphia, Verbum presents the World Meeting of Families Bundle—33 volumes of valuable resources benefiting parents, spouses, priests, ministers, educators, lay-faithful, and others interested in the family. Packed with practical wisdom and solid Church doctrine, the World Meeting of Families Bundle features seven volumes based on Pope John Paul II's famous "Theology of the Body" lectures, 10 essential publications from the Vatican's Pontifical Council for the Family, encyclicals such as the Humanae Vitae, and much more.
You'll glean insights from G.K. Chesterton, Scott and Kimberly Hahn, Saint Augustine, Christopher West, and others. Read anecdotes on family life from faithful Catholic authors. Explore Catholic doctrine regarding the sanctity of marriage. Study the Church's approach to family planning, education of children, and living the faith through the challenges of modern life. Celebrating the beauty of God's design, this collection will guide Catholics of all vocations in the nourishment and support of the family.
The Logos editions of these volumes have significantly increased value over basic ebooks. Important terms link to dictionaries, encyclopedias, and a wealth of other resources in your digital library. Perform powerful searches to find exactly what you're looking for. Connect instantly with citations and references to the Bible or the Catechism of the Catholic Church. Create reading plans for your small group and keep everyone on task through Faithlife. Take the discussion with you using tablet and mobile apps. Logos brings the most efficient and comprehensive research tools together in one place, so you get the most out of your study.
Key Features
Answers common questions on marriage and family life from a Catholic perspective
Provides source texts on Catholic social teaching regarding the family
Offers a biblical basis for Catholic doctrines and theology
Demonstrates the joy and holiness of Catholic marriage
Product Details
Title: World Meeting of Families Bundle
Volumes: 33
Pages: 5,288
Christian Group: Catholic
Resource Type: Monographs, Topical
Individual Titles

Catholic Marriage and Family Collection
Publisher: Emmaus Road Publishing
Volumes: 6
Pages: 888
Discover God's plan for your marriage and family with six volumes that each bring a unique area of Catholic teaching, essential for families in the twenty-first century. Learn what the Catholic Church teaches on natural family planning, technology and media, raising a Christian family in a non-Christian culture, and more through these insightful volumes designed to lead your family to the family of God.
The volumes included in this collection are:
Women of Grace: A Bible Study for Married Women by Michaelann Martin
Sex au Naturel: What it is and Why it's Good for Your Marriage by Patrick Coffin
Family Matters: A Bible Study on Marriage and Family by Michaelann Martin and Curtis Martin
A Catholic Handbook for Engaged and Newly Married Couples by Frederick W. Marks
Infinite Bandwidth: Encountering Christ in the Media by Eugene Gan
Who's Who in Heaven: Real Saints for Families in Plain English by Thomas G. Morrow

Pontifical Council for the Family Collection (10 vols.)
Publisher: Libreria Editrice Vaticana
Volumes: 10
Pages: 706
Containing essential publications from the Vatican's Pontifical Council for the Family, this collection spans 20 years' worth of important texts regarding the family, marriage, sexuality, and globalization. Discover what the Catholic Church teaches about marriage, sexuality, civil unions, and human rights in the context of the family.
The Family: Work and Celebration
Globalization, Economics, and the Family
In the Service of Life
Ethical and Pastoral Dimensions of Population Trends
The Family and Human Rights
Family, Marriage, and "De Facto" Unions
Charter of the Rights of the Family
The Truth and Meaning of Human Sexuality
Preparation for the Sacrament of Marriage
Vademecum for Confessors Concerning Some Aspects of the Morality of Conjugal Life

Theology of the Body Collection
Publisher: Pauline Books & Media
Volumes: 7
Pages: 2,276
Pope John Paul II's essential teachings from his famous "Theology of the Body" lectures have sparked worldwide discussion in circles ranging from academia to church small groups. That these lectures have influenced such a wide array of believers—both Protestant and Catholic—says much about the universal message of John Paul II's critical theology for all mankind.
Why do we have physical bodies? What does our sexuality say about the God who created us? What does it mean that we were "made in God's image," and how can a "resurrection of the body" be possible? John Paul II's teachings seek to create a theology centered on what we know about the human body. These seven books will help you dig deeper into the theology of the body and discern what it means for you.
The volumes in this collection are:
Man and Woman He Created Them: A Theology of the Body by John Paul II
Theology of the Body Explained by Christopher West
The Theology of the Body Made Simple by Anthony Percy
Theology of the Body in Context by William E. May
The Human Person by J. Brian Bransfield
Women, Sex, & the Church by Erika Bachiochi
Discovering the Feminine Genius: Every Woman's Journey by Katrina J. Zeno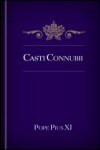 Casti Connubii
Author: Pius XI
Publisher: Libreria Editrice Vaticana
Publication Date: 1930
Pages: 55
Pope Pius XI had an incredible impact on the Roman Catholic Church we know today. Under his rule (1922–1939), the Vatican was reestablished as its own sovereign state, the Catholic Church took a stand on social and economic issues as moral and ethical concerns, and Pius XI defended the Catholic's rights to life and education in Mexico, Spain, Germany, and the Soviet Union. His encyclicals proclaim his ideals for freedom, liberty, and theology.
Casti Connubii is Pius XI's eighteenth encyclical. In it, he emphasizes the sanctity of marriage and the Church's teaching regarding birth control and abortion. Significantly, he speaks out against eugenics, a popular philosophy of the time which championed forced sterilizations for those deemed "unfit" to propagate the human race.
Pope Pius XI (Ambrogio Damiano Achille Ratti) (1857–1939) was pope from 1922 to 1939. He ended the longstanding hostility between the Italian government and the sovereignty of the Church in Rome when, in 1929, the Vatican was established as an independent, sovereign state. Ratti worked to create social peace and human freedom in the world in the face of rising communism and fascism around him. During his papacy, he established the Catholic Church as a major world voice through its political and social teachings and diplomatic relations.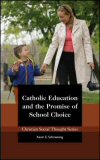 Catholic Education and the Promise of School Choice
Author: Kevin E. Schmiesing
Series: Christian Social Thought
Publisher: Acton Institute
Publication Date: 2010
Pages: 63
America has a hybrid system of private schools increasingly off-limits to the working and even middle classes and state schools plagued by inefficiencies, inequities, and in some cases, abject failure. By no means does this generalization denigrate the good work that thousands of educators in both private and public systems do every day. Some religious schools strive ardently to keep open the prospect of a first-rate education for students of poor parents and challenging backgrounds. Some public schools provide outstanding academic and extracurricular opportunities for their students. Yet, too many students are, despite political rhetoric and flawed legislation, "left behind."
American education is in crisis. Many public schools fail to provide the training necessary to succeed in a modern, global economy. Meanwhile, Catholic schools, traditionally the bastions of excellent academic and moral formation, suffer from funding shortages and lack of mission clarity. While these problems have many dimensions and require reform on many fronts, historian and education policy analyst Kevin Schmiesing identifies the overarching challenge as reinvigorating parental initiative and responsibility in schooling.
Kevin E. Schmiesing (PhD, University of Pennsylvania) is a research fellow at the Acton Institute for the study of religion and liberty in Grand Rapids, Michigan, where he also serves as editor of the Christian Social Thought Series and as book review editor for the Journal of Markets & Morality.
Schmiesing is author of Within the Market Strife, a history of Catholic economic thought, and has published numerous scholarly articles and popular commentaries in the fields of religious history, education policy, economic history, and Catholic social thought. Instructor of Church history for the archdiocese of Cincinnati and executive director of CatholicHistory.net, he produces a regular segment, "This Week in Catholic History," for EWTN global satellite radio's SonRise Morning Show with Brian Patrick. He is also currently editor-in-chief of the Catholic Social Science Review.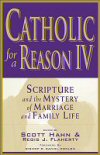 Catholic for a Reason IV: Scripture and the Mystery of Marriage and Family Life
Editors: Scott Hahn and Regis J. Flaherty
Publisher: Emmaus Road Publishing
Publication Date: 2007
Pages: 199
Marriage and family life lived according to God's plan can change lives—and the world! Catholic for a Reason IV explores the scriptural basis for the Catholic understanding of marriage.
Join Scott and Kimberly Hahn, Mike Aquilina, Regis J. Flaherty, and 10 other well-known Catholic authors—along with their spouses—as they bear solid biblical testimony to the joys, struggles, and sanctity found in the sacrament of marriage. Essays include "The World As Wedding," "Lessons Learned at Nazareth," and "Reflections on Pope Benedict XVI's First Encyclical."
Scott Hahn has delivered numerous talks nationally and internationally on a wide variety of topics related to Scripture and the Catholic faith. His talks have been effective in helping thousands of Protestants and fallen away Catholics reembrace the Catholic faith. He is currently a professor of theology and Scripture at Franciscan University of Steubenville, and he's the founder and director of the Saint Paul Center for Biblical Theology.
In 2005, Hahn was appointed as Pope Benedict XVI Chair of Biblical Theology and Liturgical Proclamation at St. Vincent Seminary in Latrobe, Pennsylvania. He is the bestselling author of numerous books, including The Lamb's Supper and Hail, Holy Queen, Reasons to Believe, and Rome Sweet Home: Our Journey to Catholicism. Hahn received his BA in theology, philosophy, and economics from Grove City College, Pennsylvania, his MDiv from Gordon-Conwell Theological Seminary, and his PhD in biblical theology from Marquette University. He entered the Catholic Church at the Easter Vigil, 1986.
Regis J. Flaherty is editor-in-chief of Emmaus Road Publishing. He is the author of Catholic Customs: A Fresh Look at Traditional Practices, coauthor of The How-to Book of Catholic Devotions, and coeditor of The World's First Christmas. He is also a frequent speaker on the topic of lay spirituality and teaches premarriage classes together with his wife, Libbie.

Comfort in Hardship: Wisdom from Thérèse of Lisieux
Author: Thérèse of Lisieux
Series: Classic Wisdom Collection
Publisher: Pauline Books & Media
Publication Date: 2011
Pages: 70
What do we do when illness, separation, and sorrow break our hearts? In this book, Thérèse of Lisieux and her family recount some of the painful events in their lives. They walk us into a world of deep love and intense suffering. Like an understanding companion, Thérèse shows us that love makes suffering easier to bear.
Thérèse of Lisieux (1873–1897) died at the early age of 24 and was canonized in 1914, only 17 years after her death. She was a French Carmelite nun and also known as "the Little Flower of Jesus." She is a Doctor of the Church.
Divorce vs. Democracy
Author: G.K. Chesterton
Publisher: The Society of SS. Peter & Paul
Publication Date: 1916
Pages: 14
G.K. Chesterton's first essay against divorce first appeared in Nash's magazine, and was reprinted as a stand-alone volume at the request of his readers. Divorce vs. Democracy makes a case against divorce by appealing to both patriotism and to history. Chesterton argues for a Christian understanding marriage, and implores the church to stem the erosion of morality in modern Europe. This book also exhibits Chesterton's views on the relationship between the church and state relating to issues of marriage and family life.
G.K. Chesterton was born in London in 1874. He worked at the Redway and T. Fisher Unwin publishing house until 1902, when he began writing regularly—his weekly columns appeared for decades in the Daily News and The Illustrated London News. In all, he wrote more than 80 books, hundreds of poems, 200 short stories, 4,000 essays. Among his writings are his famous apologetic work Orthodoxy, a biography of St. Aquinas, his Father Brown detective stories, The Napoleon of Notting Hill, and The Man Who Was Thursday. He died on June 14, 1936 in Buckinghamshire.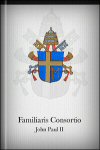 Familiaris Consortio
Author: Pope John Paul II
Publisher: Libreria Editrice Vaticana
Publication Date: 1981
Pages: 66
Pope John Paul II's apostolic exhortation, Familiaris Consortio, looks at the meaning of marriage and the family, and the challenges those roles face. Also known as On the Role of the Christian Family in the Modern World, Familiaris Consortio examines the family in relation to the sacraments. It emphasizes the sanctity of the marriage sacrament and its expectation as being a permanent union, and advises family prayer. It also discusses expectations of the family regarding education, service to the poor, and openness to life.
Pope John Paul II (Karol Józef Wojtyla) (1920–2005) served as Pope for 26 years (1978–2005). Wojtyla was ordained to the priesthood on November 1, 1946, and shortly after, was sent to Rome where he worked under Garrigou-Lagrange. In 1958 he was appointed as the titular bishop of Ombi and auxiliary of Krakow and in 1964 was appointed as the archbishop of Krakow. Three years later, he was elevated to cardinal.
In 1978, Wojtyla was elected pope, where he took on the name John Paul II. As pope, he was instrumental in ending communism in his native Poland. He significantly improved the Catholic Church's relationship with Judaism, Islam, the Eastern Orthodox Church, and the Anglican Communion. He has been acclaimed as one of the most influential leaders of the twentieth century.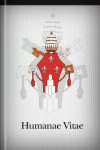 Humanae Vitae
Author: Pope Paul VI
Publisher: Libreria Editrice Vaticana
Publication Date: 1968
Pages: 31
Issued on July 25, 1968, Humanae Vitae establishes doctrinal answers to the mounting questions of birth control, abortion, and the definition of human life. It serves as the basis for Pope John Paul II's "Theology of the Body". The Humanae Vitae was the last of the encyclical letters written by Pope Paul VI—and its impact reverberates throughout the globe, even to this day.
Pope Paul VI (Giovanni Battista Enrico Antonia Maria Montini) (1897–1978) is known for bring Second Vatican Council to conclusion, ushering in the biggest changes to the Catholic Church since the Council of Trent 400 years prior.
Pope Paul VI—then Giovanni Montini—was ordained in 1920. Largely due to his organizational skills and vast knowledge, his religious career was strongly centered on papal service. In 1954, Montini was made the Archbishop of Milan, and in 1958 he was named a cardinal. Cardinal Montini was elected pope in 1963 and took the name Paul VI. As pope, he did away with much of the regal display of the papacy, a trend continued by his immediate successors. He reopened the Second Vatican Council, which had closed with the untimely death of Pope John XXIII, and brought out of it a deeper and more thorough understanding of the Church's understanding of itself.
Pope Paul VI passed away in 1978. The cause for his beatification was opened by Pope John Paul II in 1993, and, in December 2012, he was declared "Venerable" by Pope Benedict XVI.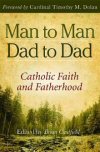 Man to Man, Dad to Dad: Catholic Faith and Fatherhood
Editor: Brian Caulfield
Publisher: Pauline Books & Media
Publication Date: 2013
Pages: 135
This collection of faith-filled reflections by 14 Catholic men affirms the value of a Catholic father's identity and purpose in the context of modern society. Acknowledging the constant struggle to strike a balance between family life and work life, this volume provides fathers with a realistic approach to making their relationships with God, their wives, and their children more involved and fulfilling.
Blending personal anecdotes from Catholic fathers, biblical teaching, and allusions to Church doctrine and figures of authority, this guidebook helps Catholic dads find the path to living as faithful family men.
This is a book for every Catholic man, especially husbands and fathers. Clear, practical, and profound, each and every chapter is sure to inspire, challenge, equip, and empower. Highly recommended.
—Scott Hahn, professor of Scripture and theology, Franciscan University of Steubenville
I highly recommend this faith-filled, insightful, and practical book of essays to inspire fathers to embrace their holy vocation, so essential for the new evangelization of our culture.
—Most Reverend Kevin C. Rhoades, bishop, Fort Wayne-South Bend; chair, USCCB Committee on Laity, Marriage, Family Life, and Youth
We live in a culture that does little to uphold or promote authentic masculinity. Brian Caulfield has done Christian men a great service in compiling the wisdom of virtuous fathers who have forgone the advice of the world and have chosen holiness instead.
—Matt Fradd, Catholic apologist and speaker; creator, The Man Talk DVD
Both a challenge and a hope, this book throws down the gauntlet, challenging all Catholic men looking to be better husbands and fathers.
—Sean McCarney, host, Just A Catholic Dad podcast
This is a book that is filled with profound insights and advice from some of the best men and dads. They speak from their own experiences as the men of faith they are. I encourage you to read this book and become the man and dad that God created you to be!
—Fr. Larry Richards, founder and president, The Reason For Our Hope Foundation
Brian Caulfield is the editor of the website Fathers for Good, sponsored by the Knights of Columbus Supreme Council, and is a communications specialist in the Office of the Supreme Knight in New Haven, Connecticut. He is also vice postulator of the Cause for Canonization of the Venerable Father Michael McGivney, the founder of the Knights of Columbus. Brian is a veteran journalist and reporter currently responsible for the weekly "Catholic Men" column for the Catholic News Agency's website.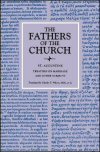 Treatises on Marriage and Other Subjects
Author: Augustine of Hippo
Translators: Charles T. Wilcox, Marie Ligouri, John McQuade, Ruth Wentworth Brown, John A. Lacy, Robert P. Russell, and Charles T. Huegelmeyer
Series: Fathers of the Church
Publisher: Catholic University of America Press
Publication Date: 1955
Pages: 462
A collection of nine short works by Augustine and translated by numerous editors for the Fathers of the Church Series. Among these works are:
The Good of Marriage
Adulterous Marriages
Holy Virginity
Faith and Works
The Creed
Faith and the Creed
The Care to be Taken for the Dead
Augustine of Hippo (AD 354–430) was born in Thagaste, Numidia, in Northern Africa. He studied rhetoric in Carthage when he was 17. As an adult, Augustine abandoned the Christianity of his youth to pursue Manichaeism. Through his Manichaean connections, Augustine became professor of rhetoric at the imperial court of Milan. While in Milan, Augustine was heavily influenced by the bishop of Milan, Ambrose. This influence led Augustine to begin exploring Christianity, and eventually he reconverted. He was baptized in AD 387 and returned to Africa. There he was ordained and became and eventually became bishop of Hippo, an office he held until his death in AD 430. Throughout his ministerial career was a party to multiple controversies, including the Aryan and Pelagian controversies. He was a staunch defender and advocate of Nicene orthodoxy and is one of the church's most influential pastor-theologians.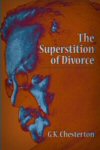 The Superstition of Divorce
Author: G.K. Chesterton
Publisher: Chatto & Windus
Publication Date: 1920
Pages: 149
This compact volume provides a basic and readable introduction to the philosophy of marriage and the purpose of the family. In it, Chesterton expands and develops his arguments in Divorce vs. Democracy, showing that divorce does not solve the problems of individuals; rather, it corrupts society as a whole.
G.K. Chesterton was born in London in 1874. He worked at the Redway and T. Fisher Unwin publishing house until 1902, when he began writing regularly—his weekly columns appeared for decades in the Daily News and The Illustrated London News. In all, he wrote more than 80 books, hundreds of poems, 200 short stories, 4,000 essays. Among his writings are his famous apologetic work Orthodoxy, a biography of St. Aquinas, his Father Brown detective stories, The Napoleon of Notting Hill, and The Man Who Was Thursday. He died on June 14, 1936 in Buckinghamshire.