Hebräisches und Aramäisches Handwörterbuch über das Alte Testament (Gesenius-Buhl)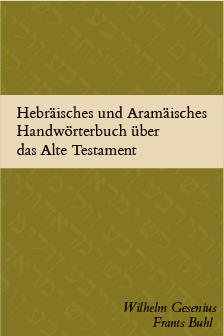 Hebräisches und Aramäisches Handwörterbuch über das Alte Testament (Gesenius-Buhl)
•
Runs on Windows, Mac and mobile.
$15.00
* Projected price. Future bids may change this price.
Place Your Bid!
Click on the highest price you'd pay. If the final price is lower, that's what you'll pay.
Übersicht
Erwerben Sie jetzt mit dem Hebräischen und Aramäischen Handwörterbuch über das Alte Testament von Wilhelm Gesenius und Frants Buhl einen absoluten Klassiker der deutschen Theologischen Literatur. Erstveröffentlicht im Jahre 1810 und seitdem stetig erneuert und erweitert ist dies die 16. Auflage aus dem Jahr 1915. Bis heute hat dieses Werk von Gesenius und Buhl seine Aktualität nicht verloren und ist noch immer ein absolutes Standardwerk für Generationen von Studenten, Pastoren, Pfarrern und Lehrenden. Das Werk sticht vor allem durch seine wissenschaftliche Zuverlässigkeit und hohe praktische Benutzbarkeit hervor.
Hebräischen und Aramäischen Handwörterbuch über das Alte Testament stattet Sie mit innovativen Werkzeugen und Eigenschaften aus, welche Sie bei Ihrem Bibelstudium unterstützen. Wichtige Begriffe sind direkt mit Wörterbüchern, Enzyklopädien und einer Vielzahl weiterer Ressourcen in Ihrer digitalen Bibliothek verlinkt. Umfangreiche Suchoptionen helfen Ihnen dabei, genau das zu finden, was Sie suchen. Erhalten Sie umfassenden Einblick in die Zusammenhänge biblischer und weltlicher Ereignisse mit der Zeitleiste und setzen Sie die Ereignisse in Kontext zueinander . Tablet und Mobiltelefon Apps erlauben es Ihnen, die Diskussion mit sich zu bringen. Mit Hilfe von Logos Bibelsoftware finden sie die effizientesten und umfassendsten Forschungswerkzeuge in einem Programm, was es Ihnen erlaubt Ihr Bibelstudium auf eine neue Ebene zu heben.
Hauptmerkmale
Vergleich der verschiedenen Schriften
Umfangreiche Definitionen zu den einzelnen Einträgen
Klassiker der Hebräischen Sprachwissenschaften
Produktdetails
Titel: Hebräischen und Aramäischen Handwörterbuch über das Alte Testament
Autoren: Wilhelm Gesenius
Herausgeber: Frants Buhl
Verlag: F.C.W. Vogel
Seiten: 1,046
Sprache: Deutsch
Über Wilhelm Gesenius
Wilhelm Gesenius (1786-1842) war ein deutscher Theologe und Orientalist. Gesenius gilt bis heute als einer der bedeutendsten Gelehrten für antike Sprachen, wobei sein Ruhm natürlich primäre auf der noch bis heute immer wieder neu aufgelegten Hebräischen Grammatik beruht, welche seinen Namen trägt. Nach dem Studium der Philosophie und Theologie in Helmstedt promovierte er und wurde im Jahre 1810 als Professor an die Universität in Halle berufen. Gesenius war Königlich Preußischer Konsistorialrat und war unter anderem Mitglied der Berliner Akademie der Wissenschaften, der Asiatischen Gesellschaften von Paris, Großbritannien und Irland und der Philosophischen Gesellschaft zu Cambridge.
Über Frants Buhl
Frants Buhl (1850-1932) war ein dänischer Orientalist und Alttestamentler. Nach dem Studium an der Universität Kopenhagen war er dort von 1880 bis 1890 als Privatdozent aktiv, bevor er einem Ruf an die Universität Leipzig folgte. 1898 kehrte er nach Kopenhagen zurück, wo er bis zu seinem Tod die Professur für semitische Sprachen innehatte. Buhl war seit dem Jahr 1900 Mitglied der Königlich Dänischen Akademie der Wissenschaften. Buhl erlangte seine Bekanntheit primär für seine Arbeit an Ausgaben des Hebräischen und aramäischen Handwörterbuches über das Alte Testament von Wilhelm Gesenius und seiner Arbeit an der Biblica Hebraica von Rudolf Kittel.
Musterseiten aus der Druckausgabe