Engaging Dietrich Bonhoeffer (3 vols.)
Overview
Dietrich Bonhoeffer, a German Lutheran pastor, daringly stood among the Christian resistance against Nazi Germany. He was arrested and eventually executed—just three weeks before Hitler's suicide. Gain insight into Bonhoeffer's courageous stand against the Nazi stronghold and his worldwide impact on Christianity with these three volumes. Each work, including one by Bonhoeffer's niece, sheds light on his meaningful life, evolving thought, and purposeful faith during the most trying of times.
In the Logos editions, these volumes are enhanced by amazing functionality. Important terms link to dictionaries, encyclopedias, and a wealth of other resources in your digital library. Perform powerful searches to find exactly what you're looking for. Take the discussion with you using tablet and mobile apps. With Logos Bible Software, the most efficient and comprehensive research tools are in one place, so you get the most out of your study.
Key Features
Provides valuable insight into Bonhoeffer's life, thought, and works
Compiles a selection of Bonhoeffer's translated writings
Analyzes Bonhoeffer's impact across the world
Individual Titles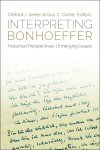 In the early twenty-first century, interest in the life and work of Dietrich Bonhoeffer has been increasing significantly. In this environment, how should we understand and interpret Bonhoeffer? Interpreting Bonhoeffer explores the many questions surrounding the complexities of Bonhoeffer's life, work, and historical context and what they might mean for how we understand and interpret his life and thought now and in the future.
A diverse collection, this may not be the kind of book one reads straight through. But it provides ample evidence why Bonhoeffer's life story and compelling 'vision of an ecumenical church for the world' will continue to influence generations to come.
—Mark S. Brocker, Lutheran Quarterly
With the seventieth anniversary of Bonhoeffer's death in 2015 and with an undiminished interest in his life and legacy across the theological and ecclesiastical spectrum, it is not surprising that interpretative anthologies such as this one would emerge. The papers in this volume represent, for the most part, what might be termed a 'postliberal' reception of Bonhoeffer.
—John T. Pless, book review editor, Logia
Guy C. Carter has taught at St. Peter's College. He is a regular speaker and presenter in the fields of Christian history and theology.
Clifford J. Green is professor emeritus of theology at Hartford Seminary in Connecticut. He is the executive director of the Dietrich Bonhoeffer Works and author of numerous volumes on Bonhoeffer.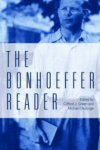 Survey Dietrich Bonhoeffer's most important writings, compiled for the first time into one valuable resource, The Bonhoeffer Reader. This volume makes a perfect introduction to Bonhoeffer's thought, with selections drawn from the 16-volume Works of Dietrich Bonhoeffer—a major 25-year translation project supported by the International Bonhoeffer Society and published by Fortress Press.
Edited by Clifford J. Green and Michael P. DeJonge, this text is the only collection of Bonhoeffer's writings formatted for easy reference to the Works of Dietrich Bonhoeffer and all of their additional resources, making it easier than ever to pursue a comprehensive study of Bonhoeffer's theological career.
This outstanding compendium of Bonhoeffer's writings is unmatched in scope and depth. With great classroom potential, it will introduce Bonhoeffer to a new generation for years to come.
—George Hunsinger, Hazel Thompson McCord Professor of Systematic Theology, Princeton Theological Seminary
There are few books of which one can truly say 'this should be in the library of every theologian and preacher. The Bonhoeffer Reader is such a book. Using the best available translations and unerringly selecting Bonhoeffer's most important and challenging theological writings, the editors make available in one volume the essential insights of this outstanding Christian thinker.
—Stephen Plant, dean and director of studies, Trinity Hall, University of Cambridge
Clifford J. Green is professor emeritus of theology at Hartford Seminary in Connecticut. He is the executive director of the Dietrich Bonhoeffer Works. He is also author of numerous volumes on Bonhoeffer.
Michael P. DeJonge is associate professor of religious studies and graduate director at the University of South Florida. He earned a PhD in religion from Emory University, having also undertaken doctoral work at the Freie Universität in Berlin as a Fulbright scholar. He is author of Bonhoeffer's Theological Formation.

This volume captures in a compelling and personal way the religious and political odyssey of one of the last century's great religious beacons—Dietrich Bonhoeffer. His life became a symbol of Christian resistance to Hitler. His thought ushered in a new era of worldly Christianity. His personal struggle for authentic moral and religious stance became a waypoint for a distracted world. Accompanied by family photos, the dramatic life, evolving thought, and perilous times of Dietrich Bonhoeffer are sketched in this short volume, which also features short excerpts from his writing.
Renate Bethge, an author and editor, is a niece of Dietrich Bonhoeffer and widow of Bonhoeffer's close friend Eberhard Bethge, who initiated the widespread publication of Bonhoeffer's writings after his death and authored the definitive biography.
K.C. Hanson has taught biblical studies at Episcopal Theological School and the School of Theology at Claremont, Creighton University, and St. Olaf College. His published works include Palestine in the Time of Jesus: Social Structures and Social Conflicts.
More details about these resources