R.C. Sproul Exposition Collection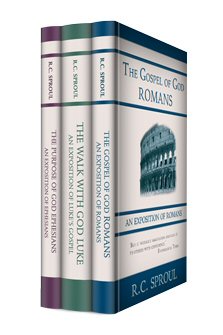 Overview
R.C. Sproul has been called the master teacher of this generation. As an author of over forty books and as a syndicated radio teacher Sproul has earned the respect of his peers as a premier bible expositor and proponent of Reformed theology. The R.C. Sproul Exposition Collection presents three exegetical works combining scholarly analysis of the biblical text and intense devotional insight and power as only R.C. Sproul can do. In the R.C. Sproul Exposition Collection, you benefit from keen perceptions as you walk through Luke's gospel and Paul's epistles to the Romans and the Ephesians.
With Logos Bible Software, you can reap the maximum benefit from Sproul's works. Every word from every book has been indexed and cataloged to help you search Sproul's books for a particular verse or topic, giving you instant access to cross-references. What's more, with Logos, every word is essentially a link. Scripture references are linked directly to Greek and Hebrew texts, along with your preferred English Bible translations. For every Greek or Hebrew word, you can double-click that word, and your digital library will automatically search your lexicons for a match.
Key Features
Table of contents that shows subject matter and passage discussed
Subject indexes
Maps for strategic locations
Key words and verses linked to other translations, Greek study helps, and other works in your Logos Bible Software
Product Details
Title: R.C. Sproul Exposition Collection
Publisher: Christian Focus
Author: R.C. Sproul
Volumes: 3
Pages: 860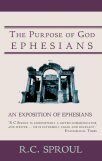 The Purpose of God: An Exposition of Ephesians
Author: R.C. Sproul
Publisher: Christian Focus
Publication Date: 2006
Pages: 168
Paul's epistle to the Ephesians is possibly best known for its description of the 'Christian's Armor.' The letter is a reminder to the churches in Asia to live out their faith in the light of the redemption unveiled by God. It is a section of scripture that has lastingly influenced many believers throughout church history.
R.C. Sproul looks at the main issues raised in Ephesians. These include how to overcome idolatry, God's sovereignty in ALL things and the importance of fellowship and commitment to the church for healthy spiritual growth.
There are many areas in the epistle which have occasioned real dispute in the Christian Church and these are dealt with in Sproul's customary style–deep profundity allied to a sure touch in communicating illuminating truth. You will be surprised at how freshly Paul's understanding of the Christian faith leaps off the page.
There is a freshness and vigor in this work which makes for easy reading, yet clearly it is under-girded by sound biblical scholarship . . . immensely practical.
—Frederick S. Leahy, Banner of Truth Magazine
R.C Sproul is undoubtedly a gifted communicator and writer . . . He is extremely clear and relevant.
—Evangelical Times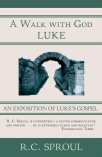 Walk With God: An Exposition of Luke's Gospel
Author: R.C. Sproul
Publisher: Christian Focus
Publication Date: 2005
Pages: 432
Are you at home in the company of Jesus?
Through over 100 meditational passages, respected theologian, R.C. Sproul helps us walk with Jesus as a friend. Learning to live with Jesus at the center of our world is the secret to a meaningful life. Jesus is the pre-eminent character in history—even time is divided by his birth date. He encouraged people from all walks of life to spend quality time with him. We cannot afford to ignore his gentle, but firm, invitation to become his friend.
Luke was a 1st century doctor and historian. He realized the importance of the carpenter whose family came from an obscure Nazarene village, yet whose life's mission was foretold for centuries before his birth. Luke was concerned to record all that he knew about him and painstakingly collected information from eyewitness, giving an accurate account of the most important life in history.
With an incisive mind and an ability to shine a clear light on his subject, Sproul divides Luke's account of the life of Jesus into devotional sections that help us to understand his impact and re-evaluate our response to it. Be warned and refreshed by the story of the Lord of the universe who is friend of all who walk with him.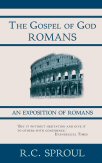 Gospel of God: An Exposition of Romans
Author: R.C. Sproul
Publisher: Christian Focus
Publication Date: 2007
Pages: 260
The book of Romans has been influential in critical moments of the Church history. In the early church, Paul's words in this book were the means of the conversion of Augustine. During the Protestant Reformation they particularly influenced Martin Luther and John Calvin. Later, in the evangelical revival of the eighteenth century, they changed the lives of George Whitefield and John Wesley. But it is not only those who have become leaders in the church who have been affected by the epistle to the Romans. Ordinary Christians, too, have lived transformed lives as a result. People have often turned to the letter to the Church in Rome because Paul clearly sets out a theological framework for us to understand. It is a comprehensive description of the way that God offers salvation to humankind—and it is 'Good News.'
R.C. Sproul has a rare gift for making biblical truth clear and understandable . . . very helpful on ethical issues such as the nature of government, the problem of war, capital punishment and taxation . . . warm, readable and stimulating to both mind and heart. Buy it without hesitation and give it to others with confidence.
—Evangelical Times
" . . . One particularly useful chapter is on mutual tolerance among Christians regarding secondary matters . . . To sum up: we heartily recommend this as a valuable addition to your church bookstall.
—David Watson
About R. C. Sproul
R.C. Sproul is a respected teacher, theologian, pastor, and he is the founder and chairman of Ligonier Ministries. He currently serves as the director of Serve International and as senior minister of preaching and teaching at Saint Andrew's Chapel, Sanford Florida. He can be heard teaching daily on the "Renewing Your Mind" broadcast throughout sixty countries. He has a real heart for people to hear and live out the Word of God in their lives.
More details about these resources