Ministry Collection (27 vols.)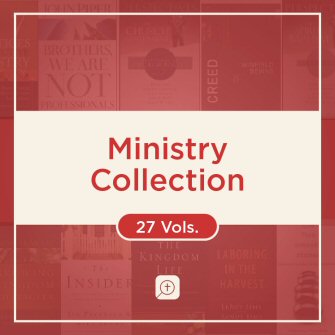 Overview
Get fresh insights into ministry, in all its various forms and facets. Round out your library of resources with books on a comprehensive range of topics, from leadership to discipleship to pastoral care.
The Ministry Collection gathers practical resources for effectively serving people and serving the church. Refocus on the heart of Christian ministry with John Piper, dig into Oswald Chambers' classic resource on Christian counseling, examine biblical forgiveness, study the principles of biblical ministry, get guidance on eldership, explore the intracacies of New Testament discipleship, and much more.
In the Logos editions, these volumes are enhanced by amazing functionality. Scripture citations link directly to English translations, and important terms link to dictionaries, encyclopedias, and a wealth of other resources in your digital library. Perform powerful searches to find exactly what you're looking for. Take the discussion with you using tablet and mobile apps. With Logos Bible Software, the most efficient and comprehensive research tools are in one place, so you get the most out of your study.
Key Features
Presents a comprehensive assortment of resources on ministry
Shares insights from acclaimed authors and seasoned pastors
Provides practical guidance on leadership, discipleship, counseling, and more
Individual Titles
Brothers, We Are Not Professionals
Author: John Piper
Publisher: Broadman & Holman
Publication Date: 2002
Pages: 287
John Piper pleads with fellow pastors to abandon the secularization of the pastorate and pursue the prophetic call of the Bible for radical ministry. We pastors are being killed by the professionalizing of the pastoral ministry. The mentality of the professional is not the mentality of the prophet. It is not the mentality of the slave of Christ. Professionalism has nothing to do with the essence and the heart of the Christian ministry. The more professional we long to be, the more spiritual death we will leave in our wake. For there is no professional childlikeness, there is no professional tenderheartedness, there is no professional panting after God. Brothers, we are not professionals. We are outcasts. We are aliens and exiles in the world. Our citizenship is in Heaven, and we wait with eager expectation for the Lord (Phil. 3:20). You cannot professionalize the love for His appearing without killing it. And it is being killed. The world sets the agenda of the professional man; God sets the agenda of the spiritual man. The strong wine of Jesus Christ explodes the wineskins of professionalism. Named among the "10 Best Books Every Preacher Should Read" in the January/February issue of Preaching Magazine. "There is much more worthy of comment than there is space to comment. This book deserves wide circulation among our churches—pastors, so they will be challenged to fulfill their calling; laity, so they will see what the calling of their pastors really is." - Ray Van Neste, The Southern Baptist Journal of Theology.
John Piper, pastor for preaching and vision at Bethlehem Baptist Church in Minneapolis, Minnesota since 1980, is a widely respected theologian and bestselling author. Born in Chattanooga, Tennessee, and raised in Greenville, South Carolina, Piper attended Wheaton College where he majored in literature and minored in philosophy. He completed his Bachelor of Divinity at Fuller Theological Seminary, where he studied under Dr. Daniel Fuller. Piper received his Doctorate in Theology from the University of Munich and taught biblical studies for six years at Bethel College.
His preaching and teaching is featured daily on the radio program, Desiring God. His books include The Passion of Jesus Christ, Desiring God, The Pleasures of God, Life as a Vapor, and the Gold Medallion Award-wining Pierced by the Word.

Patterns of Discipleship in the New Testament is a great resource for diving into biblical discipleship. The inaugural volume of the McMaster New Testament Series—sponsored by McMaster Divinity College in order to address central New Testament themes—this first volume is designed like a symposium, compiling 13 rigorous yet accessible essays by world-class biblical scholars on discipleship in the New Testament. A text which Gordon Fee called "a useful, often thought-provoking collection of essays by careful New Testament scholars on a very timely subject," Patterns of Discipleship in the New Testament is both scholarly and pastoral in style and content. These articles dive into the intricacies of discipleship as displayed in the New Testament from Matthew to Revelation. This text is a treasury of practical insight for the good work of discipleship, building from the premise that, as editor Richard Longenecker puts it: "[discipleship] needs better biblical rootage than it usually receives in the popular press and better personal application than it usually receives in scholarly writings." Patterns of Discipleship in the New Testament seeks to provide both, encouraging you to grow in biblical knowledge as well as in practical discipleship.
Readers . . . who are struggling to define and implement strategies for discipleship in the churches will find this volume helpful and provoking as a pretext and foundation for their work. As to the readability, the authors have hit their intended mark in most cases, creating a collection of accessible and intelligent essays for the layperson and clergyperson alike.
—Reformed Review
For preachers, there are many sermon ideas embedded in this excellent book. For theologians and professors, this is a highly readable popularization of all the main ideas about discipleship circulating in responsible arenas at the present time.
—Calvin Theological Journal
Thirteen scholars . . . discuss the varied concepts of discipleship in the New Testament and seek to draw out some simple applications to modern Christian life. The chapters are well-organized, well-documented and balanced. . . Useful to students, clergy and others wishing to study, or preach on, discipleship.
—The Expository Times
Richard N. Longenecker served as distinguished professor of New Testament at McMaster Divinity College and taught for many years at Wycliffe College in the University of Toronto. His education includes a BA and MA from Wheaton College, and a PhD from New College in the University of Edinburgh. He was also honored with a DD from Wycliffe College. He is the author of numerous books, including Galatians: Word Biblical Commentary, Christology in the New Testament, and The Challenge of Jesus' Parables.

In Seven Practices of Effective Ministry, the authors invite you to take hold of seven simple but powerful principles that are sure to energize your ministry. Each of the seven principles has been put into practice with great success at North Point Community Church, the third most influential church in the U.S. Now it's your turn to experience real change and real growth in your church.
An engaging parable about one overwhelmed pastor is followed by an overview of seven successful team practices, each one developed and applied in a ministry setting. Reinforced by relevant discussion questions, these clear, easy, and strategic practices can turn any ministry into a winning team.
Rethink your ministry game plan!
There's no scoreboard in the sanctuary, and the only plate is probably for the offering. But every church leader needs to know how to win, and every congregation needs to know when to cheer. This insightful book speaks to every church leader who yearns for a simpler, more effective approach to ministry.
Like your own personal trainer, Seven Practices of Effective Ministry is an insightful guide for any leader who yearns for a better approach to ministry. Here are seven strategic principles that when put into play will bring focus and clarity to everything you do and turn your ministry into winning team.
For many years, I practiced and taught church growth. What I have witnessed as a member at North Point takes church growth to a whole new level. Andy and his team communicate principles that will add value to you and the church you love.
— John C. Maxwell, founder, The INJOY Group
Every professional athlete recognizes the value of solid coaching. The best are always working to get better. From what I've seen at North Point, these seven practices can improve the game of any church in America.
— John Smoltz, Cy Young Award-winning pitcher
The practices covered in this book are down-to-earth, practical, and come from real difference-makers who know what church leadership is all about. Andy, Reggie, and Lane have definitely hit the ball out of the park with the Seven Practices of Effective Ministry.
— Ed Young, Jr., Senior Pastor, Fellowship Church
Dozens of wonderful books have been written for church leaders on how to increase attendance, develop programming, or disciple people. This is not one of those books.

The Seven Practices of Effective Ministry is not so much about what to do as it is about what to ask. This book will not tell you how to implement programs, but it will provide you with a new lens through which to evaluate your current programs and any you may be considering.

You will find no new strategy hidden in these pages. But as you embrace each of these seven practices, your ministry cannot help but become more strategic and as irresistible as God intended it to be.
— Andy Stanley
Andy Stanley is a graduate of Dallas Theological Seminary and the founding pastor of North Point Community Church in Atlanta, Georgia, with a youthful congregation of more than 12,000. Andy is the author of the 1998 Foreword Book of the Year finalist Visioneering, the bestsellers Like a Rock and The Next Generation Leader, and the recent How Good Is Good Enough. Andy and his wife, Sandra, have two sons and a daughter.
Lane Jones is a native of Atlanta, Georgia, where he lives with his wife, Traci, and their three children, Jared, Caitlin, and Madison. He is on staff at North Point Community Church, where he loves to write and participate in the creative process. Lane holds degrees from Georgia State University and Dallas Theological Seminary.
Reggie Joiner is the executive director of Family Ministries at North Point Community Church. He leads the staff responsible for children, student, and married adult ministries. He is also creator of FamilyWise, a nonprofit ministry aimed at helping churches and families teach kids character and faith. Reggie lives with his wife, Debbie, and his four teenagers in Cumming, Georgia.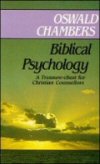 Biblical Psychology
Author: Oswald Chambers
Publisher: Simpkin Marshall
Publication Date: 1996
This book contains a wealth of understanding of moral problems to which we may be called to provide a solution. Here are questions and attitudes to which Oswald Chambers gives the Biblical answer.
Oswald Chambers (1874–1917) was a prominent preacher, writer, and evangelist. He studied at The Art School in South Kensington, the University of Edinburg, and Dunoon Training School.
Chambers served as a YMCA chaplain to British Commonwealth soldiers during World War I. He also worked as a traveling speaker for the League of Prayer and as the main teacher of the Bible Training College. His preaching ministry reached Britain, America, and Japan.
Chambers' books are mainly compilations of his messages that were transcribed by his wife, Gertrude or "Biddy" as he called her. The daily devotional My Utmost For His Highest was first published in 1927 and continues to be a best-seller. 24 essays and books, including Studies in The Sermon on Mount and Biblical Psychology, can be found in the Oswald Chambers Collection.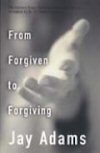 From Forgiven to Forgiving
Author: Jay E. Adams
Publisher: Calvary Press
Publication Date: 1994
What do the following statements about forgiveness have in common?
·Forgiveness is obtained through apologizing.
·The best thing you can do is "forgive and forget".
·You aren't forgiven until you feel forgiven.
·Even if someone hasn't asked for forgiveness, you can still forgive them.
These statements all represent popular misconceptions about true biblical forgiveness. Because forgiveness plays such a major role in our relationships with other people, it's critical to have a clear idea of God's plan for forgiving and being forgiven. Distortions in His plan can lead to twisted thinking and further pain for those struggling with forgiveness issues.
In this book, Dr. Jay Adams carefully explores all dimensions of the process of forgiveness. He can help you understand biblical forgiveness from beginning to end, and apply that understanding to everyday situations ranging from forgiving your straying spouse or prodigal child--and being forgiven by them as well.
If you have experienced the incredible power of God's forgiveness in you life, read this book and see how forgiveness' power can change your life as you relate to others.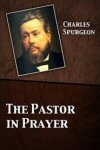 The Pastor in Prayer
Author: Charles Spurgeon
Publisher: Elliot Stock
Publication Date: 1893
Pages: 175
Spurgeon's prayers reveal a pastor in deep communion with God. The Pastor in Prayer contains an extensive collection of Spurgeon's prayers—some written, but many extemporaneous. The Pastor in Prayer articulates Spurgeon's theology perhaps more than any other volume. Through pleading intercession and devout confession, Spurgeon's prayers help readers understand God using his own intimate words. The Logos Bible Software edition of The Pastor in Prayer was originally published in London by Elliot Stock in 1893.
Charles Haddon Spurgeon was born in Kelvedon, Essex, England on June 19, 1834. He converted to Christianity in 1850 at a small Methodist chapel, to which he detoured during a snowstorm. While there, he heard a sermon on Isaiah 45:22 and was saved—"Look unto me, and be ye saved, all the ends of the earth, for I am God, and there is none else." He began his own ministry of preaching and teaching immediately, and preached more than 500 sermons by the age of twenty.
In 1854, at nineteen years of age, Spurgeon began preaching at the New Park Street Chapel in London. He was appointed to a six month trial position, which he requested be cut to three months should the congregation dislike his preaching. He gained instant fame, however, and the church grew from 232 members to more than five thousand at the end of his pastorate. Many of his sermons were published each week and regularly sold more than 25,000 copies in twenty languages. Throughout his ministry, Spurgeon estimated that he preached to more than 10,000,000 people. Dwight L. Moody was deeply influenced by Spurgeon's preaching, and founded the Moody Bible Institute after seeing Spurgeon's work at the Pastor's College in London.
Spurgeon read six books per week during his adult life, and read Pilgrim's Progress more than 100 times. In addition to his studying and preaching, Spurgeon also founded the Pastor's College (now Spurgeon's College), various orphanages and schools, mission chapels, and numerous other social institutions.
Charles Spurgeon suffered from poor health throughout his life. He died on January 31, 1892, and was buried in London.

In Getting the Gospel Wrong: The Evangelical Crisis No One Is Talking About, J.B. Hixson identifies a crisis in today's evangelical church: a confusion of the gospel message due to postmodern influence. Hixson looks at popular beliefs and methods of evangelism, presents the reader with five erroneous themes common in gospel interpretation, and offers corrective suggestions. This revised edition of Getting the Gospel Wrong contains an additional chapter and relevant new material for all Christians seeking to clearly understand the gospel message.
J. B. Hixson's book is not only the most readable, the clearest, and most concise book on what the gospel is and is not that I have read, it continues to serve as a reference work to which I return again and again. It simply refuses to stay on the bookshelf. Hixson accomplishes a rare feat in today's theological world: he is both sharply analytical and interesting. If you want one book on the subject of the gospel which says it all and says it well, this is it!
—Dr. Mike Halsey, president and professor of systematic theology at Free Grace Seminary, Atlanta, GA
Hixson's work has provided a needed remedy for the doctrine of salvation in our current postmodern climate. First, it has attempted from a balanced grace view to give a clear and precise definition of the gospel of eternal life. In a day weighed down with the absence of clarity and the expansion of uncertainty, this is a welcome breath of fresh air. Second, it provides a keen analysis of varying approaches to the preaching of the gospel of eternal life that dominate so much of North American culture especially involving media personalities. I have not seen this analysis brought together in one place. In light of these two factors, Hixson's book is well worth the effort of a careful read.
—Dr. Mike Stallard, academic dean and professor of theology, Baptist Bible Seminary, Clarks Summit, PA
J. B. Hixson has more than 25 years of experience as a professor, pastor, author, and national conference speaker. An expert in the areas of soteriology and eschatology, he is the author of The Gospel Unplugged and The Great Last Days Deception. He is also the co-editor of Freely by His Grace, and has authored numerous theological journal articles. He earned his BA from Houston Baptist University, his ThM from Dallas Theological Seminary, and a PhD from Baptist Bible Seminary.

In What in the World Is God Doing? C. Gordon Olson examines the state of world Christian missions through five lenses: the biblical, the historical, the contextual, the regional, and the functional. Olson seeks to create "world Christians" that are aware of God's vision for his kingdom. The text is designed for those who might not have extensive knowledge of cultures, geography, or theology. Olson's book is accessible, while remaining a substantive scholarly introduction to missiology.
What continues to make this book a standout is the variety of topics that are masterfully yet practically handled, giving the reader a comprehensive and biblically solid introduction to missions.
—Marvin J. Newell, senior vice-president, Missio Nexus
What in the World Is God Doing? is just the right question to ask and Gordon Olson is uniquely qualified to answer it. He has been engaged in both theological reflection and missiological application for 60 years. You will discover the interconnection between the Bible and its mandate upon us all and the world—a glimpse from 35,000 feet—yet, with practical application and mature insight. Thousands of students have been challenged and blessed by this work, and the 7th edition continues the tradition.
—Greg H. Parsons, US Center for World Mission
Finally someone has written an introductory text that respects missiology's interdisciplinary nature and treats the areas of concern for modern missionary ministry . . . a balanced blend of theory and practice. It proves to be a useful textbook for introductory missions course in Bible colleges and seminaries.
—Keith E. Eitel, missions professor, Southwestern Baptist Seminary
C. Gordon Olson was an engineering student when he converted to Christianity. He studied theology at Dallas Theological Seminary and founded the Pakistan Fellowship of Evangelical Students and worked in Urdu and other areas of Pakistan. He was professor of theology and missions at Northeastern Bible College (1967–1990) and a trustee of Christar mission (1968–2004). He earned his doctorate in missiology from Trinity International University. He is currently a speaker and adjunct professor at Liberty University.

While Shepherds Watch Their Flocks: Reflections on Biblical Leadership is a lavishly illustrated journey into the world of shepherds—shepherds of the biblical world and the spiritual shepherds of the church. The realities and rewards of leadership are brought to life through this illuminating and insightful look at the ancient image of shepherds. Experience this wondrous opportunity to think biblically about your calling to serve Jesus Christ and the expectations that come with being a shepherd leader, the compassionate and courageous commitment to provide for, protect, and guide those under your care. Take this forty day journey and experience a life changing encounter with the Divine Shepherd. Become a shepherd after God's own heart by rediscovering true biblical leadership.
Forty days of reflections will give readers an opportunity to think biblically about their calling to serve the Chief Shepherd. This book is for pastors and other congregational leaders, Christian business leaders, chaplains, teachers, counselors, coaches, and parents.
Real-life stories of the rugged nomadic lives of shepherds bring to life numerous Scriptures to teach us the hard lessons of leadership. Leaders are called to be not only tender and loving, but also tough and disciplined.
—John M. Perkins, President, The John M. Perkins Foundation
More than an inspirational read, this book is a timely invitation into the shepherd's world which will compel you to reflect on your Christian life and leadership with a new sense of awe and assurance. Be prepared to be taken deeper in your spiritual journey as you embark on this forty-day retreat.
—Barry Corey, President, Biola University
Accomplishing what few authors can, Laniak creates powerful images with fascinating stories, exegetical insights, and stunning photos, bringing biblical leadership to life for pastors and lay leaders alike. I recommend this theologically integrated, visually stimulating, and thoroughly spiritual journey for today's shepherd leaders.
—James F. Cobble, Jr. Founder, Institute of Church Leadership
Laniak brings to life the realties and rewards of leadership by illuminating a centuries-old image. Reading his fascinating anthropological observations and rich scriptural insights will make spiritual shepherds anywhere in the world better leaders and better followers.
—Samuel J. Voorhies, Director, International Leadership Development, World Vision International
Laniak invites us to pause beside still waters and consider forty inspiring and practical lessons at the intersection of biblical scholarship, organizational leadership and ministry practice. Anyone entrusted with ministry responsibilities will be treated to exceptional leadership insights, welcome guidance, and rare encouragement to renew their passion for attending to the needs of God's flock.
—Mark W. McCloskey, Lead Faculty, Transformational Leadership, Bethel Seminary
A breath of fresh air for pastors and lay leaders alike. While so many leadership books focus on methodology, this book addresses the heart of ministry. Dr. Laniak masterfully rehearses the wide spectrum of pastoral theology that pervades the Scriptures. His personal experience among shepherds adds significant insight in understanding both Scripture and real life ministry. I'm recommending it as must-reading for all my students!
—S. Donald Fortson, Associate Professor of Church History and Practical Theology Reformed Theological Seminary
Tim Laniak (PhD, Harvard University) made his first trip to the Middle East in 1977 and has enjoyed opening up the history and cultures of the biblical world to students and leaders ever since. He and his wife Maureen have lived in Israel and occasionally guide study tours to the region. This book contains insights gleaned primarily from a year of field research while on sabbatical from Gordon-Conwell Theological Seminary, where Tim is a Professor of Old Testament, Coordinator of the Urban Ministry Program, and Mentor for the Christian Leadership Doctor of Ministry Program.
Success and the Christian: The Cost of Spiritual Maturity
Author: A.W. Tozer
Publisher: WingSpread
Publication Date: 2007
Pages: 152
Tozer reminds us that authentic spiritual success cuts across much of contemporary thought. It is foremost to magnify God, then to mortify or crucify the flesh, and lastly to simplify your life. These, for Tozer, are the paths to a dynamic spiritual life. The chapters of this book were originally preached as sermons at Southside Alliance Church in Chicago. In Chapter 3 Tozer laments that "this is the day of the magnification of slick personalities, and as we magnify men, we minimize God." Tozer proclaims in the chapter entitled The Secret of Victory that "We are to exalt God above all things and to live so that His glory is exalted above the heavens. This is the ladder by which you climb to the kingdom of power and the lever by which you move mountains."
Aiden Wilson Tozer (1897-1963) was born on a small farm in what is now Newburg, PA. His family moved to Akron, Ohio, when he was just a young boy. At the age of 17, Tozer heard a street preacher, responded to the calling of Christ, and began his lifelong pursuit of God. After becoming an active witness of Jesus as a lay preacher, he joined The Christian and Missionary Alliance and was soon serving as the pastor of West Virginia's Alliance Church, in 1919. He transferred to the Southside Alliance Church in Chicago in 1928, and his ministry continued there for 31 years. During that time he preached on the Moody Bible Institute's radio station. In the 1940s Tozer was invited to speak at Wheaton College, and seldom a year passed after World War II that he didn't preach in the college's Pierce Chapel. In 1950 he became the editor of The Alliance Life magazine and served in that capacity until his death.
Self-taught, with no formal Bible training, Tozer has been called a twentieth-century prophet within his own lifetime. Through years of diligent study and constant prayer, he sought the mind of God. A master craftsman in the use of the English language, he was able to write in a simple, cogent style the principles of truth he had learned. For Tozer, "there was no substitute for knowing God firsthand." He wrote many of his books with one idea in mind—that his reader would achieve the heart's true goal in God and maintain that relationship with Him.
Tozer moved to Toronto in 1959 and spent the final years of his life as the pastor of Avenue Road Church. He and his wife, Ada, lived a simple, non-materialistic lifestyle and let much of the royalties from his books go to those in need. The Tozers had seven children, six boys and one girl. James L. Snyder, said of Tozer that his "preaching as well as his writings were but extensions of his prayer life. He had the ability to make his listeners face themselves in the light of what God was saying to them."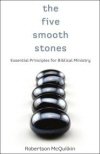 University president Robertson McQuilkin, bemused by the constant rising and falling of new methodologies when he began a career in ministry over 50 years ago, has committed since then to a core group of enduring ministry principles that he calls "the five smooth stones." These principles are:
The Bible
Making it the functional authority
The Congregation
Aligning it with the biblical purposes
The Spirit
Releasing his energizing power
The Plan of Redemption
The mission of every disciple
The Lord Jesus
Model of servant leadership
While that outline may seem very obvious, one must ask why so many churches and other ministries fail somewhere along the way. Could it be a simple lack of commitment to relentlessly measure every effort by these key standards?
McQuilkin has witnessed the success of his method through five decades of dynamic service, from church planting to foreign missions to the academic arena. The Five Smooth Stones is his invitation to join in the deep reflection, honest evaluation, and courageous integration of each principle in order to bless every aspect of your ministry.

The Elder Series (4 vols.)
Authors: Jim Estep, David Roadcup, and Gary Johnson
Publisher: College Press
Volumes: 4
Pages: 462
Healthy congregations require healthy leadership. Without healthy leadership, the odds of a congregation growing spiritually, let alone numerically, are greatly diminished. The principal concern of this series is to facilitate healthy leadership for a healthy congregational life. The four volumes in this collection parallel the four basic components of Christian leadership:
Leadership based on God's call to service
Leaders who are qualified and equipped by a life representative of Christian character
Leaders who possess abilities that serve them well as they lead and shepherd God's people
Leaders who serve within the community
These useful study guides use practical and academic insights to provide a "manual" to eldership. Each chapter in each volume is intentionally brief and includes reflective questions for reflection, discussion, and application, making this series perfect for individual or elder group study.
I'm anxious for each of our elders to read this series and talk about the implications. These books will truly be used of God to equip our congregational leaders to be ready for the role they have been assigned. But as the authors remind us, transformation of our elders must begin individually in the heart of each. I can't wait to see what the Lord has in mind to transform our churches throughout this series of books. I've known Jim Estep, David Roadcup, and Gary Johnson for years. Their integrity makes the lessons and insights come alive even more. A huge thank you for tackling a topic we all think we know so much about and yet I feel that, through these publications, we will be given the knowledge to help open the door to the great power of scriptural eldership.
—Dave Stone, senior pastor, Southeast Christian Church, Louisville, KY, from the foreword of Reflect His Character
The authenticity and effectiveness of a local church is in direct proportion to the spiritual maturity, skills, and commitment of its leaders, especially its elders. Therefore, selecting, training, supporting, challenging, and equipping elders in every way must be a highest priority in every congregation. . . . I want to commend Jim, Dave, and Gary and the good work they have done through these four volumes. Every elder in the church should purchase and read these works. As the leadership of any church goes, so goes the church. Elders who use these volumes will be better prepared to lead the body of Christ. I highly recommend these works . . .
—Joe Scott Ellis, distinguished professor of practical ministries, Cincinnati Bible Seminary, from the foreword of Enjoy His People
Jim Estep is a professor of Christian education at Lincoln Christian University Seminary in Lincoln, Illinois.
David Roadcup is the director of the Center for Church Advancement at Cincinnati Christian University.
Gary Johnson is the senior minister of Indian Creek Christian Church in Indianapolis, Indiana.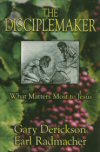 The Gospel of John offers theology that brings people to belief in Christ and strengthens the faith of those who already believe. This is nowhere more apparent than in the "Upper Room Discourse" of John 13–17. In The Disciplemaker, Gary Derickson and Earl Radmacher provide a masterful study of John 13–17, calling Christians to return to the neglected task of discipleship.
In the "Upper Room Discourse"—the subject of this book—Jesus speaks to his disciples with a message that goes beyond justification to discipleship. This work of God is the concern of Jesus as he teaches his disciples in the final hours before his sacrifice on the cross. These last words take on special significance as Jesus seeks to instruct his disciples who are about to be scattered and even betray him. In spite of this knowledge, Jesus knows that he must provide comfort, direction, and prayer to guide them to be the kind of men who would one day be pillars of the church and evangelists to the ends of the Roman Empire.
The theological and exegetical insight in The Disciplemaker is considerable. We find in these chapters Christ's teaching and example of servanthood, the possibility of failure and the denial of which each of us is capable, and the comfort and encouragement of God. We discover the secret to Christian maturity in the metaphor of the vineyard, and we learn of the assurance of God's abiding presence in the Holy Spirit. Perhaps the most exciting and humbling part about this is reading the actual prayer of Jesus to the Father for each of us—the true Lord's Prayer.
This sorely needed study of John 13–17 outlines the content and the process of Christian spiritual growth. The theological and exegetical insight is considerable, and it is written in a manner that makes it easily understood by students and laypersons.
Christian reader, this extended section of the New Testament is tailor-made for you, a person who already has come to faith in Jesus, but who needs continued teaching by him concerning the life he would have you to live. Radmacher and Derickson bring you into the room. You can nearly hear the breathing of those who heard these words the first time. And then you will hear your own breathing. Here you will enter the roadway of discipleship. This is not just another path. It is even better than a road on which Jesus walked in ancient times in Bethsaida. It is the path you may walk along today!
—Ronald B. Allen, Th.D., Professor of Bible Exposition, Dallas Theological Seminary
Gary Derickson studied biblical exposition at Dallas Seminary and earned his Masters of Theology degree in 1986. Wanting to study further, he continued doctoral studies under four godly men: Drs. Elliot E. Johnson, Stanley D. Toussaint, J. Dwight Pentecost, and Homer Heater. He left Dallas to teach at Western Baptist College in Salem, Oregon, where he continues to minister until the present as a Professor of Biblical Studies and Chairman of the Ministries Division.
Earl Radmacher was born in Portland, Oregon just a couple of miles from Western Seminary, where he would later serve on the theological faculty for thirty-three years (1962–1995) and in administrative positions as Dean of the Faculty (1964–1965), President (1965–1990), and Chancellor (1990–1995). In 1995 he was designated President Emeritus and Distinguished Professor of Systematic Theology Emeritus. In addition to this book, he is also general editor of Nelson's New Illustrated Bible Commentary, a contributor to the Nelson Study Bible, and a contributor to Understanding Christian Theology.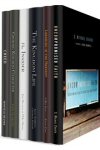 NavPress Discipleship Collection (6 vols.)
Publisher: NavPress
Volumes: 6
Pages: 1,237
In Matthew 28:19, Jesus tells his followers to "go and make disciples of all nations." What does that look like in the twenty-first century? The NavPress Discipleship Collection analyzes the key aspects of discipleship and equips pastors, church leaders, and lay people to share the gospel with nonbelievers. It emphasizes the importance of understanding the basics of the Christian faith and outlines 10 positive character traits that lead to impactful and influential leadership. The collection also examines discipleship theology, illustrates what it means to follow Christ, and provides tools for engaging contemporary culture.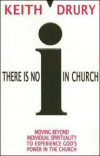 Into a culture that prizes individualism above all things, Keith Drury issues a call for believers to return to their roots—the church. This hard-hitting book challenges American Christianity's preoccupation with personal religion and boldly asserts that we become holy only together—as the Bride of Christ. In the author's words, "We have plenty of spiritual fingers and spiritual ears and eyes, but God longs for a whole church—a body—that is spiritually mature."
This book is not to be read alone! It is for the church, and it is best read with a group. There are scores of books on personal spiritual disciplines but few on corporate spiritual disciplines: the spiritual disciplines of the church. From public prayer, to preaching, fellowship, and the Lord's Supper, Drury convincingly shows the value of corporate spiritual practices and offers practical tips for transforming the spiritual dynamic of a local church or small group.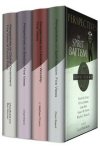 Perspectives Series (4 vols.)
Publisher: B&H
Volumes: 4
Pages: 1,365
The 4-volume Perspectives Series from Broadman & Holman has been crafted to tackle the particular issues which have been a source of conflict and division throughout the history of the church. From baptism to election, from church polity to worship style, these volumes contain chapters written by pastors and scholars who hold views divergent from one another, and who seek to find points of mutual understanding and resolution.
This series contains more than twenty contributions from pastors and scholars such as Jack W. Cottrell, Walter C. Kaiser, Dan Kimball, Clark H. Pinnock, and James R. White. Each book contains chapters written by prominent representatives from various theological traditions, along with responses by other contributors. In each book, the authors engage the topic at hand, and react graciously and honestly to other perspectives. The resulting collection permits each perspective to speak for itself, and invites readers to listen in on a conversation between some of the church's most eloquent and gifted thinkers. These books not only contain insightful wisdom on today's most hotly contested topics, but also serve as a model for how Christians can engage one another and address conflicting perspectives in the church.