Charles Stanley Treasury (46 vols.)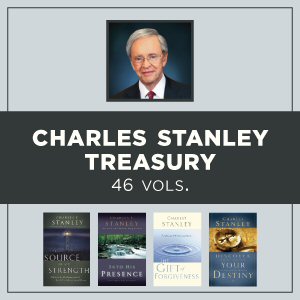 Overview
Charles Stanley, "America's Pastor," has devoted his life to bringing Christians closer to Jesus Christ. His volumes guide believers through the minefields of temptation on the path to heaven. This collection gives you dozens of Stanley's most popular works in an easy-to-use digital format. This trusted preacher's works will help you grow spiritually, reaffirm your faith, and get more from the Bible.
These titles are newly interactive and easy to use, thanks to a fresh new format that guides you through the Logos' features. You'll read books, peruse study guide material, and create word studies, reports, lists, and much more. This collection integrates seamlessly into your Logos library or works wonderfully as a stand-alone collection.
Key Features
Articles derived from Dr. Stanley's teachings to bring scriptural insight to your life
Topical studies filled with life application principles
Illustrations and maps
Questions for further discussion
Product Details
Title: The Charles Stanley Treasury
Author Charles F. Stanley
Publisher: Thomas Nelson
Volumes: 46
Pages: 13,481
Christian Group: Evangelicals
Resource Type: Collected Works
About Charles Stanley
Charles F. Stanley (1932– ) is often called "America's Pastor." He earned his bachelor of divinity degree at Southwestern Theological Seminary and his masters and doctorate degrees from Luther Rice Seminary.
Stanley has been senior pastor of the First Baptist Church of Atlanta since 1971. He is the founder and president of In Touch Ministries. The radio and television broadcast "In Touch with Dr. Charles Stanley" can be heard around the work in more than 50 languages. He has served two terms as president of the Southern Baptist Convention.
Stanley is a New York Times bestselling author who has written more than 35 books including The Charles F. Stanley Life Principles Bible, Into His Presence, and Landmines in the Path of the Believer.
More details about these resources
Show More