Mobile Ed: NT313 Jesus and the Witness of the Outsiders (1 hour course)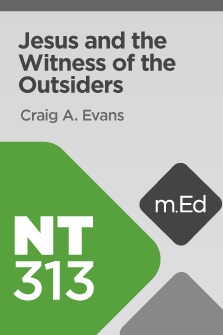 Mobile Ed: NT313 Jesus and the Witness of the Outsiders (1 hour course)
•
Runs on Windows, Mac and mobile.
Overview
In this course, Dr. Craig Evans explores various ancient sources that refer to Christ. He focuses on the evidence from extrabiblical sources, and looks at what they reveal about the life of Christ and how Jesus was perceived by early non-Christian witnesses. He examines references to Jesus in Roman, Jewish, and other writings, and looks at where Jesus' name was invoked in both Christian and pagan charms and incantations.
Grow your understanding in the New Testament. Earn a Mobile Ed Certificate of Completion when you invest in your education. Learn more about the New Testament Certificate Programs.
Learning Objectives
Upon successful completion you should be able to:
List several early Roman writers who referred to Jesus
Describe how Josephus referred to Christ in his writings
List places where Jesus' name was invoked in charms or incantations
Describe how the early references to Jesus by non-Christian sources relate to the portrayal of Jesus in the Gospels
Explain how these early references shed light on the origins of Christianity
Course Outline
Introduction
Introducing the Speaker and the Course
Unit 1: The Witness of Roman Writers
Tacitus and Suetonius
Pliny the Younger
Celsus and Lucian
Using Clippings to Document Ancient Non-Christian Witnesses to Christ
Mara bar Serapion
Unit 2: The Witness of Jewish Writers
Josephus' Jewish Antiquities
Using Timelines in Logos to Find Events in Jesus' Life
Translations of Josephus and Rabbinic Literature
The Qur'an and Other Writings
Building and Searching a Collection of Ancient Non-Christian Witnesses to Christ
Unit 3: Invocations of the Name of Jesus
The Greek Magical Papyrus
Silver Phylactery from Beirut
Magic Bowls
Curse Tablets and Lamellae
The "Jesus Cup"
Conclusion
Relevance of These Witnesses
Product Details
Title: NT313 Jesus and the Witness of the Outsiders
Instructor: Craig A. Evans
Publisher: Lexham Press
Publication Date: 2015
Product Type: Logos Mobile Education
Resource Type: Courseware, including transcripts, audio, and video resources
Courses: 1
Video Hours: 1
About Craig A. Evans
Dr. Craig A. Evans received his PhD in New Testament from Claremont Graduate University and his DHabil from the Karoli Gaspar Reformed University in Budapest. He is the John Bisagno Distinguished Professor of Christian Origins at Houston Baptist University in Texas.
Evans taught at Trinity Western University in British Columbia for 21 years, where he directed the graduate program in biblical studies and founded the Dead Sea Scrolls Institute. He has recently served on the advisory board for the Gospel of Judas for National Geographic Society and has appeared frequently as an expert commentator on network television programs.
Evans has written and edited extensively on the historical Jesus and the Jewish background of the New Testament era. His published works include From Prophecy to Testament, Jesus and the Ossuaries, Jesus: The Final Days, and Dictionary of New Testament Background.
Getting the most out of Mobile Ed
Logos Mobile Education is a highly effective cross-platform learning environment that integrates world class teaching with the powerful study tools and theological libraries available in Logos Bible Software. Every course provides links to additional resources and suggested readings that supplement the lecture material at the end of every transcript segment.
This course was produced with screencast videos. These videos provide tutorials showing you how to use Logos Bible Software in ways that are tied directly into the content of the course. We are now producing Activities resources as a replacement for screencast videos. We plan on updating this course to include this additional Activities resource in the future for no extra charge.
More details about these resources