Hebrew Bible Reference Collection (4 vols.)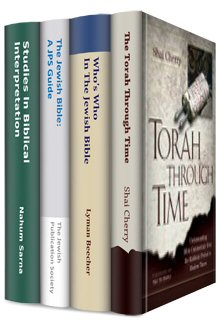 Overview
The Jewish Publication Society started in 1888 as a way to provide the children of Jewish immigrants to the United States books about their heritage in the language of the New World. Since that time JPS has issued works for all tastes and needs; providing works for young readers, religious and philosophical studies, translations of scholarly and popular classics—and, of course, the famous JPS TANAKH.
In keeping with this great tradition, we present the Hebrew Bible Reference Collection (4 vols.) from JPS. These four well-researched and illuminating studies are an asset to anyone looking to delve deeper into the Hebrew Bible and to see it through the eyes of its original audience. In this collection you will find essays on Hebraic exegesis, tools for bible study, bible commentary, a view of Judaic commentaries and interpretation over time, and a comprehensive biographical dictionary of the entire Hebrew Scriptures.
The Hebrew Bible Reference Collection (4 Vols.) is a fantastic resource to, not only familiarize yourself with the Hebrew Bible, but to gain insights and understanding from a Jewish point of view. Not only do you get wonderful insights and tools to aid you in your Hebrew Bible studies but you get a revealing look into the ways that Hebraic exegesis has evolved, a glimpse into some of the challenges in translating the Hebrew Bible, and a comparison of many different translations.
With your Logos Bible Software, the entire Hebrew Bible Reference Collection (4 Vols.) set is fully searchable and easily accessible. Scripture references are linked to your favorite English translations and original Hebrew Scripture texts, and important theological concepts are linked to dictionaries, encyclopedias, and the wealth of resources in your digital library.
Key Features
An illuminating forward to Studies In Biblical Interpretation by A.M. Ellis Professor of Hebrew and Semitic Languages Jeffrey H. Tigay
Twenty-seven essays written by renowned Biblical scholar Nahum M. Sarna
A bibliography of the published writings of Nahum M. Sarna
How the Bible became the "Bible," its origins, content and organization
A history of Bible translations and how they differ
A look into popular methods of Bible study
A look at Jewish Bible commentary through three pivotal periods in Jewish history: the rabbinic, medieval and modern periods.
An encyclopedia of every person in the Hebrew Bible
Product Details
Title: Hebrew Bible Reference Collection (4 vols.)
Publisher: JPS
Volumes: 4
Pages: 1,460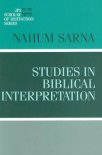 Studies In Biblical Interpretation, a volume in the acclaimed JPS Scholars of Distinction series, is a collection of essays by Nahum M. Sarna , one of the most distinguished scholars who has guided the field of Jewish biblical scholarship to maturity in the second half of the twentieth century.
Though under one cover it is impossible to encapsulate the life's work of a renowned academic, the twenty-seven essays presented in this volume are exemplars of the Jewish exegetical tradition. Saran has been honored in many ways for his contributions, which are far from parochial; his expertise in Jewish interpretive writings accounts for the popularity of his work among non-Jewish scholars. At the same time, the lucidity of those writings makes them accessible to the lay reader as well.
Religious scholars will appreciate the comprehensive and thoughtful foreword by Sarna's former student Jeffrey Tigay, now the Abraham H. Ellis professor of Hebrew and Semitic Languages and Literatures at the University of Pennsylvania Tigay offers an engaging biography of his mentor and provides an overview that leads the reader into the text.
Studies in Biblical Interpretation is a fitting tribute to [Sarna's] many scholarly and cultural contributions. No Judaic library should be without it.
—Jewish Book World
Nahum M. Sarna received his Ph.D. in biblical studies and Semitic languages from Dropsie College, Philadelphia. He taught at Gratz College in Philadelphia from 1951 to 1957 when he was appointed librarian of the Jewish Theological Seminary and member of its faculty. In 1965 he joined the Near Eastern and Judaic Studies Department at Brandeis University. Sarna was a translator for the Kethuvim (Writings) new Jewish Publication Society translation of the Bible and the general editor of its Bible Commentary Project, and, after retiring from Brandeis University in 1985, academic consultant for Judaica. He was a departmental editor of the Encyclopaedia Judaica for Bible—the period of the Pentateuch, the Desert, Joshua and Judges—and also contributed major articles to the Encyclopaedia Britannnica, the Encyclopaedia Hebraica, the Encyclopaedia Biblica Hebraica, the Encyclopaedia of Religion, and the Oxford Companion to the Bible. He has written over 100 scholarly articles, some of which were collected in Studies in Biblical Interpretation. One of the major thrusts of his work has been to make the Bible and biblical scholarship available to the broad Jewish community. For example, his Understanding Genesis (1966) has served as a general introduction to the Bible . This was followed by Exploring Exodus (1986) and his Commentary on Genesis (1989) and Commentary on Exodus (1991), and Songs of the Heart: An Introduction to the Book of Psalms (1993), a study of selected psalms.

The Jewish Bible: A JPS Guide
Publisher: JPS
Publication Date: 2008
Pages: 250
This volume began with a simple idea: to create a concise companion to the Bible. But that led to a not-so-simple question: How does one develop a guide that is worthy of accompanying such a complex book and keep it short and uncomplicated? A book based on scholarship without being "scholarly"? The Jewish Bible: A JPS Guide is what it set out to be: an introduction and compact reference to the most fascinating and influential book of all time.
This new volume in the acclaimed JPS Guides series is an invaluable companion to the Jewish Bible, providing readers with ready access to important facts and Bible basics:
how the Bible became the "Bible"; its origins, content, and organization
distinctions between the Jewish Bible (JPS TANAKH) and Christian Bibles
a short history of Bible translations, and how they differ
Bible commentaries
storytelling, poetry, law, prophecy, and wisdom literature
popular methods of Bible study
finding meaning through midrash
In addition, there are summaries of all the biblical books; dozens of text boxes; an extensive glossary of Bible terms, places, and people; maps, charts, and tables; and large foldout timelines and family trees—all in color.
Contributions are by leading Bible scholars and educators: Marc Zvi Brettler, Joyce Eisenberg, Michael Fishbane, Michael V. Fox, Leonard Greenspoon, Jill Hammer, Stuart Kelman, Adriane Leveen, David Mandel, Lionel Moses, Shalom Paul, Benjamin Edidin Scolnic, Ellen Scolnic, David E. S. Stein, Barry Dov Walfish, and Andrea Weiss.
. . . A great reference work for beginners and more advanced students… Anyone interested in Bible study should find something of interest in this excellent guide.
—The Reporter, Wheaton College

The Torah Through Time
Author: Shai Cherry
Publisher: JPS
Publication Date: 2007
Pages: 208
Every commentator, from the classical rabbi to the modern-day scholar, has brought his or her own worldview, with all of its assumptions, to bear on the reading of holy text. This relationship between the text itself and the reader's interpretation is the subject of Torah Through Time. Shai Cherry traces the development of Jewish Bible commentary through three pivotal periods in Jewish history: the rabbinic, medieval, and modern periods. The result is a fascinating and accessible guide to how some of the world's leading Jewish commentators read the Bible.
Torah Through Time focuses on specific narrative sections of the Torah: the creation of humanity, the rivalry between Cain and Abel, Korah's rebellion, the claim of the daughters of Zelophechad, and legal matters concerning Hebrew slavery. Cherry closely examines several different commentaries for each of these source texts, and in so doing he analyzes how each commentator resolves questions raised by the texts and asks if and how the commentator's own historical frame of reference — his own time and place — contributes to the resolution. A chart at the end of each chapter provides a visual summary that helps the reader understand the many different elements at play.
Cherry shows how the Torah functions as literature that is fluid, compelling, and persistently generative of new meanings.
—Christian Century
Shai Cherry is a lecturer in Jewish Studies at the University of California, Los Angeles, and at American Jewish University, where he teaches Judaism, Darwinism, and Jewish Biblical Commentary. He holds a B.A. (magna cum laude and Phi Beta Kappa) in Philosophy, Politics, and Economics from Claremont McKenna College, and received his Ph.D. in Jewish Thought from Brandeis University. As Dr. Cherry pursued his doctorate, he served as family educator at a Reform temple in the Boston area and taught Rabbinics and Modern Jewish Thought at Hebrew College. He taught Jewish Thought at Vanderbilt from 2001–2005. He is also studying for rabbinic ordination at the Ziegler School for Rabbinic Studies. Professor Cherry has received several awards for his work in community education and continues to teach across the United States and in Israel.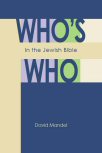 Who's Who In The Jewish Bible
Author: David Mandel
Publisher: JPS
Publication Date: 2007
Pages: 550
David Mandel has undertaken the enormous task of cataloging every character in the Hebrew Bible. From Aaron to Zurishaddai, this comprehensive biographical dictionary gives readers the opportunity to get up close and personal with everyone named in the Bible--its patriarchs, matriarchs, and prophets, warriors and peacemakers, holy men and sinners, heroes and villains.
Arranged in an encyclopedic A to Z format, Who's Who in the Jewish Bible is much more than a catalog of names. It contains detailed biographical information as well as fascinating facts and intriguing stories, written in a contemporary narrative style, about all the Bible's characters. Each entry also includes the origin and meaning of the name, the dates he or she lived (if known), and the person's first appearance in the Bible by book, chapter, and verse.
Who's Who in the Jewish Bible is the most thorough and comprehensive book of its kind and an invaluable reference for students, teachers, rabbis, and anyone interested in knowing more about the people of the Hebrew Bible. Those who search for a name in the Bible, whether well–known or obscure, will be rewarded with well-organized information that will add new meaning and enjoyment to their reading.
As the most comprehensive source on the subject, this book is a fascinating, informative, and indispensable tool for general readers and scholars, students and educators alike… Flip through its pages for a quick reference check or read it straight through, and discover the fascinating stories of men and women whose lives, teachings, and sayings continue to influence and impact our lives.
—Dallas Morning News Blog
David Mandel was born in Lima, Peru, where his parents fled during the Holocaust. He studied at the University of Pennsylvania under Bible scholar Moshe Greenberg, and moved to Israel in 1970, where he founded Computronic Corporation, an Israeli software development company that specializes in biblical software. For his writing of Who's Who in the Jewish Bible, he has combined years of extensive personal research with his computer savvy and love for the Bible.
More details about these resources