Individual Titles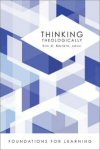 We are constantly engaged in processing data and sensory inputs all around us, even when we are not conscious of the many neural pathways our minds are traveling. So taking a step back to ponder the dimensions and practices of a particular way of thinking is a challenge. Even more important, however, is cultivating the habits of mind necessary in a life of ministry. This book, therefore, will grapple with the particular ways that the theological disciplines invite students to think but also the ways in which thinking theologically shapes a student's sense of self and his or her role in a wider community of belief and thought. Thinking theologically is not just a cerebral matter; thinking theologically invokes an embodied set of practices and values that shape individuals and communities alike. Thinking theologically demands both intellect and emotion, logic and compassion, mind and body. In fact, this book—as part of the Foundations for Learning series—will contend that these binaries are actually integrated wholes, not mutually exclusive options.
Thinking Theologically is an engaging text that is clearly oriented towards the church and those who are seeking to understand Scripture and theology in light of the world's complexities.
—Brian Bantum, associate professor of theology, Seattle Pacific University and Seminary
Reading is one of the basic skills a student needs. But reading is not just an activity of the eyes and the brain. Reading Theologically, edited by Eric D. Barreto, brings together eight seminary educators from a variety of backgrounds to explore what it means to be a reader in a seminary context—to read theologically.
Reading theologically involves a specific mindset and posture towards texts and ideas, people and communities alike. Reading theologically is not just about academic skill building but about the formation of a ministerial leader who can engage scholarship critically, interpret Scripture and tradition faithfully, welcome different perspectives, and help lead others to do the same.
This concise volume emphasizes the vital skills, habits, practices, and values involved in reading theologically. Reading Theologically is a vital resource for students beginning the seminary process and professors of introductory level seminary courses.
Reading Theologically comes as a great gift to students at seminaries and divinity schools. The thoughtful essays in this collection will help students develop deeply rooted practices of reading—gracefully, mindfully, attentively—that will position them to be more engaged interpreters of religious texts and traditions and more effective guides for the people they will serve. Written in a very accessible style, this book will be a first read for many theological students.
—Gail R. O'Day, dean, Wake Forest University School of Divinity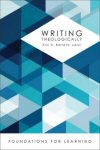 Of course, by writing we refer to the kinds of reflections, essays, and exams students will have to complete in the seminary classroom. But writing also encompasses the many modes of communication and self-discovery that creative expression can unlock. Writing Theologically introduces writing not just as an academic exercise but as a way for students to communicate the good news in rapidly changing contexts, as well as to discover and craft their own sense of vocation and identity. Most importantly, it will guide students to how they might begin to claim and hone a distinctive theological voice that is particularly attuned to the contexts of writer and audience alike.
In a collection of brief, readable essays, this volume emphasizes the vital skills, practices, and values involved in writing theologically. That is, how might students prepare themselves to communicate effectively and creatively, clearly and beautifully, the insights they gather during their time in seminary? Each contribution includes practical advice about best practices in writing theologically; however, the book also stresses why writing is vital in the self-understanding of the minister, as well as her or his public communication of the good news.
For those called to ministry and theology who are anxious about one of the essentials task of theological studies, Writing Theologically provides a readable and encouraging introduction to developing the skills of theological writing, not as an observer, but a practitioner. The authors provide creative guidance and practical advice that will help a person to become competent in theological writing, recognize its potential for ministry, and learn to enjoy it as well.
—Edwin David Aponte, dean, Palmer Theological Seminary of Eastern University
About Eric D. Barreto
Eric D. Barreto is associate professor of New Testament at Luther Seminary in St. Paul, Minnesota, and was ordained by Peachtree Baptist Church in 2006. He is the author of Ethnic Negotiations: The Function of Race and Ethnicity in Acts 16 and editor of the Foundations for Learning Series (6 vols.).