Eerdmans Studies on Karl Barth (3 vols.)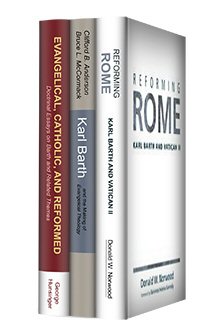 Eerdmans Studies on Karl Barth (3 vols.)
•
Runs on Windows, Mac and mobile.
Your Custom Discount
Reg. Price $81.99
Sale Price $71.99
Your Price $71.99
You Save $10.00 12%
Your Price
What's Pre-Pub?
$71.99
Reg.: $81.99
Print: $103.00
Overview
In these three fresh studies on Karl Barth, a host of distinguished voices illuminate the thought and influence of one of the greatest theologians of the twentieth-century. First in Evangelical, Catholic, and Reformed noted Barth scholar George Hunsinger provides expositions on Barth's understanding of Christian doctrine across a wide spectrum of topics—presenting a clear introduction to his thought and its relevance for today. Then in Karl Barth and the Making of Evangelical Theology, 11 scholars reflect on the importance of Barth's two-month visit to the United States and the lectures that became Evangelical Theology. And lastly, Donald Norwood offers a full study of the great Protestant theologian's critical engagement with Catholic Church reform, expanding on his own account of Vatican II and highlighting his ecumenism.
In the Logos edition, the Eerdmans Studies on Barth is enhanced by amazing functionality. Scripture citations link directly to English translations, and important terms link to dictionaries, encyclopedias, and a wealth of other resources in your digital library. Perform powerful searches to find exactly what you're looking for. Take the discussion with you using tablet and mobile apps. With Logos Bible Software, the most efficient and comprehensive research tools are in one place, so you get the most out of your study.
Key Features
Examines Karl Barth's involvement with Vatican II
Reflects on Barth's visit to the United States and the North American dialogue within his theology
Presents 15 essays from George Hunsinger on Barth's doctrinal views
Individual Titles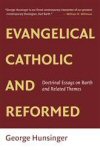 Prominent Barth scholar George Hunsinger presents 15 essays on Karl Barth's understanding of Christian doctrine across a wide spectrum of topics, concluding with suggestions as to how Barth's theology might fruitfully be retrieved for the future.
Hunsinger discusses Barth's view on such subjects as the Trinity, creation, natural theology, Christology, justification, and time and eternity. As he delves into Barth's theological substance, Hunsinger highlights ways in which Barth's work was evangelical, Catholic, and Reformed—illuminating the ecumenical aspects of his thought. No other volume explains Barth's views on this range of topics with such scope, depth, and clarity.
George Hunsinger is our finest contemporary interpreter of our greatest contemporary theologian, Karl Barth.
—William H. Willimon, professor of the practice of Christian ministry, Duke Divinity School
In this collection of rich, lucid, penetrating essays George Hunsinger displays not only his deep knowledge of Barth's thought but also his own dogmatic and constructive insights regarding some of the central themes of Christian doctrine and ecumenical dialogue.
—John R. Franke, professor of religious studies and missiology, Evangelische Theologische Faculteit, Leuven, Belgium
While focused primarily on the theology of Karl Barth, these essays look outward and offer a contribution to the whole of the Christian theological tradition, showing us what it truly looks like for a theologian to practice church dogmatics.
—Keith L. Johnson, associate professor of theology, Wheaton College
In these masterful essays George Hunsinger again proves himself to be an ideal guide to Barth's theology. Whether he is focusing on Barth alone or placing him in conversation with others, Hunsinger's breadth of knowledge and precision of expression are on full display. Scholars, students, and anyone who is curious about Barth will learn much from this book about what Barth thought—and why it still matters.
—Gerald McKenny, Walter Professor of Theology, University of Notre Dame
Hunsinger skillfully places Barth in relationship to other major positions that shape contemporary theological discourse. While these essays can be read individually, together they comprise a kind of systematic theology that begins with the Trinity, moves to revelation, and continues with issues related to Christology, salvation, eschatology, justification, sanctification, and theological anthropology. Hunsinger's evaluations are fair and judicious, and his proposals open lines of reflection that other theologians will wish to explore.
—John Burgess, James Henry Snowden Professor of Systematic Theology, Pittsburgh Theological Seminary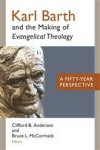 Swiss theologian Karl Barth traveled to the United States only once during his long career. In 1962, newly retired, he came to visit family and to deliver a series of lectures subsequently published (by Eerdmans) as Evangelical Theology: An Introduction, which remains in print and widely read to this day.
Besides recounting interesting and poignant biographical details about Barth's two-month journey through the States, the authors of this book revisit central themes in Barth's mature theology and explore the theological and ethical significance of his Evangelical Theology.
Even more, the distinguished scholars contributing to this volume assess contemporary North American theology and show how Barth's Evangelical Theology remains as bracing, powerful, and relevant today as it was 50 years ago.
Contributors:
Hans-Anton Drewes
Kevin W. Hector
Cambria Janae Kaltwasser
Gerald McKenny
Adam Neder
Peter J. Paris
Katherine Sonderegger
In 1962 Karl Barth made his one and only visit to the United States. The thoughtful and insightful essays in this volume reflect upon the importance of that visit, and they further the North American conversation with Barth's theology that continues to this day. Moreover, they give evidence that the reverberations of Barth's visit have not been exhausted and provide reason to believe that his theology may have yet more to contribute to the American ecclesial experience of our time.
—Kimlyn J. Bender, George W. Truett Theological Seminary, Baylor University
A delightful volume. . . . The authors use Karl Barth's only visit to the United States as a springboard to inspire a range of historical, theological, ethical, contextual, and current reflections. The result is a welcome series of polished, considered, insightful contributions to Barth studies in particular and to contemporary theology in general. Even more, the reader is inspired to take up anew the works of Barth. Highly recommended.
—Paul T. Nimmo, chair in systematic theology, University of Aberdeen
From Barth's real but seldom-acknowledged affinities with Bultmann's and Schleiermacher's thought, to his 1962 travels across the United States and his relations to American academic theologians (Benjamin B. Warfield and John A. Mackay) and major Christian figures (Martin Luther King Jr.) . . . a highly commendable collection of essays by both seasoned and younger scholars.
—Christophe Chalamet, professor of systematic theology, University of Geneva
Clifford B. Anderson is the director for scholarly communications in the Vanderbilt University Library.
Bruce L. McCormack is Charles Hodge Professor of Systematic Theology at Princeton Theological Seminary.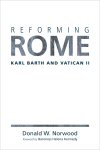 Few people realize that Karl Barth, one of the twentieth century's greatest Protestant theologians, was among a select group of non-Catholic guests invited to the Second Vatican Council (1962–1965) to assist in the reform and renewal of the Roman Catholic Church. In Reforming Rome, Donald Norwood offers the first book-length study of Barth's involvement with Vatican II and his significant impact on the reform of the Catholic Church.
Norwood examines Barth's critical engagement with the Roman Catholic Church from his time at the (Catholic) University of Münster to his connection with Vatican II, his conversations with Pope Paul VI, and seminars and interviews he gave about the Council afterward. On the basis of extensive research, Norwood amplifies Barth's own very brief account of Vatican II.
Barth himself often felt that he was better understood by Roman Catholics such as Hans Küng, Hans Urs von Balthasar, and Joseph Ratzinger than he was by his own Reformed colleagues. This study, written by a fellow Reformed theologian, helps us to see why.
The fruit of a lifetime of ecumenical engagement, Norwood's careful and admirably comprehensive study captures the enthusiasm for ecumenical study at the deepest theological level that Barth poured into his engagement with the council in meetings, seminars, and addresses.
—George M. Newlands, emeritus professor of divinity, University of Glasgow
Donald W. Norwood is a United Reformed Church minister currently engaged in ecumenical research in Oxford, England. A longtime participant in ecumenical affairs, he has also served three congregations in Windsor, Oxford, and Bournemouth and been area tutor in applied theology for Westminster College, Oxford.