Ever against the Stream: The Politics of Karl Barth, 1906–1968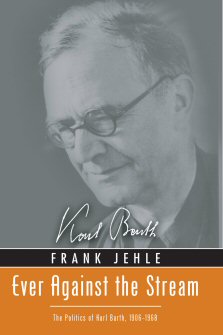 Ever against the Stream: The Politics of Karl Barth, 1906–1968
•
Runs on Windows, Mac and mobile.
Your Custom Discount
Reg. Price $12.99
Sale Price $7.99
Your Price $7.99
You Save $5.00 38%
Your Price
What's Pre-Pub?
$7.99
Reg.: $12.99
Print: $16.00
Overview
Though renowned for his and contributions to modern Christian theology and ethics, scant attention has been paid to Karl Barth in relation to politics—despite the time of intense political turmoil in which he worked. Filling this void of scholarship, Ever against the Stream is a valuable introduction to Barth's political thought, tracing its nuances through the course of his long career.
Expanded from a series of public lectures, Frank Jehle's engaging narrative draws upon Barth's speeches and letters, to highlight Barth as a man whose theological convictions dictated action and engagement with the world. This volume covers the streams of both Barth's thought and action in the political world—whether advocating for workers, speaking against National Socialism, or resisting the Third Reich. Jehle's concise discussion helps readers to better understand the political life of the theological giant.
With Logos Bible Software, this volume is enhanced with cutting-edge research tools. Scripture citations appear on mouseover in your preferred English translation. Important terms link to dictionaries, encyclopedias, and a wealth of other resources in your digital library. Powerful topical searches help you find exactly what you're looking for. Tablet and mobile apps let you take the discussion with you. With Logos Bible Software, the most efficient and comprehensive research tools are in one place, so you get the most out of your study.
Key Features
Examines the political life of theologian Karl Barth
Traces the political positions and actions taken by Barth throughout his career
Draws upon his speeches and letters
Contents
Introduction
Karl Barth: The Theologian
"Zofingia and the Social Question"
Pastor in Safenwil
The Romans Commentary—Twice
National Socialism in Germany
Back in Switzerland
A Ban on Political Speech
For a New Friendship with Germany
Between the Eastern and Western Blocs
Karl Barth's Political Ethics
Bibliography
Praise for the Print Edition
Frank Jehle has accomplished the feat of writing a short, precise introduction to Karl Barth the theologian in relation to the world of politics. In Jehle we have a clear and helpful interpreter who shows, rightly, Barth swimming ever against the stream.
—Eberhard Busch, emeritus professor of Reformed theology, University of Gottingen
In this thorough study Jehle analyzes Barth's political views from the beginning of his career until the day before his death. This comprehensive approach clearly demonstrates how Barth, despite his unpredictability in the political realm, was remarkably consistent and faithful to his conviction that the justice and grace of God must inform all our political utterances and actions. Ultimately, what emerges from this fine study is a portrait of a courageous political thinker who never hesitated to challenge prevailing views and who strove to join the spiritual and the political.
—John Hesselink, Albertus C. Van Raalte Professor Emeritus of Systematic Theology, Western Theological Seminary
Frank Jehle's narrative is riveting, his observations carefully stated, and he responds to those who wrote Barth off as a troublemaker or out of touch. Jehle also goes to great pains to show how Barth's positions were caricatured and then rejected or taken out of context, possibly because his observations were so accurate. The little side trips into Barth's personal interactions with other key figures of his day are fascinating, enlightening, and fitting.
—Thomas Trapp, professor of religion and theology, Concordia University
Product Details
Title: Ever against the Stream: The Politics of Karl Barth, 1906–1968
Author: Frank Jehle
Publisher: Wipf & Stock
Publication Date: 2012
Pages: 124
Christian Group: Reformed
Resource Type: Monograph
Topic: Theology
About Frank Jehle
Frank Jehle is chaplain and lecturer of theology at the University of St. Gallen in Switzerland.
Sample Pages from the Print Edition