Called by the Gospel Series (3 vols.)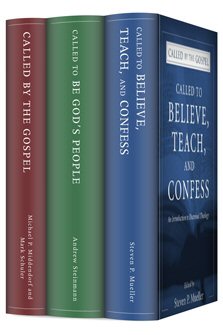 Overview
Written from a distinctively Lutheran perspective, the Called to the Gospel series provides introductions that thoroughly orient readers to each biblical book and the core beliefs of traditional Christian confession. Examining matters of faith, history, and interpretation, the volumes prepare believers to more effectively engage their Christian faith and their churches, enabling informed discussion between the laity and church leaders and within small groups, classrooms, and Sunday school classes. Authors examine each book in canonical order, and Called to Believe, Teach, and Confess presents Christian doctrine in the traditional order of the Apostle's and Nicean Creeds.
In the Logos editions, these volumes are enhanced by amazing functionality. Important terms link to dictionaries, encyclopedias, and a wealth of other resources in your digital library. Perform powerful searches to find exactly what you're looking for. Take the discussion with you using tablet and mobile apps. With Logos Bible Software, the most efficient and comprehensive research tools are in one place, so you get the most out of your study.
Key Features
Provides a comprehensive introduction to the Old and New Testaments
Introduces readers to Christian theology using classical creed formulas
Designed for use in the classroom as well as with small groups
Individual Titles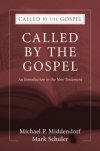 Called by the Gospel: An Introduction to the New Testament presents readers with a high view of the Christian Scriptures, explanation of keys texts with careful attention to the historical and cultural contexts, particular focus on the presentation of Jesus by the various texts, and a conversational style that seeks to convey the message of the text for contemporary times.
Any Christian who seeks to deepen their grasp of the New Testament will find that the book provides educational discussion and challenging insights. This book provides many helpful pdagogical tools to supplement its contents including maps, photos, suggested readings, discussion questions, and a glossary.
Michael P. Middendorf is professor of theology at Concordia University, Irvine, California. He is the author of several books and articles including The "I" in the Storm: A Study of Romans 7, The Bud Has Flowered: Trinitarian Theology in the New Testament, and Concordia Commentary: Romans 1–8. He also serves on the Commission on Theology and Church Relations of The Lutheran Church-Missouri Synod.
Mark Schuler is professor of theology, Greek, and archaeology at Concordia University, Saint Paul, Minnesota, and codirector of the Hippos/Sussita Excavations in Israel. He has coauthored five volumes of excavation reports published by the Zinman Institute of Archaeology at the University of Haifa.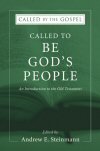 Called to Be God's People is an introduction to the Old Testament designed for those who wish to have a comprehensive guide to the contents, theology, and important passages of the Old Testament. Written from a Lutheran perspective, this book is especially designed for those within that tradition and others who seek a guide to the canonical books of the Old Testament that consciously presents the Scripture's message of law and gospel as well as the traditional Christian messianic understanding of Moses and the prophets as pointing to Jesus as the fulfillment of God's promises to Israel.
This book is ideal for any Christian who seek to expand their knowledge of the background, content, and message of the Old Testament and its importance for Christian faith and life. It not only introduces important background information on each book of the Old Testament along with a general discussion of its contents and theology, but it also contains analyses of major passages within the Old Testament. Key terms, study questions, a glossary, a gazetteer of Old Testament people and places, maps, tables, charts, and sidebars make this book a useful and handy reference as well as a textbook. A concluding chapter on the centuries between the Old and New Testaments overlaps with a similar treatment contained in the New Testament volume in this series, Called by the Gospel, allowing for a smooth transition to the study of the rest of the Christian Scriptures.
Andrew Steinmann is the university marshall and a professor of theology and Hebrew at Concordia University in River Forest, Illinois. He received his BS from the University of Cincinnati, his MDiv from Concordia Theological Seminary, and his PhD in Near Eastern studies from the University of Michigan.
Michael Eschelbach is associate professor of theology at Concordia University, River Forest. He is the author of Has Joab Foiled David?: A Literary Study of the Importance of Joab's Character in Relation to David and Marriage and the Counsel of God.
Curtis Giese is associate professor of theology at Concordia University, Austin, Texas.
Paul Puffe is associate professor of theology and chair of the Division of Theology at Concordia University, Austin, Texas.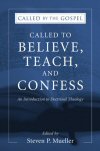 Called to Believe, Teach, and Confess offers an overview of the major doctrines of Christianity in a comprehensive, but accessible way. Written from a Lutheran perspective, this book is a helpful resource to those within that tradition and to others who seek a deeper theological understanding. Firmly rooted in Scripture, this book emphasizes the interrelatedness of all Christian teaching, with its central teaching being the doctrine of justification by grace through faith in Jesus Christ.
This book is ideal as a text for university students and other educated Christian adults who seek to expand their knowledge of God's revelation and its application in human lives. It introduces and uses classical theological vocabulary and terminology, while offering clear definitions and application. Key terms, study questions, glossary, and sidebars help make this a valuable resource. Suggested readings from Scripture, the Lutheran Confessions and other secondary sources guide the reader into deeper study.
This valuable resource achieves faithful accuracy and commendable clarity. Students of doctrine need both. This book supplies both. Following the traditional order of the ecumenical Creeds, the authors deftly place each locus in biblical context and connect each with Christian life today.
—James V. Bachman, dean, school of theology, Concordia University Irvine
Steven P. Mueller is professor of theology and dean of Christ College at Concordia University, Irvine, California. His other publications include Not a Tame God: Christ in the Writings of C. S. Lewis.
More details about these resources