The Life and Works of Horatius Bonar (47 vols.)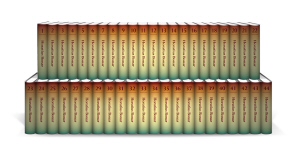 The Life and Works of Horatius Bonar (47 vols.)
•
Runs on Windows, Mac and mobile.
Overview
Known for his thoroughly biblical preaching, his voluminous writings, and his hymns—such as "I Heard the Voice of Jesus Say"—Horatius Bonar exerted a powerful influence in the Church in Scotland. The Life and Works of Horatius Bonar (47 Vols) brings together the finest works by the great 19th century Scottish Presbyterian minister and hymn-writer, Horatius Bonar. This remarkable collection includes a total of 47 volumes of material—over 30 major works and more than 400 hymns. In total, that's more than 12,000 pages comprising the life and works of Horatius Bonar—a life that God used greatly in the preaching of the Gospel and the saving of souls.
The Life and Works of Horatius Bonar (47 vols.) contains:
Books (36 vols.): This section, totaling 36 volumes in all, represents the best of Bonar's published works and spans much of his ministry with the first being published in 1839 and the last in 1884. Also included in this section is a biography.
Hymns and Poems (11 vols.): There are 11 published works in this section, including all three volumes of his important Hymns of Faith and Hope along with My Old Letters.
The Logos edition of The Life and Works of Horatius Bonar is the fastest and easiest way to access this massive collection of material by Horatius Bonar. Imagine being able to search through all 47 volumes in mere seconds. Imagine being able to find every instance that Horatius Bonar referenced a specific verse. This is the power of Logos Bible Software. Every word from every book has been indexed and catalogued to help you search the depth and breadth of every title.
Along with this, your titles will automatically integrate into custom search reports, passage guides, exegetical guides, and the other advanced features of Logos Bible Software. What's more, all Scripture references in your digital library display the verse on mouseover and are automatically linked to original language texts and English Bible translations. These advanced tools make The Life and Works of Horatius Bonar (47 vols.) from Logos Bible Software the most useful edition for sermon preparation, theological research, and historical study.
Key Features
Over 12,000 pages
Over 400 hymns
Advanced search tools to navigate this massive collection quickly and easily
All Scripture references linked directly to original language texts and English Bible translations
Praise for Horatius Bonar
. . . when I think of Dr. Bonar . . . as a writer, it is like a pure, broad light shining from heaven, where all the promises of salvation to men on earth appear to pour down as the perfect divine revelation, with nothing of man's embellishment . . . it is all the divine message from beginning to end. Study the poetry, study the prose, you will feel the heart of God beating through it all.
—Lord Polwarth
His fervent and faithful presentation of evangelical truth was eminently successful . . . A warm-hearted, kindly man, ready to help by word and deed, he found a congregation which appreciated his character, and received the truth gladly at his lips.
—Fifty Portraits
There is a charm about Dr. Bonar's writings that has procured for them a deservedly high place in the religious literature of the present day. The deep piety and thorough earnestness which make his public ministrations and pastoral visits so impressive, pervade all his publications. Dr. Bonar has cultivated the intellect as well as the heart. There is food for both the devotional and the intellectual.
—Witness
His arguments deserve serious examination. . . . Dr. Bonar is well known as one of the ablest and deservedly most popular religious writers of the day. There is a directness, a manliness, a fervor, and depth about him, which distinguishes his works from the mass of those which are destined to live only for 'a season or two.' Few have been more successful than he in presenting heavenly truth in a form acceptable and accessible.
—The Eclectic Review
Dr. Bonar is to be regarded as happy in having spoken more searchingly to the general religious feeling of his age than almost any other writer of hymns, and is to be reverence for the services to the Church's praise, and the gifts to the solitary hours of faith, that it has privilege to bring to us.
—Nonconformist
Of living names there are few more venerated than that of Dr. Horatius Bonar; and they who know him, and especially those who thoroughly sympathize with his theological views, will regard the work at the head of this notice as the contribution of his matured wisdom and piety to the cause of truth and human salvation.
—The Preacher's Lantern
Product Details
Title: The Life and Works of Horatius Bonar (47 vols.)
Author: Horatius Bonar
Volumes: 47
Pages: 12,507
About Horatius Bonar
Horatius Bonar was born and raised in Edinburgh, Scotland, in a family with a long history of ministry in the Church of Scotland. After graduating from the University of Edinburgh in 1838 (where he studied under Dr. Thomas Chalmers), Bonar was ordained and became pastor of the North Parish, Kelso, where he remained for 28 years. He joined the Free Church of Scotland after "the Great Disruption" of 1843, and in 1853 he earned a Doctor of Divinity degree from the University of Aberdeen. In 1867 he took over ministry duties at Chalmers Memorial Church in Edinburgh, and in 1883 he was elected Moderator of the General Assembly of the Church of Scotland. A prolific author, he wrote and edited numerous books, biographies, articles, poems, tracts, and over 600 hymns. Horatius Bonar died on May 31, 1889.