Analytical Bible Expositor: Luke and John (2 vols.)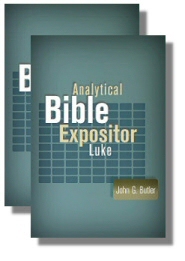 Analytical Bible Expositor: Luke and John (2 vols.)
•
Runs on Windows, Mac and mobile.
Overview
John G. Butler's Analytical Bible Expositor: Luke and John are comprehensively organized, chapter-by-chapter and verse-by-verse commentaries. These invaluable works are much more accessible than typical commentaries, because they are free from heavy intellectual arguments and the difficult-to-understand language which is characteristic of many commentaries. The author treats each chapter of the Bible as a unit. From this starting point, he outlines the chapter and analyzes each verse. Expository in style, these commentaries present both the meaning and the message of the Scripture. The annotations of the text combine explanation with real-world application. This helpful series will be a valuable aid for both the preacher and teacher, helping them to understand the Scripture and providing a wealth of useful sermon and lesson outlines.
Key Features
Newly published by John G. Butler
Chapter-by-chapter, verse-by-verse commentary
Exclusively available in electronic form
Each chapter begins with an introduction and a list of the main points of the chapter
The main points in the text of the chapter are in capital letters
Sub-points in the text are in three descending steps:

the number points are in bold type
the bullet (•) points are in bold type and italicized
key words are underlined

Butler's eloquent alliteration is abundant throughout
Praise for the Print Edition
I know of no finer collection of resources than Butler. No library is complete with out these uncompromising gems of wisdom. After reading the Bible text itself, my next step is always to consult Butler. They are absolutely essential to my Bible study.
—Nathan Parker
Product Details
Title: Analytical Bible Expositor: Luke and John
Author: John G. Butler
Publisher: LBC
Volumes: 2
Pages: 794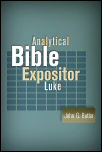 The Christmas story presented in the book of Luke is one of the most widely known and recounted Bible stories today. Butler presents a refreshing new look at this story and other detailed accounts of Christ's birth, death and resurrection with this thorough examination of Luke's writings. From the musical anthems of Mary and Elisabeth in Luke 1, to Jesus' glorious ascension, the text comes alive with in-depth analysis of the facts and events of Jesus' life, paying special attention to culture, setting and context. Butler's colloquial language and approach affords even the layperson a unique appreciation and perspective.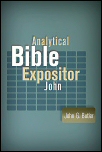 The book of John is foundational to any believer and Butler's commentary vividly explains and displays the richness of the message. "The Gospel of John is not a collection of the experiences of Christ but a careful selection of material to support the opening text of John regarding the identity of Christ." says Butler. He continues, "Whether or not you believe this introduction is a litmus test of your faith." This commentary will enlighten and inspire a deeper faith and awe for Jesus—as Word, Son and Savior. This volume goes way beyond the basics and is insightful for both pastors and laypersons alike.
About John G. Butler
John G. Butler, originally from Iowa, has been a Baptist minister for over fifty years and a pastor for over thirty-five years with pastorates in Clinton, Iowa; Williamsburg, Ohio; Detroit, Michigan; and Chicago, Illinois. Having attended Tennessee Temple University and graduated from Cedarville University, he also authored the 25-volume Bible Biography Series, a 10-volume Study of the Savior series about Jesus Christ, and the 4-volume Butler's Daily Bible Reading set, a unique daily devotional focusing on expository Bible study.
More details about these resources